Small businesses are particularly challenged when it comes to marketing. Even though 89% of small businesses invest in marketing, limited budgets and lack of specialty staff can stymie their efforts.
A new study, The Manifest 2019 Small Business Digital Marketing Survey, offers valuable insight on several fronts including recommendations for improvement. I've taken the liberty of adding my two cents to these recommendations.
What are the top digital marketing goals for small businesses?
Almost one-third of (31%) are looking to increase sales and revenue with 15% seeking to improve brand awareness. What the study underscores is the low response to retaining customers—only at 6%.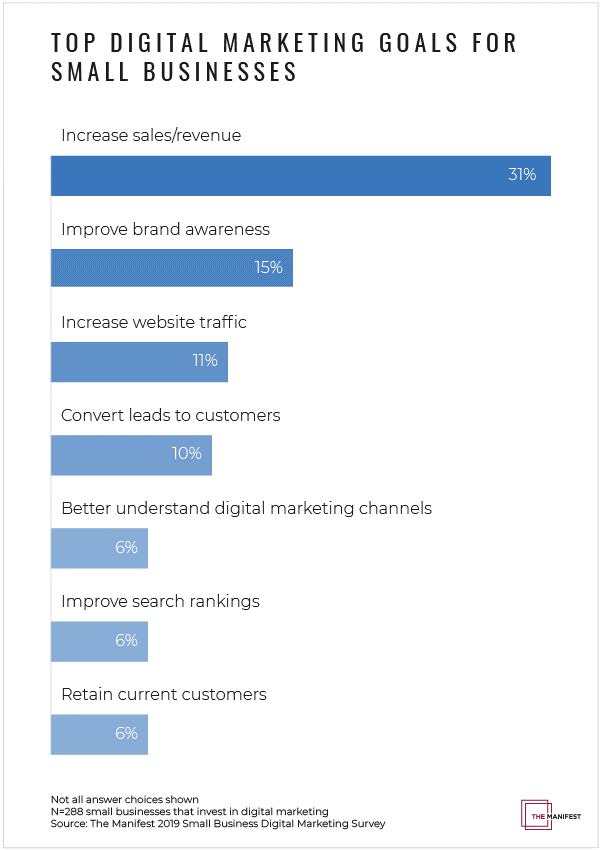 "While selling to a new customer only has a success rate of 5% to 20%, between 60 and 70% of sales to an existing customer succeed."
How to Improve Customer Retention:
Create a relationship and regularly communicate with customers. When you make people feel valued and wanted, they'll likely come back.
Tie your brand to a cause, nonprofit, or charitable organization. 

How to Inspire Brand Loyalty with Purpose

Create more convenient options for your customers. (Hours, location, online purchasing or downloads, custom apps)
Offer people a customized experience to build loyalty. (Rewards, personalized communication)
Reward existing customers with discounts and promotions. Why should new customers get all the perks?
How to Improve Search Rankings:
"Small businesses seek new ways to increase traffic to their site, but very few are focused on improving their search rankings. If a business' revenue is based largely on web traffic, though, then search engine optimization (SEO) is vital to creating demand for its website."
Did you know that more than 70% of users scroll past ads to see the organic search results in search engines? They trust these sites more than paid ads.
What Resources Do Small Businesses Use for Digital Marketing?
More than half (60%) of small businesses prefer in-house employees working on their digital marketing efforts, with 40% using an agency and almost the same number hiring freelancers/consultants.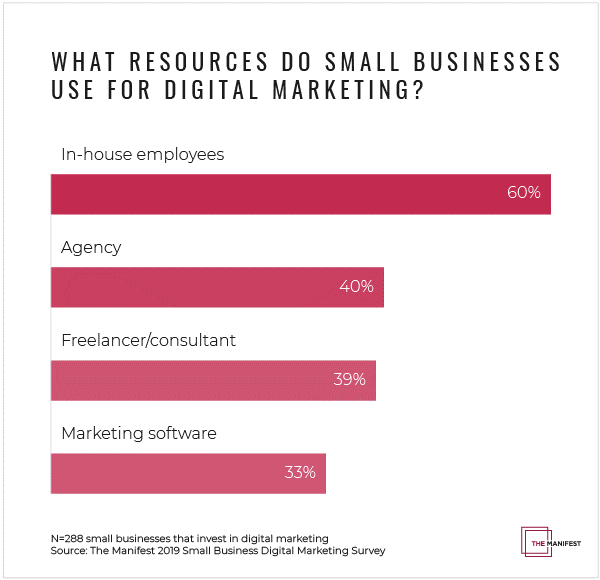 The study authors note that only a third (33%) are using marketing software and suggest that these tools can add many benefits.
How to Improve Digital Marketing Using Software and Tools:
Make sharing content easier by using social media management software to schedule posts in advance.
Use content management tools to improve efficiency and coordinate teams.
Use measurement tools to gauge what's working and what's not.
How Much Do Small Businesses Spend Annually on Digital Marketing?
Digital marketing budgets vary depending on what companies expect to see from these campaigns, such as brand awareness, lead generation, or sales, yet almost a-third that want to increase their sales, are not spending large amounts of money on their efforts.
Not surprising, 36% of small businesses spend less than $10K on digital marketing annually even though study respondents were almost evenly split on their number of employees. More than half (54%) have between 1 and 10 employees, and 46% have between 11 and 500 employees.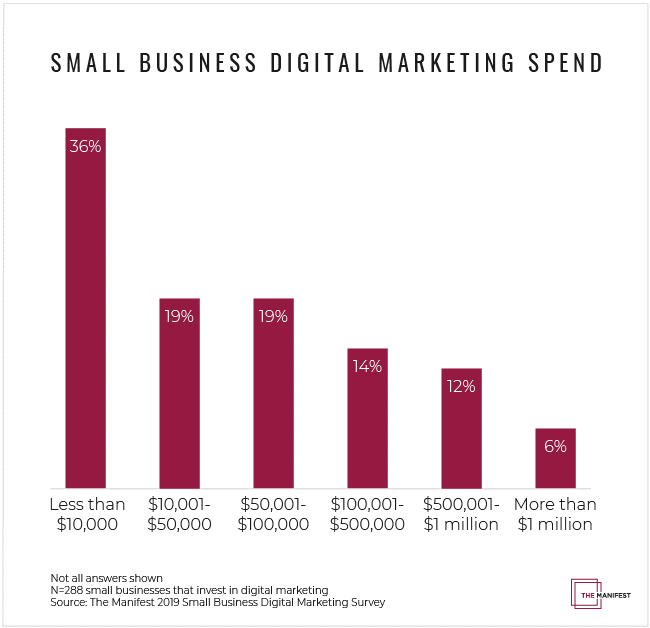 How Much Should Your Small Business Spend on Marketing?
This question was not part of the study. I added it because so many small business owners and marketers want to know the answer.
According to the BDC (Business Development Bank of Canada), your overall marketing budget (including digital) should be a percentage of your revenue. It recommends that B2B companies spend between 2 and 5% of their revenue on marketing and B2C companies between 5 and 10%.
In my opinion, this should ideally depend on what you want to accomplish. What's your marketing strategy? Do you have a written plan?
Without knowing where your small business is heading, it's difficult to set an appropriate marketing budget. So, get cracking on that strategy and all the pieces will fall into place.
You can read more on this study here.
Small pitch:
For the cost of my book, you'll have the tools to develop your marketing and branding plan!
Beyond Your Logo: 7 Brand Ideas That Matter Most For Small Business Success