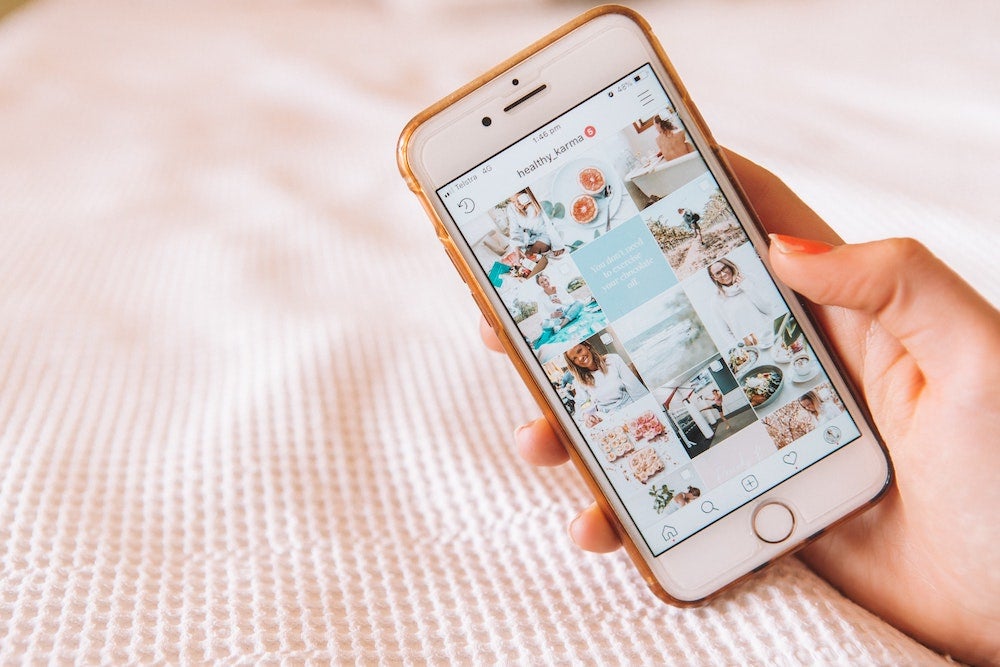 Maddi Bazzocco / Unsplash
You already know that you should be present online – any brand or personality who wants to attract interest is aware of this. But being present is not the same thing as having a presence. One is passive; the other is active.
The great news is that nurturing an online presence has little to do with your budget. You can start doing many of the following tips for free.
Here's how to build your online presence, whether you're promoting products, services, or just yourself.
Set Goals the SMART Way
The "SMART" goal stands for specific, measurable, achievable, relevant and time-bound. While your greater goal may be to increase your online presence, your SMART goals will uncover the micro-goals to get there. An example of a SMART goal for a fitness influencer is to increase Instagram content interactions by 25% within three months. Here's why it's SMART:
Specific: Both the social channel (Instagram) and the metric (content interactions) are identified.
Measurable: Instagram's built-in insights have a section for content interactions.
Achievable: While 25% is a big leap, it should be achievable within three months of steady and purposeful action.
Relevant: Instagram has an excellent audience base for fitness influencers, so achieving this goal will have a positive impact on social presence.
Time-bound: By the end of three months from the start date, the goal should be achieved.
Setting and meeting SMART goal after SMART goal will methodically build your online presence.
Pinpoint Your Target Audience
Even if every single person in the world were interested in what you post, you still have to identify a target audience. The top of your audience pyramid includes the people who will be the most interested in and engaged with your content. Do you make a private account and block out everyone else? Of course not. You welcome all members of your audience.
But the way you frame everything you do online, from your profile picture to your bio to your content and comments, should be done with your target audience in mind.
Answer these questions:
Is my target audience made up of customers, or are they influencers and industry VIPs?
Which social media sites are they most active on (not just present on)?
When are they online? This is when you'll post content and be available to speak with them live.
What kind of content are they interested in? What are the topics they want to know about, and how do they like their information delivered (photo, video, infographic, etc.)?
You'll then use this information to inform everything you do and create, from your website wording to how you offer customer service.
Act Like a Human, Not a Corporation
Even solopreneurs and influencers can fall into the trap of acting and talking like a faceless, no-nonsense, buttoned-up brand. But even if your branding is more conservative than free-spirited, there are ways to still be warm and approachable.
Look at these two examples. The first, from Wendy's, represents a company that's all fun, all the time, and it isn't afraid to be trendy and to use slang, either. The second is from Warby Parker, a decidedly more reserved company, but one that still speaks to its customers like they're people (they appeal to a young-ish demographic, too).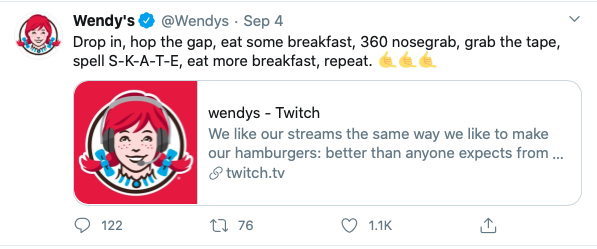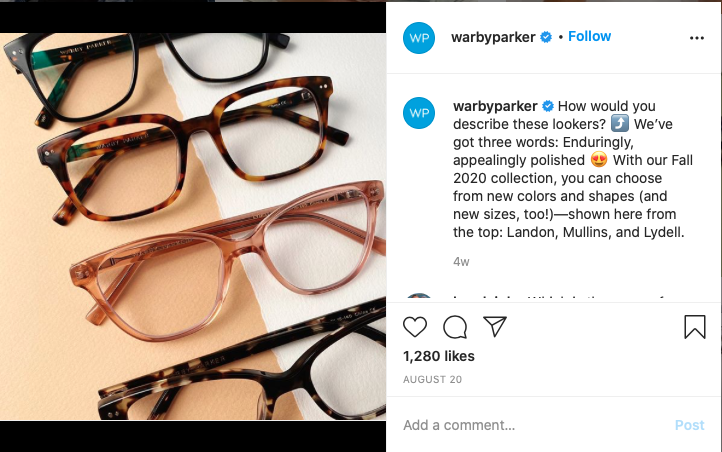 The point is that you have to have some type of personality: One that's true to your brand while also honoring your audience. Figure out a way to connect to the real people who make up your audience like you're a real person, too.
Post Visual Content
Stuck on what to say? Instead of over-thinking your next text-only blog post or Tweet, focus on visual content instead. Photos and videos perform better than text-only content, and on platforms like Instagram, Pinterest and YouTube, those forms of media are the norm, not the exception.
Even in places like Facebook and Twitter, where you could get away with posting only copy, visuals stand out more and tend to get higher engagement. You don't need a media department or special equipment to create visual content, either (though if you had either, that'd be nice). Take behind-the-scenes videos, use curated content from your audience members, create cute Stories, or post inspirational quotes in fancy lettering.
Worry About Relationships, Not Stats
You have to track stats to make sure those SMART goals are working, but remember this: Those metrics should be quality-focused, not quantity-focused. Vanity metrics may tell you how many followers you gained this month, but if those followers aren't interacting with your content, buying what you're promoting, downloading your freemium digital products, what's the point?
Focus on building relationships — the uptick in stats will very likely come. Also, don't get too hung up on how your competitors are doing. Look at how they're attracting new audience members and keeping them engaged, but don't compare your numbers to theirs. When it comes to improving your stats, you're your only competition.
Be Active!
This one should be obvious, but in case it's not, we wanted to drive the point home. Stay active online. An inactive social feed may remain ignored even if you decide to start posting again. Post fresh content every single day. And to ease the burden, use automation tools to schedule as much as possible ahead of time. Also, repurpose your content. For example, turn a blog post into a series of Tweets or take snippets of a YouTube video and post them to Facebook Stories.
Wrapping Up
There isn't a one-size-fits-all solution to building an online presence. Some methods may work immediately, some may take extra time, and some may not return any results at all. One thing is certain, though: Building an online presence that will continue to flourish means stringing together a series of intentional steps. If you can stay patient and take the next right step, it'd be a surprise to not see your online presence grow.