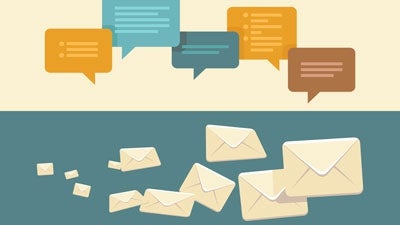 When it comes to leads, the bottom line is that they need to be nurtured. Lead nurturing is the process of forming a relationship with your leads and encouraging them to move through the sales funnel until they reach that "aha!" moment where they finally become a customer. One of the most effective ways to nurture leads in the digital space is through email marketing campaigns. Below you'll find an aggregation of email best practices to help you get the most out of your next campaign.
Ensure Your "From Name" is Recognizable and Trustworthy
Be sure that the email address your leads see when they receive an email from you isn't off-putting. If your email isn't trustworthy, you run the risk of having your email marked as spam by its recipients. When determining a "from name," you should think about it from the customer's perspective. You'll want to choose something that appears straightforward and relevant to them.
A well done "from name" creates trust with your audience and increases their desire to open. It's also important to consider the relationship between your brand and your audience. If your audience is expecting an email from an individual, rather than the brand itself, the "from name" should reflect that. That way, when they see your email, they won't get annoyed or wonder how they got on a list they don't remember signing up for. Annoying your customer with an irrelevant email is basically like asking them to unsubscribe from your email list, and it all starts with a relevant, appropriate, and trustworthy "from name."
Write an Engaging Subject Line (Don't Overcomplicate it!)
A compelling subject line is critical and should contain no more than 30-50 characters. With an email subject line, the aim is to create a sense of urgency to encourage your audience to open and read. Moreover, it also needs to be relevant so your audience has an idea of what to expect when they read your message.
Incentivize Your Audience to Open Your Email
By offering your audience an incentive in your subject line, you can increase your open rates by as much as 50%, according to a
HubSpot blog
. For example, an subject line containing an incentive could read, "Free Shipping When You Spend $30 or More." Although this might look a bit like spam, these offers really do work and should be leveraged to increase open rates and, ideally, conversions.
Repeat Your Call-To-Action (CTA) Multiple Times Per Email
It's essential to make sure your audience sees your CTA when they read your email, which is why at least one mention should occur above the fold—before your audience has to scroll down. Repeating your CTA multiple times maximizes the chance that your audience will click and convert. If your CTA is only mentioned once at the end of your email, there is a good chance your audience will overlook it and won't convert.
Emails are one of the best tools in the inbound marketing toolbox. While arguably somewhat old-school, emails are still extremely effective when it comes to nurturing leads. With email marketing, you can keep in touch with your leads and encourage them to progress through the sales funnel to convert to customers. Without consistent communication, your audience may forget that you're there, which means they won't convert. Keep your business relevant to your audience with email marketing!
This article was originally published by SyneCore
Published: May 19, 2015
2180 Views