Want to send promotional emails to customers that are guaranteed to open? Looking for ways to double your revenue using marketing messages? They sound too good to be true, right? Wrong.
You are probably sending such emails out without even realizing their true marketing potential. Transactional emails—that's what we call them. And they are not just associated with offers and newsletters, but also include welcome emails, order confirmations, sales receipts and invoices, password updates, shipping notifications and the like. Mailchimp better defines 'transactional emails' in one of their
blog posts
.
These business notifications and updates are useful to your customers, and they can get you more revenue as well. It is no wonder that subscription-based businesses are using transactional emails to perk up their operations and sales.
Experian's
research report found transactional emails have almost 100% open rates. The report also found that people refer to them more than once and better engage with them compared to other promotional emails. In fact, such emails have 20% higher transaction rate if you can skillfully include a well-drafted cross-sell message. Finally, they can generate 2-6 times higher revenues than your standard marketing email.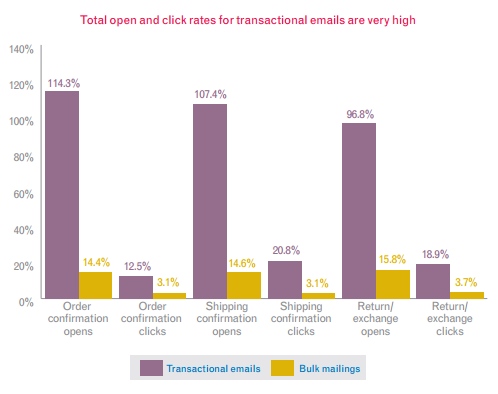 How to Use Transactional Emails to Boost Sales
To use transactional messages to get sales, you first need to understand what their exact function is. Unlike the traditional bulk promotional emails, these marketing messages are user-specific. They are sent one-at-a-time to specific customers and are designed to respond to specific interactions (e.g. shipping details or password updates). But to use them to your sales advantage, you need to optimize these emails to act as promotional vehicles.
In a broader sense, they will work like bulk promotional emails, but more effectively. The following are top 5 ways to use transactional emails for increased sales.
1. Optimize Your Account Creation Emails
Also known as welcome emails, these transactional messages are used to welcome a new user. These messages may/may not include the user ID and password of the new user and are designed to help them get started with buying from your site and/or subscribing to what you're offering; thus, creating perfect customer engagement opportunity via promotion.
In
another report
, Experian CheetahMail found that welcome mails on average have a 58% open rate whereas bulk email promotions only have a 15% open rate. It also states that real-time welcome emails can generate the average revenue of $5.83 per email.
Thus, to optimize your welcome email, start adding a promotional offer for your new subscribers. Also, customize the offer as much as possible based on the interests of the new user.
2. Monetize Your Invoices
These emails provide the best opportunities for monetization. Invoices have the best open rates, which is almost always over 100%. Users also tend to open these messages more than once, meaning you have some great opportunities for increased conversions. Experts say that adding a simple "Thank You" in the subject line can increase your open rates by 35%.
Moreover, you now know the browsing history of the customer as well as the products that they have ordered. This will help you understand what interests a specific customer. Use this insight to optimize your invoices by offering more products that are likely to fit their current buying choices. For example, if a customer has ordered a Wireless USB Adapter, you can add promotional offers for related computer products to bring in some extra sales.
Adding a social media share button is also a great way to optimize these messages. It increases your click rates by a whopping 55% and at the same time you can earn some good social reviews and mentions.
3. Cross Sale with Shipping Confirmations
These transactional messages usually include order numbers, tracking details, links to product tracking pages and estimated delivery time. But you should consider adding something more to it!
With a click rate of around 20.8%, shipping confirmation emails give you some serious opportunities for cross-selling. And you can actually increase their click rates by adding links to some recommended products.
4. Abandoned Shopping Cart Notifications can Boost Sales
Online retailers lose around 67.45% of sales due to abandoned shopping carts, according to
Baymard Institute
. This means out of every 100 potential customers, 67 will leave without buying anything. How to change their mind and get them back?
An abandoned shopping notification is what you need. Ecommerce businesses are widely using such email recovery campaigns, reminding them about products they have abandoned. This practice has reduced abandonment by shoppers by 40%. But to use this tool successfully, mention the products specifically in the subject line.
You can also use these transactional emails for cross-selling more products. Better yet, such marketing strategy can help you increase click rates by around 50%.
5. Use Product Reviews for Sales Conversions
A satisfied customer and an authentic, positive product review can generate 12 times more conversions. Most eCommerce sites have a testimonial page or space for reviews, but they don't always use them to improve sales. Besides, there are third-party review sites where you are likely to have customer reviews.
Put a link to such reviews in any of the transactional messages you are sending as well as on your sales pages and let your existing customers speak for your products and services.
A Few Key Points to Remember!
Using transactional emails to boost sales is a great idea. But remember, subtlety is the key when it comes to cross-selling. Using spammy subject lines and pushing the customer with too many promotional offers are big no-no's. Keep the message and the subject consistent and relevant. The primary message should be the first thing in the email. The bottom or the side space is where you want to do a cross-sell.
Another major factor to remember is tracking your results. This determines if you are reaching your ROI with your transactional emails. Tracking open and click rates will also help you add value to your customer data across all departments.
Last but not the least, understand that the secret of using transactional emails to boost sales lies in customizing and personalizing the marketing message. It must be tailored for each recipient, using the personal details of the customer based on their buying history. By personalizing each message you can increase click rates and revenue generation by 60% or more.
Author: Simon Horton is the Founder of ShopIntegrator.com, a Hosted Shopping Cart Store Add-In. His years of experience have helped him setting up this platform. Feel free to reach him out on Google+.