"Content is King." We've all heard this.
But is it easy to produce great content every time?
Producing quality content is the best approach to marketing a business on the web. It can also be tedious and disheartening. All big organizations have their own content creators who design and write professional content for them. But many small organizations try to do it by themselves and often make mistakes.
If you want to produce quality content, here are a few helpful tips:
Read press release and books. Summarize your reading and archive your thoughts.
Invest in self-advancement. If you understand a topic, you can write it better than others.
Conceptualize with others. Connect with a group of trusted advisors. Being a part of a group or even trusted counselors are an incredible approach to enhance your thoughts and innovativeness.
Question essential suppositions. This applies to your own assumptions, as well as to those of your consultants and customers. You increase new bits of knowledge to land at the best possible arrangement.
Take a contrarian view. Talk about an idea's upsides and downsides. Do not always just focus on all positives, add some negatives as well. It will make your writing more realistic.
Interview others. It will help you to learn about new thoughts. You will get some idea what others are thinking about this topic.
Improve your social networking. At the point when joining smart and effective online groups, you might rapidly pick up information on what is being asked and talked about.
Great Content-Producing Checklist
Only following the above tips may help you get started, but here's a checklist to also improve your content:
1: Research Before You Write
The initial step of creating incredible content is research. Set aside a few minutes to analyze the content of your competitors. Use content creation tools like BuzzSumo to find what types of contents are getting shared on online networking.
Related Article: 7 Big Myths of Content Marketing
Figure out what your audience is searching for and what your rivals didn't cover yet. Recognize a business sector crevice for sites that spotlight different sorts of viral contents.
2: Create Eye Catching Headlines
Ask any copywriter and they will tell you that the headline is the most essential component of your page. Eight out of ten individuals will read your headline; however, just two out of ten will read the rest, unless the headline propels them forward.
3: Start Your Blog Post with a Question
The primary sentence is the second most important component of your blog entry. Ask yourself how you can hook readers from the very first line.
A recent study by Groove HQ found that storytelling and questions led to more than 300% increased readership than alternate formats.
4: Use Subheadings
Many content authors think that when readers land on their page, they will set aside time and effort to read each and every word.
However, the truth of the matter is, the vast majority don't read each sentence in an article, they just glance over the content. They take superficial looks at a page while searching for important data. If they cannot find what they need, they will leave.
Subheadings are an effective approach to breaking up your content and making it simpler to filter. Keep in mind, the nature of your content isn't the main component that will make your blog entries awesome. If your article is just a single block of text, people are unlikely to read your post.
5: Length of Your Content
As researched by Quick Sprout, blog entries that were more than 1000 words long get more shares. They found that posts that were longer than 1500 words got 68% more tweets and 20% more Facebook shares.
6: Make a Visual Impression
Your written word is not the only type of content your audience is interested in. Individuals are wired to take in visual content faster than words. 90% of the data transmitted to the mind are visual. Thus, it's no big surprise that posts with visual content get more backlinks and 90% more online visits than text-based content. Here's an example of good content that comes with text, list, and image.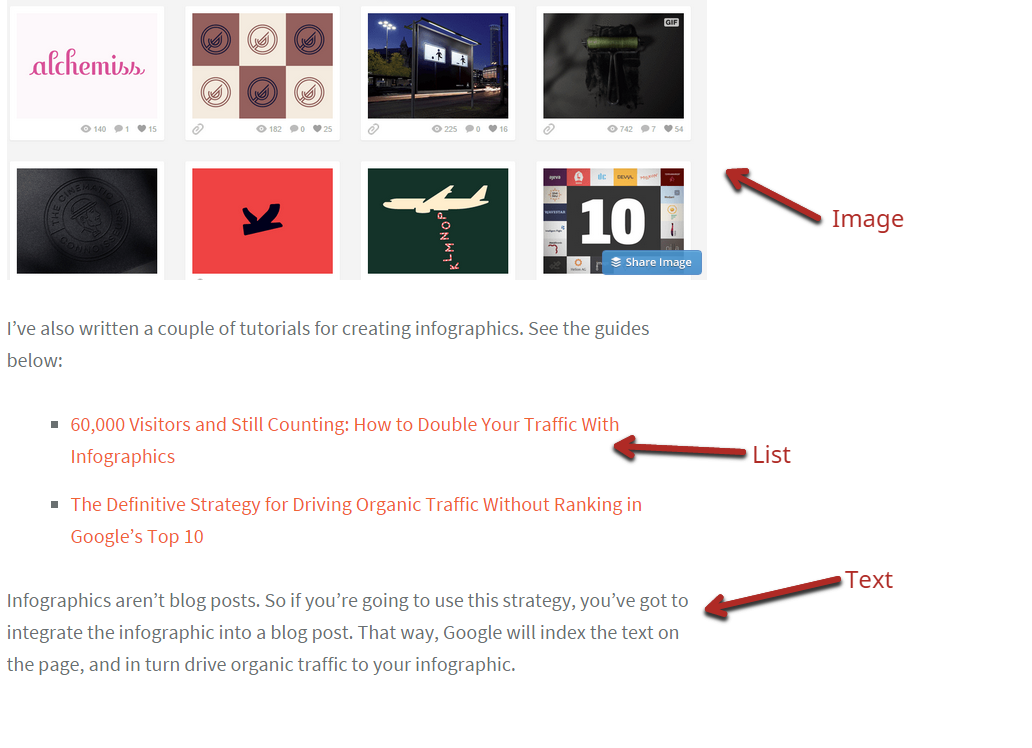 7: Optimize Your Content
Following the tips above will help, but it's not enough. Now is an ideal opportunity to upgrade your post before it's distributed. All things considered, what's the point of composing an excellent article if nobody can discover it?
Don't get fixated on keyword density. These days SEO is more about writing quality articles and adding value. Using keywords just in the right places can help your search rank. Following are key places where you should insert keywords if you want to make your content SEO-friendly:
Page Title
Blog Title
Meta Description
Sub Heading
Alt Tags
Content
Useful Resources to Produce Great Content
If you are still confused, there are some great resources that will help you see how professional writers are producing articles every day. You can follow their writing style and strategy. Read some of their blogs before you start writing your own.
Content Marketing Institute
Read their blogs on latest blogging trends, tips and tricks to improve your quality.
Link: http://contentmarketinginstitute.com/category/blogging/
Entrepreneur
If you want to write short, informative articles on small business, you can read their blogs.
Link: http://www.entrepreneur.com/
Quicksprout
I love their blogs. Most of their blogs are really interesting and useful for readers as well as writers.
Link: http://www.quicksprout.com/
Now, go ahead and start writing some great content for your readers. Enjoy!
Author: Navid Tayebi has considerable experience in digital marketing and brand development. He is the founder of Creative Over, a digital marketing agency that primarily focuses on providing digital marketing in Orange County to small- and medium-sized businesses. He is a versatile, organized and self-reliant person. His areas of expertise are refinement and development of marketing goals, promotional activities, and pricing strategies and branding. You can find Navid on Twitter, Linkedin, Google + and Facebook.