Social media is a dream for startups if utilized to its full potential. Essentially, it allows a company to reach millions of people on a shoestring budget. Luckily, most of us today have dipped a toe in the vast ocean that is social media. But, running a company account on any platform is vastly different than Tweeting your friend a photo of cats, or making Pinterest boards of interior design ideas. So, the question is, how? If you are a fledging startup and are beginning to plan your social empire, use the tips below to help you make a fantastic impact.
Concrete Strategy
Before you even think about typing a Tweet or unleashing yourself on Snapchat, mull over your business goals. Sometimes our enthusiasm for social media can have us losing site of why we actually use it. Now is the time to strategize. Who is your audience? What personality do you want to have on social platforms? Will you be informative? Will you be quirky?
There are so many questions to think about but, most importantly, it is imperative that your social media presence is congruent with your brand. Don't get me wrong, feel free to post a light-hearted meme on Facebook, or use the GIF function on Twitter; just make sure it is portraying your company culture correctly.
Furthermore, deciding upon the correct platforms is also a big part of your planning. Don't try and spread yourself too thin; it is best to give your all to two or three platforms that best fit your company. You will ideally want to be posting fresh content on your platform at least once a day, and interacting with your audience throughout. If you don't currently have the man-power, that's fine, give your all to one platform and develop other's in the future when your team expands.
The Human Element
Whether you are dog groomers or cybersecurity wizards, you should not come across as a marketing robot on any of your social media platforms. Granted, different platforms lend themselves to different professional attitudes. It is widely accepted that LinkedIn and Google+ tend to be the more 'serious' platforms, whereas Twitter, Facebook, Instagram, Snapchat, and Pinterest tend to be more relaxed and conversational.
Interacting with your audience and garnering feedback from them can begin to create connections. It can be tempting to use social platforms solely to sell. However, you audience wants to know who is celebrating their birthday in the office, and who brings their dog to work. Giving your brand's social media platforms a vibrant personality will blossom a community and, you will see the same faces interacting with you time and time again.
Find Brand Ambassadors and New Staff
Social media platforms are generally free. Of course, you can inject funds into advertising but, it isn't always necessary. You can get some handy promotion by scouring the platforms you are using by finding individuals who resonate with your brand.
For example, many fashion and cosmetics startups send gifts to individuals with high social media followings, and their most loyal followers. Usually, these individuals will post a comment or image about the item and, voila, promotion! These relationships can be cultivated over time and, those who love your company could become brand ambassadors.
Further snooping on social media can save you a recruitment cost. Twitter is a fantastic platform to search for new staff as many users have their skills and work experience listed in their bio. LinkedIn is also crucial. If social is taking off for you, and you want a dedicated social media manager, pop on to Twitter or LinkedIn and cruise through profiles, or search for 'social media manager' in the search bar.
Break the Mold
In this day and age, churning out sales pitches and 'visit our site' posts won't cut the mustard. There are a million and one companies churning out the same old drivel every day. Social content that gets the most shares and interaction include:
Controversial opinions
Content that contains research or insights
Content that leverages a trending topic
Posts that ask a question of your audience
Reactions to world news
Posts containing images and videos
Don't be afraid to try something quirky or daring, you will soon find out if it is something your audience will engage with. For a startup, social media is all about trial and error. You can only do so much research into your audience before you settle down on your computer, phone, or tablet and begin creating your community. Only then will you we able to judge what works and what doesn't. As your platforms blossom you will become an expert at delivering exactly what your audience finds most appealing.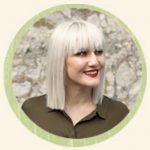 Author: Amber Longhurst is a social media manager and digital content editor for a multitude of fantastic clients. She also works for Celebrity Speakers. In her spare time, she enjoys running a successful YouTube channel where she discusses confidence, relationships, confidence, and bullying, with the aim of helping others with her own life experiences.