Given the fast-paced digital world that we live in today, it is absolutely essential to have a personal brand. However, just having a personal brand won't do, you need to have a great personal brand.
Having a powerful brand will spell success for you, your career, and your company. Furthermore, if you notice, most accomplished entrepreneurs have compelling personal brands.
Tom Peters, a successful author and speaker, sums it up well:
"All of us need to understand the importance of branding. We are CEOs of our own companies: Me, Inc. To be in business today, our most important job is to be head marketer for the brand called you."
Therefore, in order to build a successful brand, you can follow these unusual yet effective tips below:
Do Effective Research First
First of all, find out the niche that you can perform best at. It could be one that you're sure will take you to the top and one where you can establish yourself as an expert.
So what is your unique selling point? What can you offer that others in the same space can't? Do you have a superpower? If yes, then what is it?
Remember that whoever made it big started out small. Therefore, commit to a niche and work on becoming as knowledgeable as you can in it so as to be looked upon as an expert and influencer in that particular field.
Let Your Brand Define Everything You Do
Personal branding goes beyond donning a particular hairstyle or outfit. It means that you should imbed your brand into each and everything you do.
For instance, use your personal brand's touch while creating content such as flowcharts, diagrams, infographics, and memes.
Additionally, take the time to come up with a great content tone and style. You need to be sure on how to create a great personal brand. Just blogging or posting content on social media for that sake of it will not do.
For example, your personal brand will be enhanced greatly if you back up the content you post with valid facts, data analysis, actionable facts, a millennial touch of humor, and straightforward tips.
Invest in Yourself Often
Personal branding doesn't come without a cost. Therefore, it is wise to invest in your career.
That means that you may have to dish out cash on one or more of the following:
An editor who will proofread your content and make it look presentable.
Hiring web/graphic designers.
Recruiting a PR coach.
Buying books that will help you up your game.
Deliver Exceptional Presentations at Industry Events/Conferences
You will either have to go big at industry events or stay home. Not both.
If you observe deeply, you will notice that at a conference, only about 2% of the presentations are epic and memorable, the rest are vague and are soon forgotten by the audience.
Therefore, if you choose to make a presentation, make sure you are going to make a great one, else don't bother doing so.
One way to ensure that your presentations stand out is to learn and watch the best speakers. You can also record your own presentations and learn how to improve.
Additionally, take advantage of local speaking events (e.g. at your university) where the expectations are not so high, to polish your presentation skills.
I personally implemented the above formula. I had spoken at local events before I was offered a TEDx speaking gig in addition to an all-expense paid trip to Malaysia where I'm scheduled to speak in October.
My most recent public speaking event at AstroLabs Dubai did wonders for my personal brand. I delivered a growth hacking seminar and was offered many lucrative deals afterward including equity deals from startups, an invitation to speak at Google business group, and I also noticed a hike in my website's traffic.
Don't Do Personal Branding Just for the Sake of It
As much as having a strong personal brand is important, it is advisable to do it the right way, not just for the sake of it.
Several 'internet famous' people have just stayed briefly on the personal branding sphere. This is because it requires consistent hard work in order to have a successful personal brand.
If you notice, many people with successful brands have done something remarkable in their lives due to which their brands stay strong.
For example, Steve Jobs is a household name due to the role he played in launching one of the most popular companies, Apple.
Therefore, if you want to build and maintain a strong personal brand, then first work hard to do something remarkable so that your brand gains momentum and eventually succeeds.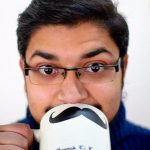 Author: Faisal Wahab is a writer and content marketer at Digital Marketing ROI. He is a part of the writer's team at SyedIrfanAjmal.com which is a blog about Entrepreneurship, SEO and Inbound Marketing.