5 Steps to Creating Outstanding Product Labels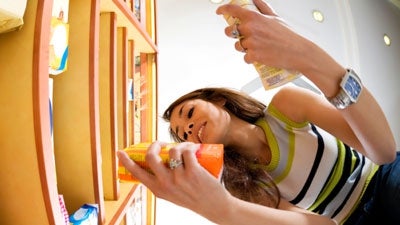 Product labels are powerful marketing tools that provide you opportunities for sales. If the label on your product is ineffective, those opportunities are wasted. When buyers are looking at the numerous products placed on the shelves of a store, your product gets a fraction of a second to catch their attention. Within this fraction of a second, your prospective buyers should know what your product is.
Creating a label that can successfully grab attention as well as communicate what it is in such a short time span involves some hard work and planning. But, if you have launched a new product line, it's important to focus on getting your labels right. Labeling forms a crucial part of your business, and so, before proceeding, you should have a solid plan at hand.
Here are some business plans to help you get your product labeling right:
1. Using the right colors
Colors speak faster than words. Using them properly is vital for grabbing buyer attention in that fraction of a second.
Consistency must be maintained in terms of use of colors. Represent your brand with a set of a few colors (these colors will be your brand's colors). Use these colors in all kinds of customer communication. Your coupons, flyers, catalog, website as well as your product labels should have the same set of colors. This would let customers know which brand is behind the product, without the need to read a single word.
If your product is a food product, make sure that your colors go with the flavor. Colors can be used to convey a scent or a flavor. For example, seeing yellow, people think about bananas, and seeing red, they think of strawberries. This lets regular customers find the item of the desired flavor, and new customers can easily know what flavors you offer.
2. Complementing text with images
Like colors, images too can express things faster than words. Besides, images are more visually appealing and interesting than text. However, you should make sure that the images are balanced well with text. Too much of either one can lead to confusion.
3. Choosing fonts carefully
Words are mandatory elements of a product label, as images and colors cannot convey everything. The typeface you choose should add aesthetic appeal to your brand.
Avoid using too many different fonts on your product label. You may choose a maximum of two fonts, but no more than that. Sticking to a single font is more preferable. Going for two fonts is justified if your company logo has a particular font.
Your font should match your brand. Go through a list of several fonts, and pick a few that you think to be appropriate for your brand. Narrow down your selection to reach the font you would finally use.
After selecting the font type, it's time to determine the font size. Make sure you choose a font size that's legible. If you are going for a smaller font and squeezing many words on the label, perhaps you are putting a lot of text. Consider reducing the text.
4. Selecting label size carefully
Choosing the appropriate label size is comparatively easier. An extremely small label would go unnoticed, whereas an extremely large label may wrinkle or fold at the package sides. Select a size such that the label fits the product well.
5. Providing essential information
Your product label needs to have specific types of information, some of them for the sake of the buyer's convenience, and the others because the labeling rules and regulations requires them to be mentioned. Below appears the key information you should provide in your product label:
Company / Product Name: Make sure your label has the company and/or product name clearly mentioned on it, so that a buyer can identify the information at the first glance itself.
Contact Information: To welcome customer feedback, don't forget to mention the phone number and mailing address of your company on the label of your items. This information would occupy a small space, and the feedback you receive can guide you while making decisions related to product and marketing. The website of your business is another essential information to display on your label. Again, your web URL would take a little space, and can help customers have a look at your official website easily. If your website is built well, it can create a favorable impression about you and your products, on a prospective customer's mind.
Mandatory Information: Here comes the information you must provide on your labels, as it is required by law. Labels of certain products must have Surgeon General's warnings and nutrition information. If your product falls in that category, make sure you mention this information on the label. Display this information on the back of your label. The label's front should have information aimed at describing and selling the product. Place the obligatory information facing the back of the shelf. Do some research on what other types of mandatory information your labels should have, considering the type of product you sell. Abide by the labeling rules applicable to your product type.
With these plans implemented right, your products would surely grab the attention of buyers, and see impressive sales. If you are not that proficient at labeling items yourself, consider seeking the help of labeling professionals. They can provide you a deeper insight into how to label your products to make them stand out of the crowd.
Author: Emily Smith is a Marketing Strategies associate at The Label Company, a food product label manufacturer in Orange County, CA. She loves to share her thoughts on marketing with other business owners through her writing. She has strong knowledge in food product label manufacturing strategies. You can follow her on Google+
Published: March 5, 2015
6518 Views