The digital age has sparked new opportunities for marketing departments to reach their target audience. The ever-growing rate of innovation has extended the list of channels the average person goes through for their daily media consumption. The era of newspapers and TV is slowly fading into the background of mobile and online streaming, along with news outlets that provide information faster and better.
This change has brought a necessary alteration in the way marketing views its audience. Budgets are adjusted in order to focus on the proper channel and reach their consumers. And it's not stopping. Marketing trends will continue to change in tandem with the advancement of technology. It will not be an easy road to navigate. Understanding the media consumption patterns of your target audience is crucial and will become more vital in the future.
These habits will change the way marketers approach their campaign and advertising techniques.
1. Visual Storytelling Will Be King
There is substantial evidence that video consumption is increasing for all generations, so marketers may need to step out of their comfort zone and adapt. Al Cotterill, who is a creative strategist for Instagram, believes that 2016 will further empower video and visual storytelling, as far as marketing trends go. That means that more companies and brands will invest more and focus on higher quality videos.
It's a step forward, but one not all marketers are well familiar with. Developing a strong video marketing strategy, however, will become a must and increase the chances of success in the future. It can touch the audience in a more powerful way and focus on emotional marketing successfully.
2. Mobile Will Be Top Priority
We have pushed past "the year of the mobile" because we are now in full swing of its age. Everyone is using their smartphones for media consumption, be it social media networks or news outlets. More importantly, it's the number one tool and method for reaching millennials. According to a study by Goldman Sachs, there are 92 million millennials in the U.S. alone, which means that they have become a prime target audience.
Mobile is the way to reach them. However, mobile marketing strategies have not yet reached their full potential. Around 61% of digital marketing managers strongly believe that budgeting should focus more on online digital marketing. It would gain the attention of their primary audience that is now fully immersed in the age of mobile. A properly optimized website and ads for the smallest screen will be paramount to a successful campaign.
3. Personalization Will Be a Must
Online consumption of media has increased significantly, which means that marketers will have to focus their campaigns on the digital medium. A majority of 74% users express frustration when they are hit with ads that pose no interest to them. Online consumers do not have the patience of shifting through a dozen of them each day. Thus, their time spent online needs to be cut down to not just watching ads, but watching the right ads for the right product or service.
Companies now have the ability to personalize their marketing strategies through the use of cookies and other tools. It's a must-have feature to alleviate frustrations. Furthermore, it's the most efficient way to reach a generation who needs to have everything at their fingertips as fast as possible.
4. Social Media Will Favor Quality Over Quantity
It's no longer impressive to maintain activity over social media channels. It has become a reliable medium for companies to implement their marketing strategies. While it points to a surefire way of reaching a broad audience, it can also become a point of frustration. Endless posts are no longer a sign of devotion or commitment a business shows to their customers. It can be considered spam and irritate their consumers.
The focus will shift toward posting quality and relevant content, rather than keeping up an overly-active presence. Luckily, numerous channels will work. It's no longer restrictive to Facebook and LinkedIn. Marketers can develop excellent campaigns on Reddit, Instagram, and even Snapchat. However, the target audience and benefits of their product or services need to be focused down.
5. Transparency Will Not Be Optional
Research is easy to conduct. Customers no longer purchase a product or employ a service blindly. Media consumption is not hinging on TV ads and simple promotional flyers anymore. Consumers carry out research before purchase, which means that transparency and authenticity will become the norm. It will inevitably change the way companies interact with their customers.
Marketers are required to keep this particular aspect in mind while creating their strategies. Information availability will have to increase, and genuine messages will become the most powerful tool. The world has moved on from companies promoting themselves as "the best". Consumers are flocking to businesses they can relate to, and who are harmony with their values and beliefs.
We are on the cusp of a major change, as technology will advance to include virtual reality, conversational AI, and voice searches. Media consumption is an organic, forever-advancing entity that marketers should keep an eye on. Constant changes will require attention and adaptation, but will open the door for new and innovating marketing strategies.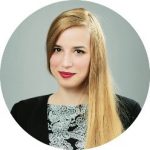 Author: Ioana Sima: Writer. Gamer. Architecture student. Coffee Addict. CMO at DigitalWebProperties. Follow Ioana on Twitter for random musings & online marketing news.