There are many types of businesses that are struggling to
market with Google+
, they can be business that sell to businesses (B2B) or those that deal directly with consumers (B2C). They can be
small, medium or large
. They can be businesses that are creative or they could be knowledge and industrial industries. Personal brands are also marketing effectively on Google+.
Some people think that your organization may have no place on social networks or Google+ because the content may seem to be potentially boring. So how do you market your content on Google plus?
Let's look at some case studies to get you thinking and maybe even inspire you. Here are how both "business" and "personal brands" market with
content on Google+
.
Case Study #1. Marvel Entertainment
Marvel Entertainment is a subsidiary of The Walt Disney Company and is one of the world's most prominent character-based entertainment companies. They are home to the Avengers and Iron Man series and many other well-known super hero brands.
1. Offer a special limited time offer
Media and the entertainment industry that sell to the consumer finds that competitions and special offers are enticing and tempting ways to get fan engagement.
Here is an example of this tactic.
2. Ask a question
If you want to drive engagement, ask questions. In this update it also links back to the Marvel website driving traffic to their online asset.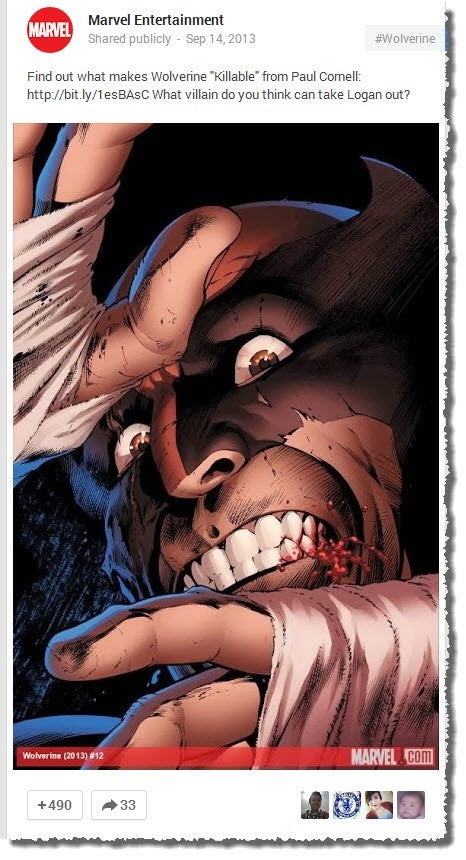 Case Study #2. General Electric
General Electric is a huge industrial and technology juggernaut on
Google+ with over 500,000 followers
. They know how to use Google+ to make their brand interesting. Despite being a B2B brand that marketers sometimes view as not sexy enough for social media they display some great tactics for using content on Google+.
1. Reveal exclusive behind the scenes while involving passionate fans
Involve passionate fans in your content creation and reward and share their content. Here is how GE is involving their fans and sharing behind the scenes images at one of their industrial facilities. This content can also be educational.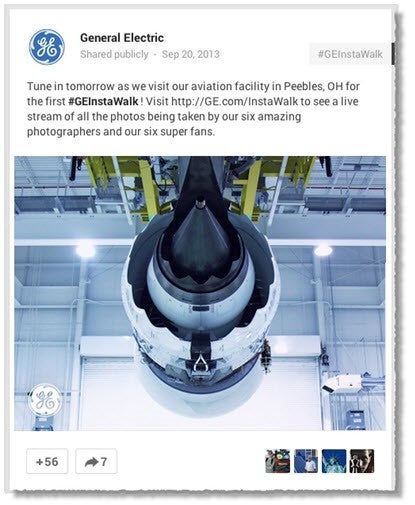 2. Have some visual fun
Who said that Google+ was serious? Here is an example of content that is fun and uses a quote in a visual format. Look at the number of "+1's" and shares.
Come back next week to talk more about personal branding strategies on Google+.