How Small Businesses Can Benefit from Hosting Events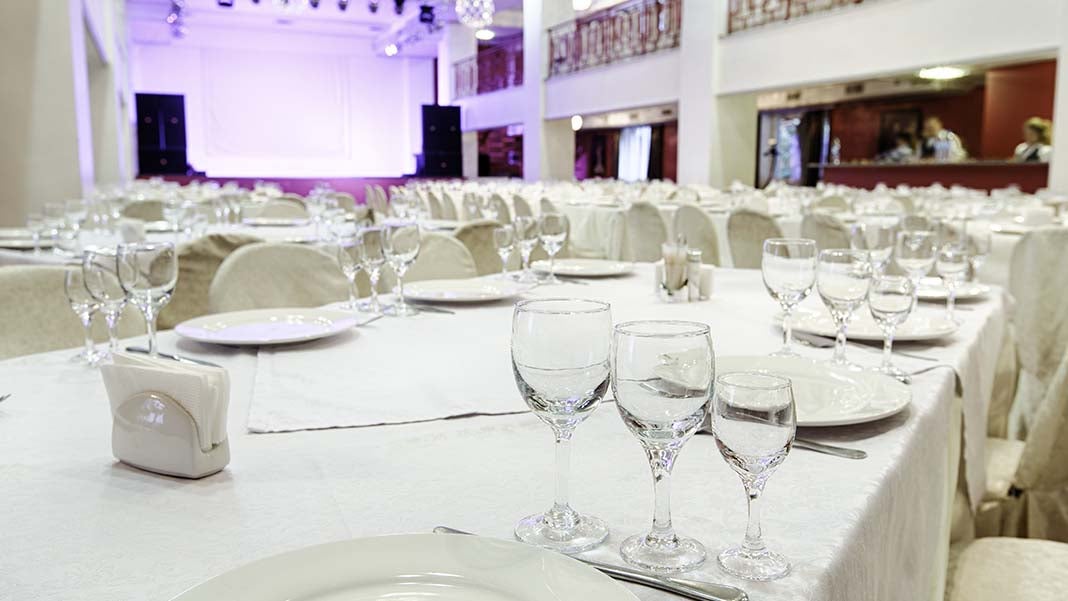 Although marketing has moved in leaps and bounds and is now in the digital age, events still stand out as powerful tools for businesses. A carefully planned and well-executed event can be the catalyst to marketing success. An event can help expose your brand to a wider audience, inform people what your business is all about, and create a lasting impression for potential clients and customers.
Organizing an event involves meticulous planning and preparation, but the benefits are plenty. Whether it's a launch party, a fashion show, or an exhibition: it's going to take time and money to successfully pull it off. That's not to say, however, that it's only larger corporate companies that can afford to host events—smaller businesses can invest their time and money to reap the rewards by being as efficient as possible.
Stand out from the crowd
Luxury Yorkshire bakers and confectioners, Bettys, and flooring specialists, Poshflooring.co.uk are two small businesses that hosted very successful events this year. They both managed to showcase how effective events can be organized on a budget, by being original and offering something truly unique to their attendees.
Bettys hosted its 'first ever official tea party,' where bloggers were invited to come along to a 'secret location' in London—the setting alone commands exclusivity. In contrast to normal blogger events, where guests are usually offered free samples and take away goodie bags, bloggers were given fun challenges to complete, which were part of a larger competition.
Poshflooring.co.uk decided to use a lateral way of thinking when creating its event and really thought outside of the box. They decided to host a murder mystery-themed party, called 'Murder on the Posh Floor.' Similar to Bettys, they encouraged invitees to participate in games and challenges, while also encouraging their guests to be interactive with the brand via social media.
Start as you mean to go on
While it's important to make sure the event itself is original and interesting, it's also vital that brands pique the interests of those invited prior to the occasion, so that there'll be a good turnout; no one wants to throw a party and have no guests turn up!
Making an impact with guests long before they arrive is a great way to spark interest and guarantee numbers. To really gather some momentum, it's good practice to start by sending out unusual invites, or a little treat to give guests a taste of what's in store.
Bettys got this spot-on in the lead up to their tea party. After the guest list was confirmed, the team behind the event delivered gift boxes with handmade chocolate creations to all attendees. This extra touch helped generate a lot of excitement among the bloggers prior to the big day.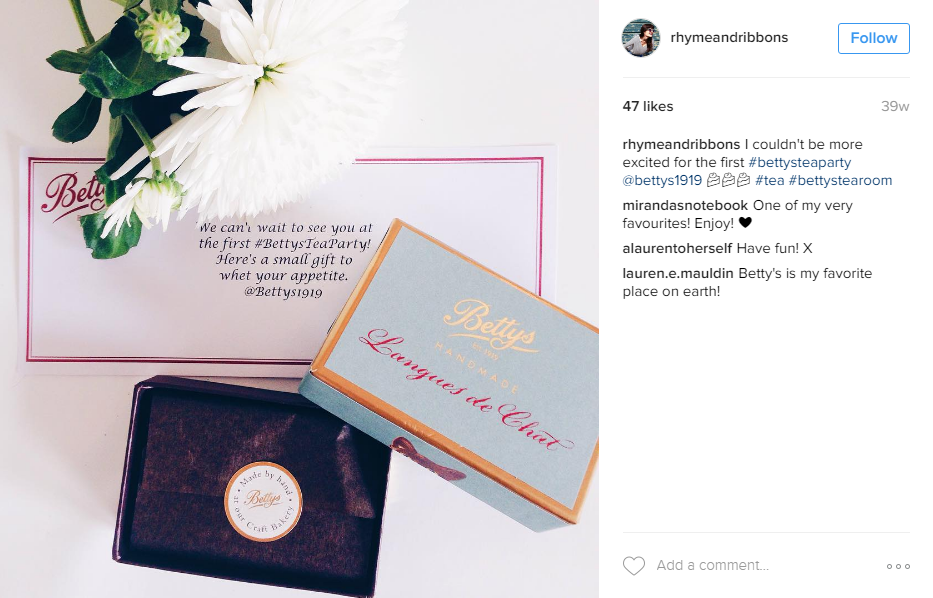 It also encouraged social interaction with the brand, as guests were reminded of Bettys' Twitter handle and event hashtag on their invitation. It makes for a very personal experience if the social media team behind the brand keeps in touch with guests before and after the event, and aim to build up a good relationship.
Be innovative
Regardless of the product or service the brand is focused around, there's tremendous scope for surprising guests with new and exciting event themes. A brand that 'puts on a show' and moves away from the typical linear way of thinking will successfully stand out from the crowd.
When you think of flooring retailers, your mind may not immediately jump to Murder Mysteries. However, Poshflooring.co.uk decided to use this theme for their #MurderOnThePoshFloor event, getting the idea from Sophie Ellis Bextor's song from the noughties, to create a really fun and inventive blogger event.
Guests were treated to a three-course dinner while they put their thinking caps on to solve a murder. With delicious food, fun detective kits, and many different photo booth props, attendees eagerly shared their experience online.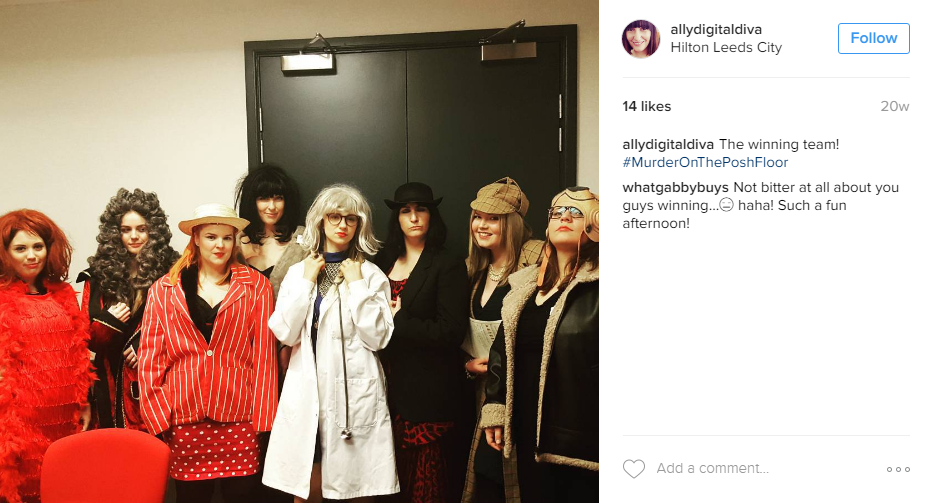 It's imperative that brands don't shy away from taking an unconventional approach when developing concepts and ideas for an event; it's one of the things that will make the occasion memorable, and thus more likely to stick in people's minds.
Publicizing your visuals
When promoting visuals: Instagram hashtags, Twitter pictures, and Facebook photo tagging are the types of media shares that gain free publicity for an event, especially if the brand focuses on topics like food or fashion. Pictures of food, for example, are in no short supply on the internet, but if your company ethos has a focus on artisan presentation, then ensure everything at your event looks picture-perfect, so guests can't resist taking a snap. Finally, be sure to use best practices and latest trends for promoting your event on social media, such as creating an event landing page, leveraging influencer marketing, and even live streaming your event.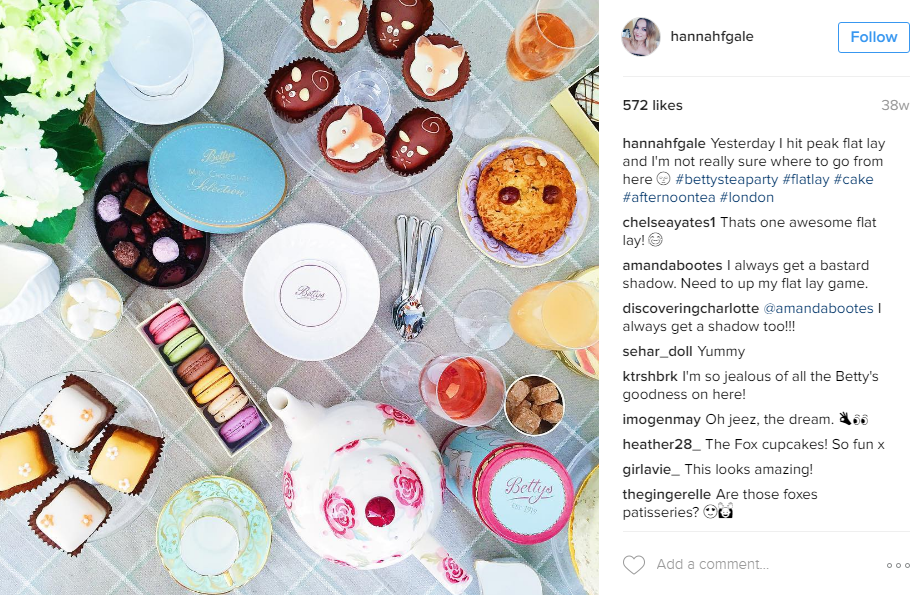 This tactic worked very well for Bettys, as their Tea Party event led to 81 posts on Instagram, which earned a collective 325 comments and 12,000+ likes. The overall reach on this platform alone was over 200,000 people—a pristine example of how social media shares and coverage can propel what is essentially organic advertising.
Be present
When small businesses host events, it's important that the staff who attend are well informed on the products that are being promoted and the ethos of the company. Sending a smaller group of company employees will keep the cost down for the business, but it's vital they all know what they're talking about and can be as informative as possible, without coming across as too sales orientated.
Further to this, it's a good idea to hire outside help when including bars or catering at an event. This will not only ensure the hospitality side of things is covered but will also allow people from your business to mingle with the guests.
Remember why you're doing this
Events are ultimately held to promote a business, so it's vital to keep this in mind when planning the logistics. They can be extremely effective for increasing brand awareness and really help your brand reach a wider audience, particularly when social media coverage is considered, as guests can be made to feel valued from the moment their invitation arrives.
Author: Lauren Barker is an event organizer and content specialist for Poshflooring.co.uk. This helpful guide takes the reader through the creation and application of how small businesses can benefit from hosting events, even on a limited budget.
Published: July 14, 2016
2197 Views