It's a fact — humans love food. Survival instinct aside, we've also added a generous helping of cultural and emotional associations. One recent and tempting movement that's turning heads and filling stomachs is offering free lunch (snacks or meals of any kind) at the office.
But, We're Not Google
That's ok, you don't have to be. While Silicon Valley has become synonymous with copious perks for tech workers, including free meals, what does this mean for the average small business or startup that might not have offices as sprawling or pockets as deep?
The answer: Your own ingenuity plus the growing range of food tech startups that make it easy for companies of any size to make free food a valued part of their company culture.
Everybody's Doing It… or Almost Everybody
The Perks of Free Lunch
Ian Peters-Campbell, writer and company culture expert, notes the following reasons why companies choose to offer free lunches:
It saves time by keeping people from having to leave the office.
It brings people together, encouraging better relationship building and communication.
It creates opportunities for presentations, demos, etc.
It's a reward that's often appreciated both financially (money-saving/non-taxable) and in terms of morale.
In their post, What Companies Gain From Providing Free Lunch to Employees, strategy+business lists the ways that offering food onsite also helps businesses:
Overcome location issues: Such as suburban islands or emerging neighborhoods, where it's harder to access restaurants.
Save up to 30 minutes a day: Up to 125 hours of downtime per employee per year.
Control labor costs: A free lunch makes even more sense the more an employee gets paid. (Because their downtime costs even more.)
Up to 150% ROI — Where Do I Start?
San Francisco Bay and Los Angeles-based catering business and free lunch evangelists, EAT Club commissioned a study that found that companies offering free meals earned up to 150% ROI on their investment in these services. CMO, Maria Puoti, explains:
"The value of providing lunch goes far beyond the $11-12 USD cost of a meal. If you factor in the actual amount saved in time spent and lost productivity when employees have to forage for lunch on their own, and couple that with the benefits of collaboration and camaraderie that results when employees have lunch delivered, you begin to see how such a simple decision can have a huge impact."
The results of the EAT Club study are summarized in the infographic below.

Three Simple Steps to Free Food Perks
Ok, you get it. Food at the office is a great idea. But where do you start? We've broken it down into the following steps.
Step 1 — Determine if Offering Free Lunches Right for You
With publications like Digiday noting that even ad agencies are now proclaiming "Lunch is the new happy hour!" — it's hard not to want to instantly pull out a menu and start taking orders. But first, you need to evaluate if this choice is a fit for your company both culturally and financially.
In response to Digiday's article, Cater2.me penned a blog post about why lunch is more than just a perk where they explain why they are passionate about offering this perk within their own company:
"There is an imperative need to sit down and have actual meals with your colleagues. Food is the lynchpin of most of our cultural practices around social gatherings, which is why group meals are so important. It's not unlike the warm fuzzy feeling around family meals but at work. Creating a culture around company meal experiences is one of our core values."
I was fortunate enough to speak with the Cater2.me marketing team while researching this post and they reiterated that they really do eat together every day. It has brought them closer and, in many ways, their colleagues feel like family. Marketing Specialist, Shira Andres said, "It's really nice to have some time to connect and get to know each other. Being able to have personal conversations makes having business conversations even easier."
There are many angles from which you can evaluate the decision to offer free food at your office. Some of the questions you should ask yourself are:
Is this a match for your company culture?
Who are your team members and what are their needs?
How does offering lunch fit in with the other benefits you offer?
What else are you doing to encourage team building and communication?
What is your budget and vision for this initiative?
Toronto-based Feast, chimes in on the debate with a blog post that touts the benefits of a free lunch while answering critics who claim there's really no such thing as a free lunch:
"Cynics often look at these [meal] programs as a nefarious way that employers get their staff to stay at their desks and continue working. But the reality is that most people eat at work anyway, with only one-third of workers taking a lunch break away from their desk. So why not acknowledge the behavior and provide people with the tools to eat better?"
Feast goes on to add that businesses who want to offer complimentary meals should also focus on the quality and section of food while promoting a company culture that encourages breaks… even if lunch is taken care of.
Step 2 — Explore Your Options
While this list is only a small sampling of what's out there, the range of ideas will definitely give you food for thought. (Keep in mind that, for right now, many of these companies are bound by geography with limited areas of operation. A simple online search should help you find providers in your area.)
Beverages
From coffee and tea to cold-pressed juices and after-hours cocktails, there are many ways to ensure the glass is never half empty.
Full-Service 
These companies have not only realized there's a market for providing food at work, they've also developed an à la carte range of services to suit varying needs from meal delivery and catering to hybrids thereof.
Grocery Delivery 
Either offered by the grocery stores themselves or by specific services, having groceries delivered to your office can take one more errand or series of errands off your plate.
FreshDirect— An online grocery store and farmers' market all-in-one, they deliver to offices in New York, New Jersey, Connecticut, Pennsylvania and Delaware.
Grocery Gateway— Shop the online store, pick your fruits, veggies and other grocery items and having them delivered to your business in the Toronto area.
Meal Delivery
These companies have taken takeout to a higher level. Instead of leaving you to research local restaurants, they've done the legwork — making it easier for you to enjoy delicious meals, prepared in their own kitchens or at local restaurants.
Chowdy — Choose from a menu of 16 weekly chef-prepared options, priced at only $7.99 a meal. Available in Toronto.
DoorDash — Use the app to sort restaurants by genre, price and delivery time. Available in Northern and Southern California and a growing number of cities across the United States and Canada.
Grubhub — Not sure where to order a takeout meal, Grubhub can help you find a wide range of local restaurants that deliver. Available in 900+ cities across the United States.
Foodee — Pick the restaurant, choose your food have it delivered in Toronto, Vancouver, Austin, Philadelphia, Denver,  Minneapolis and Atlanta.
Foodora — Order from the restaurants you love in Toronto and Montreal and have your meals delivered to your door by their signature bike couriers. (Also available in select cities throughout Europe.)
Kitchfix — Healthy meals and snacks available upon request in Chicago and select area suburbs.
Maple — Delivering delicious, high quality, chef-made meals across Manhattan. Use the app to choose from rotating daily menus.
Platterz — Have food from your favorite Toronto vendors catered and delivered to your office on family style platters.
Seamless — Their business service gives you the flexibility to order meals from local restaurants individually or in groups. Available in many major cities across the United States.
Sprig — Those in San Francisco and Chicago can use the app to order meals made with organic and sustainably raised ingredients.
UberEATS — Tap into the Uber network to get meals from your favorite local restaurants. Available in select cities across North America.
Yelp EAT24 — A natural extension of the review site, it's one of the most highly ranked online ordering and delivery sites/apps in the United States.
Meal Kits
One of the hottest trends in food tech, meal kits can be a great tool for small business owners and startup founders with busy schedules. But, they can also be a way to help employees balance the challenges of work and home.
Blue Apron — Get fresh sustainably produced, pre-measured ingredients and a recipe sent to your home or business with free delivery across the United States.
Chef's Plate — Their chefs create meal kits using local ingredients that can be delivered to your home or office. Currently serving Eastern Ontario.
HelloFresh — Get different meal kits each week featuring recipes by celebrity chef and fresh food advocate Jamie Oliver. Available across the United States and in Southern, Eastern and Central Ontario.
Meal in a Jar — Everything you need for fresh, healthy meals, all in one simple jar. Currently serving Southern Ontario.
Munchery — Now delivering deliciously healthy meal kits in Arizona, California, Colorado, Idaho, Maryland, Nevada, New Jersey, New York, Oregon, Utah, Virginia, Washington and Washington D.C.
Purple Carrot — Got a hungry group of vegans, get recipes and ingredients delivered throughout the Northeast, Mid-Atlantic and West Coast areas of the United States.
Snacks
If full meals aren't in the budget, thinking outside the vending machine with snacks can go a long way toward shaping a unique business culture.
Unique Solutions
When food isn't your only challenge…
Postmates — Need a meal from a restaurant that doesn't deliver, grab a few groceries or pick up a prescription? Postmates is your answer. Available in many major cities across the United States.
How Many Food Tech Startups Are There?
The food tech landscape is constantly evolving. However, when it comes to variety, no one's going hungry. According to CB Insights and Fast Company, investors have poured more than $5 billion dollars into the food tech market in recent years. What's next in food tech? Only time will tell.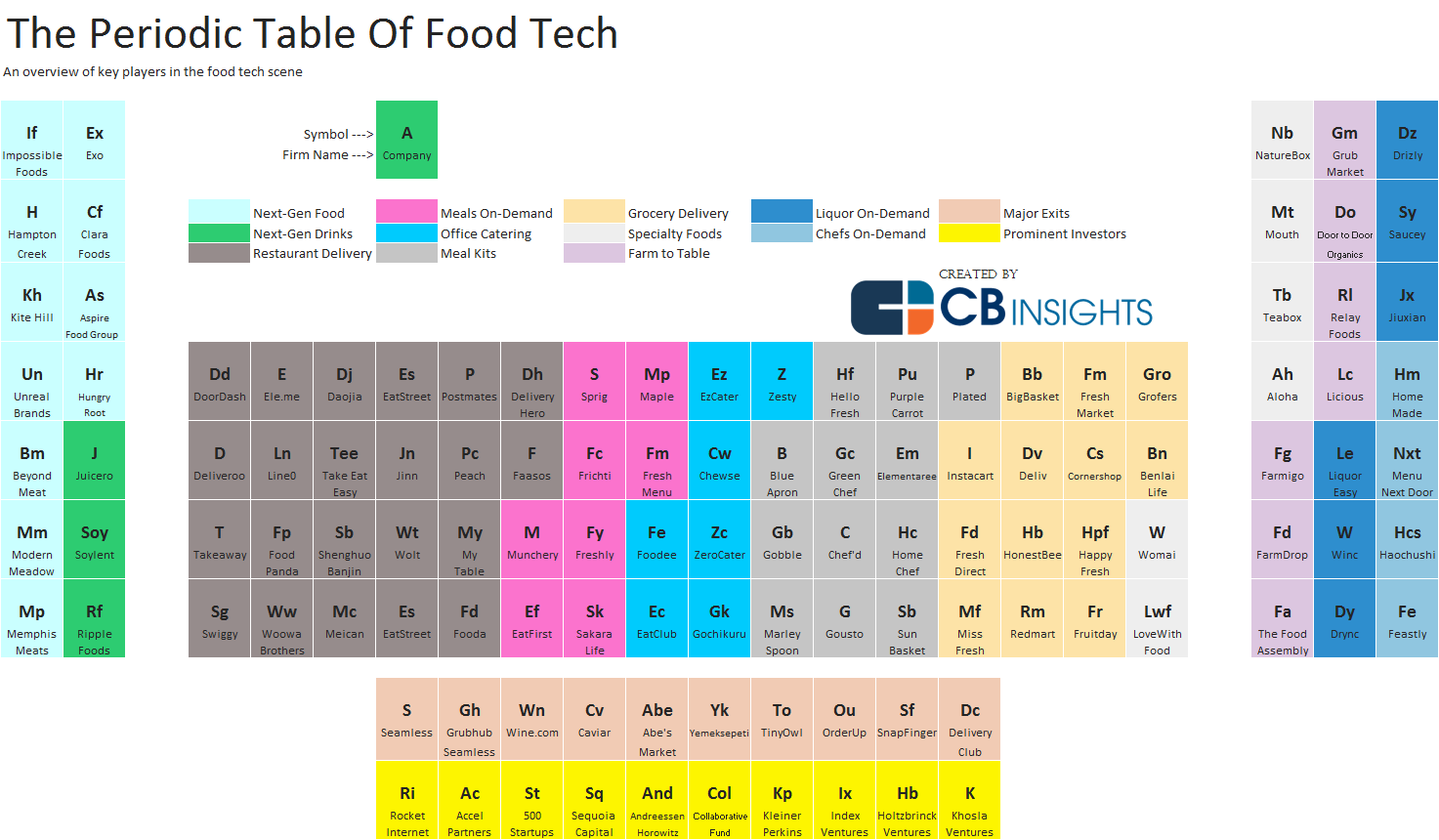 Step 3 — Don't Be Afraid to Be Creative
In a conversation about providing meals in the workplace, Feast CMO Paul Cowan said, "What people always want with food is choice."  You also have the power of choice in deciding what types of food to offer your employees and how to implement the program. To further the point, the HR experts at Insperity proclaim, "You don't need to have Wolfgang Puck on retainer to please your employees."
Some of the smorgasbord of ideas you can try, include:
Having meals prepared on-site, catered, delivered from local restaurants or a hybrid solution.
Offering meals once or twice a week instead of every day.
Hosting monthly themed lunches.
Encouraging audience participation with potlucks and bake-offs.
Scheduling a food truck to stop by the office, spontaneously or on a regular basis.
Picking up part of the tab through subsidies or per diems.
If meals aren't in the budget, try providing a range of snacks.
Mixing and matching by having meals one week and a snack bar the next.
Upgrading or refreshing your kitchen area and ensuring its stocked with goodies.
Arranging food delivery to an employee's home as a reward for hard work. (This can also be thoughtful if there's a new edition to the family or, sadly, a loss.)
Offering free lunches or any sort of food staple is a way to attract talent, retain the workers you have and shape your company culture. In the same vein as ensuring that your paychecks are accurate and on time, it's a simple thing you can do to set your business apart.
How has adding food as a perk affected your business? Please share your experiences and ideas in the comments below.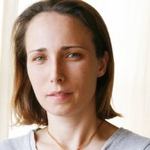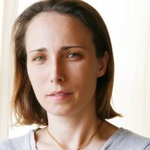 Author: Content guru and marketing co-conspirator at Wagepoint, Michelle Mire is a professional writer with agency and corporate experience who is now diving into payroll with full scuba gear in tow. When away from the keyboard she spends time hiding chocolate from her children and attempting to escape for a morning run (to work off the chocolate).