Don't Ignore These Essential Software Programs for Small Businesses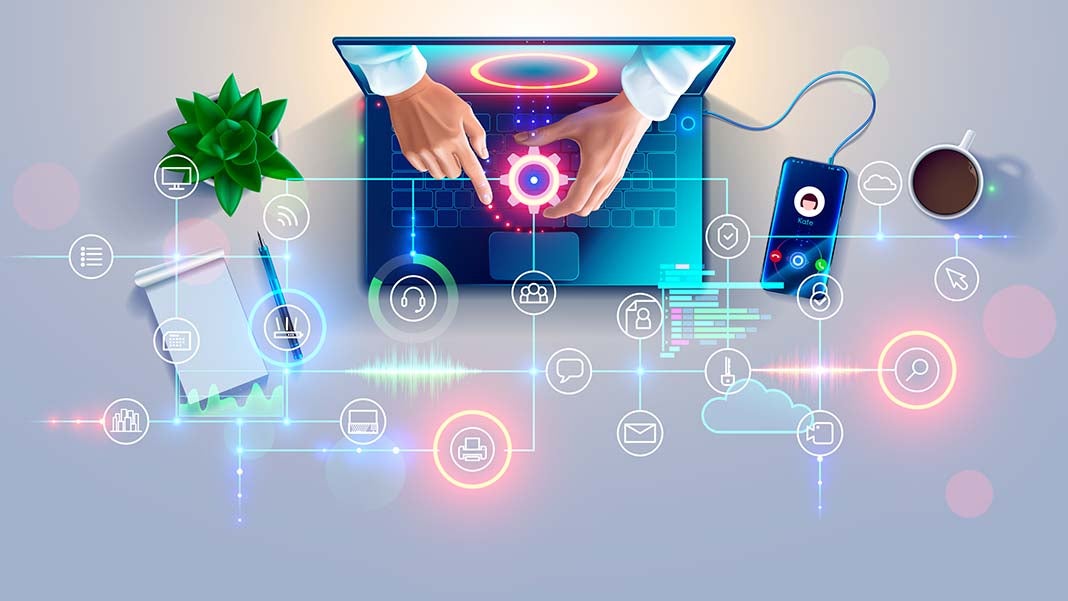 When setting up your small business, it's crucial to choose the right software, tools, and solutions to empower your employees and run the SMB smoothly and efficiently. There is a host of programs and software for different purposes that can be really helpful. The list could be endless; besides, it replenishes constantly. However, there are some vital programs to utilize to be as successful as possible. Here we'll explore the main types of software for small businesses to pay attention to whether you're starting out or already in process.
9 Types of Software for Small Businesses
Today you can find a broad spectrum of software types designed specifically to meet any need of small business and solve certain kinds of problems. Below are the most common programs, tools, and software that are considered as bespoke or off-the-shelf products. They are the main business software types to help you automate business processes, save time, increase productivity and stay focused on the most valuable business activities.
Business financial software
Asset management software
Customer relationship management (CRM) software
Database software
Document-sharing software
Accounting software
Desktop publishing software
Employee Onboarding Software
Nothing is going to work without employees. Therefore, you need at least 2 things: good HR and sufficient onboarding software to empower your team of recruiters. Not only can such programs automate routine daily tasks, but they help you create a more professional outlook for your company. Utilizing that software, HR can schedule meetings and interviews, upload documents for verification and candidates' personal information, assign employees to the corresponding teams, and perform other tasks. It's an efficient way to build a productive team to meet with success.
Collaboration Software
Today it's common to hire remote employees from different countries. That's why it's crucial to choose the right collaboration software to be in touch with all your employees and teammates. Due to the numerous cloud-based collaboration tools available, you can keep the entire organization or its separate parts more productive.
There is a broad array of apps to utilize to chat, create group meetings, send messages from whatever device, capture and share files, etc. Choose the program that will meet all your demands like security level, ease of use, features, add-ons, and other options.
Accounting Software
Accounting software takes all the hassle out of your small business financials. Thus, you can track all the fund transactions, invoices and payments, keeping all the data in one place. Only by utilizing the right program can you reduce your expenses, automate financial management, provide accurate reports on your financial activities, and so forth. What's more, you can find a wide selection of programs with free trial versions to try them out and identify what software will meet your business requirements best.
Project Management Software
Complicated and/or specialized projects are not only for big business anymore. Many small businesses across different industries use project management software to handle several projects at once. Thanks to project management solutions, it becomes possible to collaborate and meet goals on time while managing resources and costs. In addition, there is a great number of programs and tools that can help you to easily mitigate risk by monitoring every stage of the project lifecycle and identifying the failing aspects of the projects.
Customer Relationship Management Software
It's no secret that your business would quickly fall apart without consumers. That's why it's so important to track your company's interactions with potential customers. CRM software will help you gain valuable insights into how consumers interact with your brand and what drives them to purchase, by capturing customer data across different interaction channels and analyzing it. Moreover, CRM solutions used in your business can help you better understand the needs of your clients, build strong relationships with them, boost your conversions and improve revenue rates.
Document Management Software
Sometimes it's crucial for small business owners to have access to all their documents, files, information via any device. Thanks to a large number of document management solutions on offer, you can capture, track and store e-documents in one place. Google Drive, Dropbox, and Slack alongside other document programs are in great demand and can be used for that purpose. All of them provide a package of options that help you to easily find, share and secure all of your important information, turn it into actionable data and make data-driven decisions.
Time Tracking Software
Make your team and yourself even more productive and proactive by using time-tracking software. It's a way to track the time spent on different tasks to understand your weaknesses, detect time-consuming issues, and reduce a poor use of your time. Also, it's a good way to improve the micromanagement of your team. TimeDoctor, Zoho, VeriClock, Wrike, and similar programs are all effective.
Backup and Recovery Software
There is no such thing as too much security. It's not the best idea to leave some sensitive data like personal details unguarded, unprotected and un-backupped. It's better to cover and back up all your business documentation, financial records, and sensitive information if there is a need to recover it all at some point. There are lots of services, tools, apps, and programs your company can use to duplicate business-critical data that would put your company's daily operations at risk if lost.
Security Software
DDoS attacks, viruses, malware and other threats make the Internet an insecure place to keep your sensitive data. That's why the safety and security aspect is so crucial to keep in mind. Thankfully, a broad array of security and antivirus solutions are available in the market, meaning you can protect computers, tablets, smartphones, and your entire business from being infected with a malicious program or from leaking data, etc.
Bottom Line
If you are planning to operate a small business, then these tips are certain to help you. We've overlooked the most commonly-used software to make your small business more efficient and trouble-free. With such a variety of software types helpful for SMBs to grow, you'll definitely find those that suit you best.
The good thing here is that almost all programs have free and/or trial versions. Certainly, in this case, don't expect to receive full-scale software, but still, the main features will be available to test how they work. It's a way to check the effectiveness of your chosen software and decide if it's worth investing or not. Just choose the program based on your business needs and try it—what have you got to lose?
Published: November 21, 2019