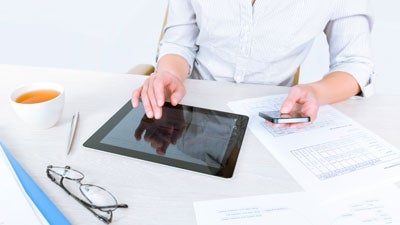 The world is becoming increasingly mobile. In February, Google announced that mobile-friendly sites will get preferential placement in search results. In April, Facebook announced that more than one billion Facebook searches every day are conducted on mobile devices. But it's not just customers who are going mobile. Businesses are, too.
The move toward enterprise mobility isn't a fad, and it isn't a luxury. In fact, it will soon be a necessity if you want to remain competitive.
Here are some of the reasons companies decide to embrace enterprise mobility plans:
The benefits of enterprise phone systems are too great to limit them to employees using office phones. Integrating mobile phones into the enterprise phone system benefits both employees and customers by directing every call where it needs to go, whether that employee is in an airport, in a car, or at a customer's plant.
More employees are working remotely, whether they're on the road for business or working from home. They want—and need—access to the same systems and data they have in the office. They're very aware of the capabilities of things like cloud technology and collaborative software, and they have little patience with employers who won't let them use those tools. Many businesses have realized that employees will access them on their own, and it's much better for security concerns to get out in front of it and have a plan in place.
A contributing trend is the BYOD—"bring your own device"—movement, in which employees use their own PCs and mobile devices. It reduces the capital outlay required to provide employees with the technology they need to do their jobs, and it increases productivity by allowing employees to use devices they're comfortable with.
As with any new technology, it's much better to do it right from the beginning than to learn through costly mistakes.
Many providers are already employing best practices. Here are just a few.
Get connected and stay connected. Your enterprise mobility plan will fall flat if employees can't connect when they want, from where they want, on the device they want. Your connection has to be both accessible and reliable, or people will find shortcuts. Shortcuts can hurt you both in terms of productivity and security.
Prioritize security. Data security is a priority for all companies, but companies that embrace enterprise mobility have some additional considerations. It's critical to have a plan that includes the following:
-How to integrate across different devices and mobile carriers
-Integration of device-level security with network security protocols
-A universal policy that addresses how employees use both company-owned devices and BYODs
-A strategy for communicating those policies to all employees, especially those who use their own devices
-Procedures for monitoring and enforcing those policies
-How to handle lost or stolen devices
Buy or develop a mobile app that supports the way your employees work. A good mobile app is one that makes it easy for employees to do everything they need to do without going through unnecessary steps.
Be anticipatory. Mobile technology will continue to evolve, and it will do so rapidly. If you're learning about new technology from employees who are already using it, data security is already at risk. It's critical to see what's coming next and to make a plan for integrating it.
Enterprise mobility presents both challenges and benefits. But, either way, it's here to stay. In fact, some industry experts predict that large, multinational corporations will abandon desktop computers within the next 12 to 15 years. How will your business incorporate enterprise mobility?