How to Choose the Best Monitors for a Small Office Space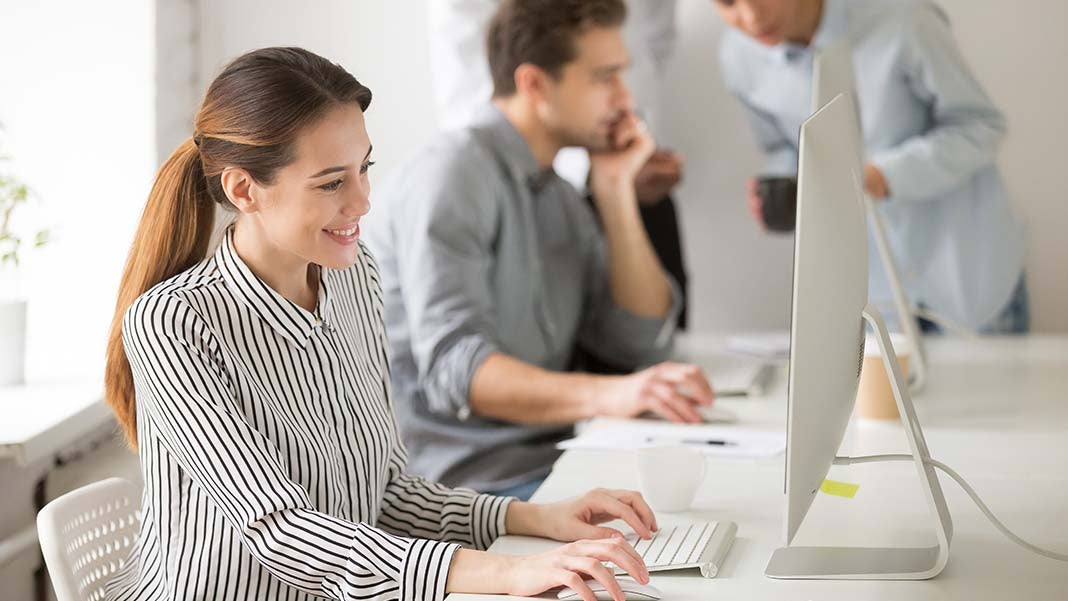 Choosing the best monitor for small office space is probably one of the wisest decisions you can ever make. Considering that you spend most of your working hours in front of your computer, having one that is easy on your eyes is an excellent idea. Having a great monitor does not imply that your work will look better (this is a plus), but it guarantees your physical and eyesight health.
With the increased technological advancements, there is a lot to consider before buying a PC monitor. Whether you are looking for one to fit your needs or those of your employees, there are many considerations to think about. Check this general buying guide and a review of some of the best monitors for small office space.
Panel type – TN, VA, and IPS
For office work, the IPS panel is most suited because it offers excellent consistency and color accuracy. It also features perfect 178-degrees viewing angles, such that the colors do not change when you view them from various aspects. You will probably love their ideal response time, which means that there is no wasting time while waiting for the monitor to respond.
The VA panels have comparable response time and color accuracy as the IPS, but they are not as efficient as the latter. They also have an incredible contrast ratio that delivers an extensive viewing experience. The TN panels have poor viewing angles and color production. However, they have out of this world response time speed, making them great for gaming, which does not apply in this case.
Dual monitor vs. ultra-wide monitor setup
You can get two 27-inch 1440p displays and a 34-inch ultra-wide (21:9) for the same amount of money. Although the ultra-wide screens provide an exceptional viewing experience for movie enthusiasts, the dual-monitor setup offers better quality. The dual-monitor has more than two million pixels, which is about 49% of the regular screen.
The ultra-wide monitors offer a host of features that enable simplified multitasking like screen splitting application. Considering the high pricing and large screen size, the ultra-wide may not be ideal for small office spaces. However, if you have enough free space and aren't short of cash, you can go for it.
Size and screen resolution
The screen's resolution should be among the top considerations to make when choosing a monitor for your office space. A 27-inch monitor with full HD resolution is a great addition to your workspace. Although it might be high priced and decently sized, its image quality is out of this world.
Although the 1080p screen resolution has been commonly used, monitors with 1440p have been the standard over the past few decades. The latter is ideal because it features excellent text clarity, is ideal for spreadsheets and multitasking.
CCFL vs. LED vs. LCD
Most LCD screens have an LED backlight panel. The LED replaced the CCFL displays, and they are thinner, durable, cheaper, and they use less power than the counterparts. In short, LED monitors are LCD. The CCFL is an outdated technology that is rarely used. To prevent harming your eyes, go for displays that do not use pulse width modulation to control the brightness levels.
A word of caution
Even with the best monitor in the market, you ought to take regular breaks from the screen. Avoid using maximum brightness and cold temperatures. When you are in poorly-lit space, reduce the brightness and when in a bright room, increase the intensity. You can pick a monitor with an inbuilt sensor because it regulates the light automatically.
Review of the5 best monitors for a small office space
Asus MB169B Plus
It is relatively small, meaning that it is more portable than the regular monitor. Its screen size is 15.6 inches and weighs about two pounds. It comes with a protective cover to secure it when you are traveling, and an adjustable stand to set it up almost anywhere.
BenQ GW2270H
It is ideal for small offices that do not want to compromise on quality but they are working on a tight budget. The monitor is quite attractive, and it features a 21.5-inch screen size. It even has a pair of HDMI ports. With excellent specifications of 5 minutes response time and 1920 by 1080p resolution, you will be happy using it.
Acer V276HL
It offers excellent value for its price and is much larger than the Asus model. The large screen is fantastic for people who work on documents and spreadsheets regularly. The model also has a large viewing angle and an adaptive contract management feature that allows you to change the contrast as you wish.
Dell U2718Q
The model's wide viewing angle is its selling point. If you use your computer regularly while working, you should consider buying this screen. It has an impressive 4K resolution and a 27-inch screen size. These features are great for someone who may wish to open several applications at a go.
Dell UltraSharp U2717D
The last on the list is yet another monitor from Dell. It has a 27-inch display that uses an IPS display, which offers excellent image quality. You are assured of excellent grayscale and color. The monitor is admirably thin and has an adjustable stand to ease movement.
Choosing a monitor for small office space requires one to consider the resolution, size, document processing, panel, and screen type. If you are looking for one, these tips are sure to come in handy. All the best!
Published: November 29, 2018
4294 Views