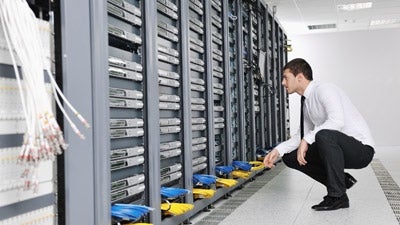 Your data center is the core of office functionality. It is critical that your data center design and liquidity are 100 percent operational every day of the week. During the next five years, nearly half of all IT departments will face a data center build or significant upgrade, which is one of the most expensive and complex IT projects. A 1,000 square foot center can cost as much as $1.6 million. You must budget for costs like permits, ongoing expenses, and facility requirement estimates like power and cooling supply. Consider incorporating the following cost effective items into your next data center design:
Structured Cabling System
Modern data centers house a large number of diverse bandwidth-intensive devices including clustered storage systems, bladed servers, backup devices, and virtualization appliances, all of which are connected to one another via networking equipment. These devices require physical cabling with higher and higher demands for flexibility and top notch performance within a reliable, scalable, and manageable cabling infrastructure. A structured approach to cabling entails designing cable runs with connections that facilitate identifying cables, troubleshooting, and planning for future changes. Try planning equipment rack layouts with cables run from the Horizontal Distribution Areas (HDAs) to the Equipment Distribution Area (EDA) using horizontal cabling.
Cloud Hybrid
For many years, companies had to choose between public and private cloud storage solutions. Today, there are a range of hybrid solutions that offer the best of both worlds. Public clouds can provide on-demand resources and resource sharing across multiple factions for information that is not of a sensitive nature. Private cloud has the same capacity but allows for more control over security, performance, and service level agreements. With both public and private cloud solutions within a single infrastructure, you have more agility and freedom with managing your resources, heightening productivity and efficiency.
Enterprise Application
It is critical that modern data centers are highly reliable and resilient. They must be able to handle traditional enterprise data needs while managing growing application demands from mobile devices to virtual desktop infrastructures (VDI). End-user computing models centralize data, applications, and desktops within the data center, which employees can then access from any device in any location. This allows data centers to better address their ever-growing workload demands and handles existing virtualized enterprise applications, VDI systems, and enterprise data services, such as Dropbox.
Modular Design
With the growing number of data center technologies, infrastructures have become increasingly complex with chaotic, incompatible frameworks, consoles, storage silos, and servers. A modular design offers flexibility and simplicity so that IT departments can add or take out building blocks as needed. These designs are small, compact, single rack solutions with capacity for interoperations and streamlining overall data center management. Modular designs are also perfect for scaling your organization's data as well. You get on demand resources without an excessive number of provisions that are costly and unnecessary.
As you start your data center design, consider consulting with a specialized contractor who can provide the insight that you need to ensure a successful build or upgrade. A new data center or major upgrade is a substantial undertaking, and you want to do it right the first time around!
This article was originally published by TTI Houston
Published: October 3, 2014