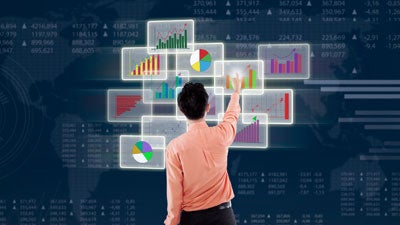 Handing large amounts of data is now easier than ever. Considering that most of us use laptops and computers for business, it is important to have access to information all the time. However, we can't risk having valuable information compromised either. How do we handle large volumes without losing it, or worse, having it compromised? First of all, regardless of your amount of information, it is important that you find yourself a storage module.
Storing Data Across Multiple Drivers
With the growing need for storage of increasing amounts of data, the best solution is to store data across multiple drivers; the chance of them getting lost in a computer crash won't be that significant anymore. But storage media needs to be characterized with a few properties to be satisfactory, i.e. the stored data should remain unchanged and undamaged while their maintenance shouldn't be difficult.
External hard drives are in trend these days. They're safe and easy to handle. Seagate's wireless external drive for instance, is perfect for business and personal use. It has the capacity to create its very own wireless connectivity. This way you can stream files and media to your iPad, iPhone or Android devices without an internet connection. All you need is Seagate's media app, which is available in the Apple and Android stores.
A storage device for your data has to be easy to operate and the connection to a computer should be as simple as possible. Another great option is Drobo, which is a small server that fulfills all of listed requirements. It will store multiple hard drivers into a single one what will make your data very accessible. It will protect your files and provide a backup.
If you're skeptical of using external drives, or you just don't like carrying them with you all the time, you can consider UBS lash drives. ScanDisk has USBs with capacities of 125 GB. Lexar is an equally viable option for data storage, too.
Storing Data in the Cloud
Storing important data in the cloud is something everyone should consider. Basically, all you have to do is make an online account with a company that offers cloud services (e.g. Sugar Sync, Microsoft OneDrive, Dropbox, iDrive, and numerous others). Storing information up in the cloud is not free, though; you will have to pay a monthly/annually subscription. A lot of companies fancy the cloud because it provides access to data from anywhere at any time, providing that you have access (username and password) and an internet connection.
Compression and Deduplication
It makes perfect sense for someone to want to preserve important data they're spent months creating and gathering. But what do you do if your computer suddenly doesn't open? You can't risk losing that vital information, and sometimes it can be challenging to have backup files for massive amounts of data. A great way of handling this sort of information is with deduplication, which offers a data compression and reduction technique for eradicating such expansive copies of information. This way your storage utilization is greatly enhanced without a lot of effort; in the long term, this saves you time, cash and valuable resources.
Use the COBIT 5 Framework
COBIT 5 is a leading framework for management and governance of IT companies worldwide. Packed with all kinds of resources and tools, the online platform is excellent for businesses that want to preserve their productivity on the floating line. Handling large amounts of data can be challenging; COBIT 5 can help you handle vulnerabilities, assess risk management, keep your information secured, and fuel business success.
Handling large amounts of data may be difficult but not impossible to do. Whether you'd like to store everything on memory sticks and external hard drives, or try out cloud computing services, the good thing is that there are options; some are more convenient than others, so you should think carefully before making a decision. If you're having doubts when it comes to selecting a storage system (whether offline or online), consult with an IT specialist for advice.
Published: June 24, 2015
8574 Views