If you believe that you're not wasting resources on digital marketing, I have a surprise for you! Most surveyed marketers say they cannot prove the ROI (return on investment) for their digital marketing efforts, particularly on social media and content marketing.
Oh no, you say!
Sorry to break bad news, but TrackMaven's Marketing Leadership Survey: Strategy, Technology, and Data-Driven Management 2017 demonstrates that the biggest challenge for over 71% of surveyed marketers is proving the ROI of their social and digital marketing efforts. And many of us assumed that digital marketing would make tracking easier than traditional marketing!
These aren't unique results either. Last summer, MarketingCharts posted results from The CMO Survey that showed how difficult it is to show the impact of social media marketing efforts on businesses. Without evidence, we can't assume that the same results would apply to nonprofit organizations, but typically, they tend to fall behind their for-profit counterparts.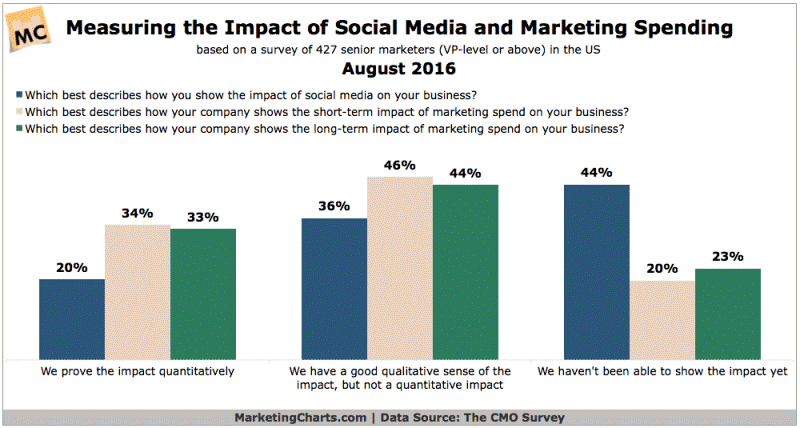 The TrackMaven survey doesn't say that marketers aren't trying to measure their results – the top three metrics they use are: engagement metrics (91%), consumption metrics (82%), and audience growth metrics (78%). What it is saying is that only 27% of them consider themselves very effective at demonstrating the value of marketing efforts internally. Most (69%) say they're only somewhat effective. Ouch.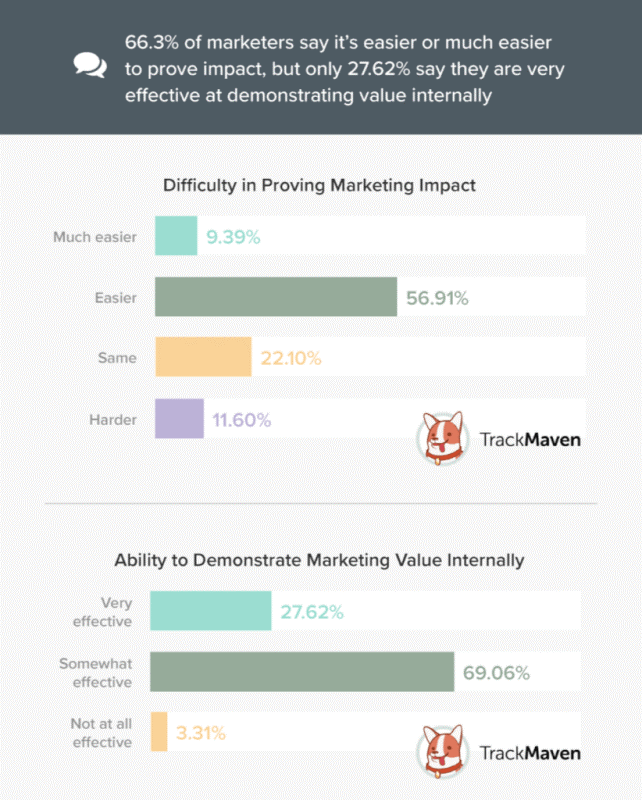 In addition to proving social media and content marketing's worth, marketers are also experiencing challenges in these areas, too:
So, the $64,000 question is… how do you prove digital marketing's value to the bottom line?
The first thing to look at is your overall marketing plan which should include both digital marketing strategies and tactics. Don't have one you say? Oh-oh. There's an entire chapter in my book dedicated to developing a marketing and branding plan.
According to Hootsuite, "the key is to set social media goals that complement existing business and departmental goals." They offer some good examples.
"If you have set a specific number of leads you're trying to attain this quarter, set the number of leads you want to be driven via social media. If one of your goals is to increase landing page conversion by 10 percent, ensure that you're tracking the conversion rate of people who land on the page through social channels."
They also caution that the brand awareness created by social media – seen in "vanity metrics including likes and retweets – is valuable, but not enough."
Once you establish your goals, you need the right tools to measure your data. Download my free e-book, Free & Cheap Marketing Tools and Resources 2017. There are links, tools, and articles on this subject.
Here's My Take
Without a marketing strategy, you'll be spinning your wheels.
"Strategy always comes before tactics. Otherwise it's like driving on the highway without knowing your destination. That would be a big waste of of time and gas." (excerpt from Beyond Your Logo: 7 Brand Ideas That Matter Most For Small Business Success, ©2015)
And, dare I add that you shouldn't discount traditional marketing when evaluating the tactics to reach your marketing objectives. Just because some "experts" consider it passé doesn't mean that traditional channels (like direct mail) can't be highly effective.
So, do you think you've been wasting your valuable resources on digital marketing?