It's hard to believe that social media has been around since 1997 when the earliest networking site, SixDegrees launched! (It doesn't exist anymore.) During the 2000s, we saw many of our currently favorite sites appear.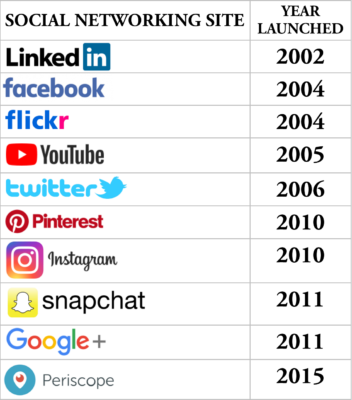 Now, let's look at the number of users each site has:
LinkedIn: 500 million users (Jan. 2018)
Facebook: 2.072 billion (Jan. 2018)
Flickr: 90 million monthly users (Nov. 2017)
YouTube: 1.3 billion total users (2017)
Twitter: 330 million active monthly users (Jan. 2018)
Pinterest: 175 million monthly active users (Jan. 2018)
Instagram: 800 million active daily users (Dec. 2017)
Snapchat: 178 million daily active users (Jan. 2018)
Google+: 100,000,000 estimated unique monthly visitors (July 2017)
Periscope: 1.9 million daily active users (Jan. 2017)
Resource: Omnicore, eBizMBA Rank
Based on these huge numbers, one would think that social media marketing is an effective way to reach customers, right?
Not necessarily.
Here are some surprising facts about social media marketing you may not know:
Although the vast majority (77%) of marketers are using at least one social network to promote their brand, that doesn't necessarily mean they are getting the most out of social or generating significant ROI from it. (Data & Marketing Association)
Only 38% of respondents agreed they're able to measure their social activities. (2017 Social Media Marketing Industry Report)
Only 48% of marketers said they see a return on investment using social media, a figure which suggests many are either failing to engage properly with the right platforms or are not able to measure social's impact very effectively. Fully one-third of respondents neither agreed nor disagreed with the statement, suggesting that they don't have a clear enough picture of the ROI of social to make an informed statement either way. (Smart Insights)
Only 42% of marketers feel like their Facebook efforts are working, a decrease from 46% in 2016. (2017 Social Media Marketing Industry Report)
Almost 53% of respondents said that tracking engagement metrics is the most important feature they seek in a social analytics tool. By comparison, 39.4% cited the ability to track conversions as their most sought-after capability. (The State of Social Marketing, Simply Measured 2017)
CMOs rate social media's contributions to their companies' performance as 3.3 out of 7 and 45% say they are unable to show social media's impact yet. (CMO Survey, 2017)
According to many B2B executives, social media marketing has not always lived up to expectations, particularly when it comes to metrics like return on investment. (

eMarketer

)
Of course, there are countless resources that say social media marketing (SMM) is still the best thing since sliced bread, but I challenge you to measure your SMM return on investment as it pertains to your most important business objectives.
"Unless you connect your social media actions to broader business goals from the beginning, ROI can be elusive, and social media becomes an end unto itself." Keith A. Quesenberry, The Basic Social Media Mistakes Companies Still Make, Harvard Business Review
No longer is organic reach a realistic goal and vanity metrics are baseless.
"Vanity metrics are all those data points that make us feel good if they go up but don't help us make decisions." (Kissmetrics blog)
Here's an excellent post to guide you on social media marketing measurement:
The Complete Guide To Measuring Social Media ROI And Tracking Social Media Metrics
According to the article, there are three reasons why you should measure your social media marketing:
You'll see where you can improve your efforts.
You'll be able to decide which social media channels are bringing in the most revenue.
You'll see how specific changes impact your social media goals.
As for me, I still use social media as part of my content marketing strategy, but with less emphasis. This year, I am testing local direct mail marketing and will report on its effectiveness in the coming months.
Has social media marketing been effective for your business or nonprofit? Please share how you measure it.