Bloggers, authors, artists and passionate creators of visual, multi-media, and text content can be powerful personal online brands. Those that understand the power of the social networks can accelerate and enhance their brand through effective
content marketing tactics
.
Here are some to consider and maybe emulate.
Case study #1. Trey Ratcliff – photographer
Trey is a photographer
from Queenstown, New Zealand who just happens to have over 6 million Google+ followers. His content is visual, compelling and contagious. This is what you should strive for.
1. Hangouts
This hangout is about how to create great sunset photographs. This illustrates the importance of the key principle of educational content.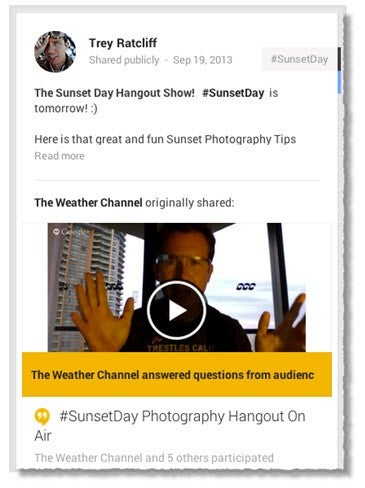 2. Hashtags
Hashtags
are now almost a universal categorization tool that started on Twitter and now is used across all the major social networks in Google+ and Facebook. This helps people discover and share your content and ride on the back of hot trends. Here is how Trey does this with a trending global hashtag,
#Sunsetday
.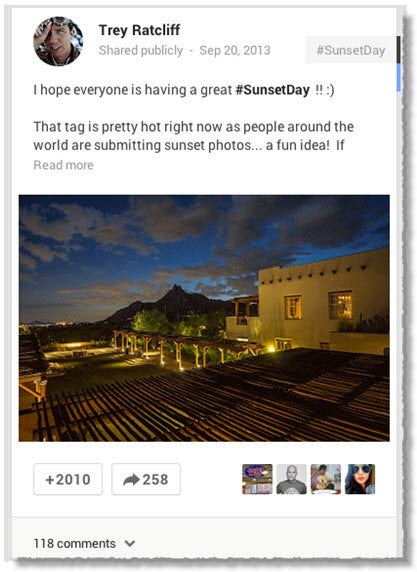 Case Study #2. Jamie Oliver – chef
Jamie
is a well-known celebrity chef that loves sharing healthy and easy to make recipes. He has over 1.8 million followers on Google+.
1. How To's
Adding value to people's lives by showing them how to do something is always a certain winner in content creation on Google+ (and other social networks). Here is the compelling and tempting photo (visual format), with the link to his website which reveals how to make a Pasta Peperonta.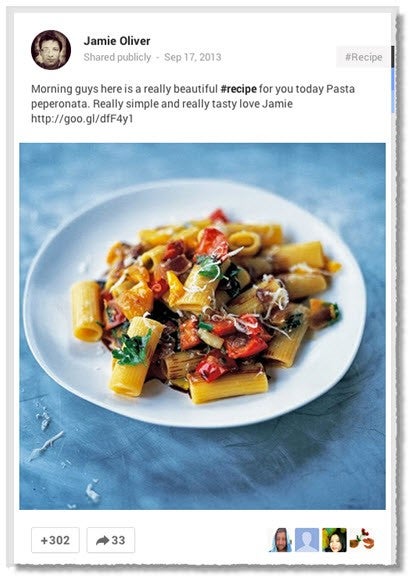 2. Multi-media content – Video
Running a competition that showcases your followers is a sure way to make your content flow over the web. Here he has used multi-media content via a video to announce the final five in a competition.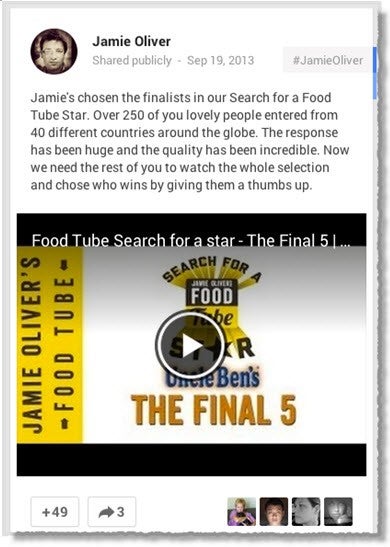 Creativity and imagination go a long way
So have some fun with your content creation on Google+ and don't forget to educate, entertain, inform and make it visual.
Remember it's all about your audience not you.
Looking forward to reading about your insights and experiences in the comments below.