I've found that a lot of small business owners don't know that they have free advertising credits on sites like Google, Bing, Yahoo, the various social media platforms, and Amazon waiting to be cashed in.
This usually happens for one of two reasons:
Someone else developed their site and took care of hosting, or
The owners established their website themselves, but had too much going on during the website launch to use their free advertising credits…then they forgot about them.
Do you know who your web host is? Almost every web host I know offers introductory advertising credits on one or more of the important online advertising platforms. These credits are typically between $50 and $100.
If you manage your own website, check with your host and see what kind of credits you can take advantage of. If someone else handled launching your site, talk to them to find out how much ad money you have waiting for you to use.
Let me also mention that if you want to find a professional to manage your online advertising, they often have deals that give you $100 credit on one or more of the popular ad platforms. When you're shopping around for an ad agency, be sure to ask.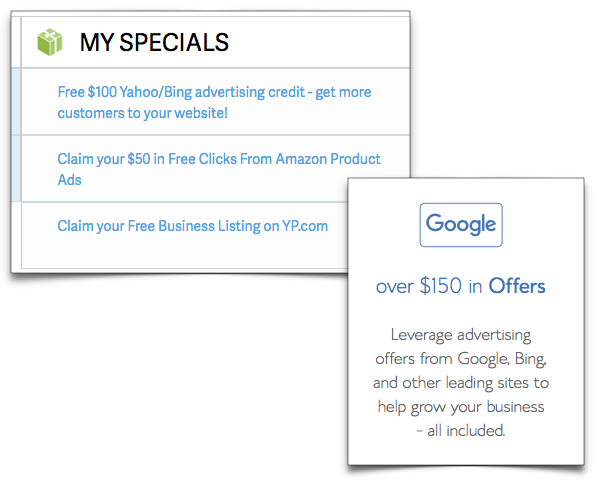 When waiting is smart
Frankly, if you launched your site yourself and didn't want to be bothered with designing an ad campaign at the same time, it was probably a good idea. After your site has been up for a while, you can get a feel where your best customers are coming from and concentrate your ad dollars there.
When you're ready to do some experimentation, these credits will allow you to gather critical information on someone else's dime. However, don't think that you can just throw things against the wall to see what sticks; do your research and take a very disciplined approach to your ad campaigns:
When you're shopping for a hosting service, see what kind of advertising credits they throw in for free. Your hosting decision shouldn't hinge on these credits, but if two services were more or less equal in your assessment, ad credits might tip the scales in favor of one webhost.
This could be especially true, if one webhost offered ad credits on more than one platform. In the illustration above, one service offers AdWords credit, while the other offers Bing, Yahoo, and Facebook credits. Having the ability to try different platforms to discover which works best for you can help you zero-in more quickly on where you should be spending your ad money.
It's important to make the best use of these credits because you won't be able to use free credits on your domain with an advertising platform more than once.