Google Maps marketing is most commonly viewed from the perspective of the 3-pack listings shown near the top of the search results for localized keywords. For example, see the figure below for the Google search "yoga Seattle."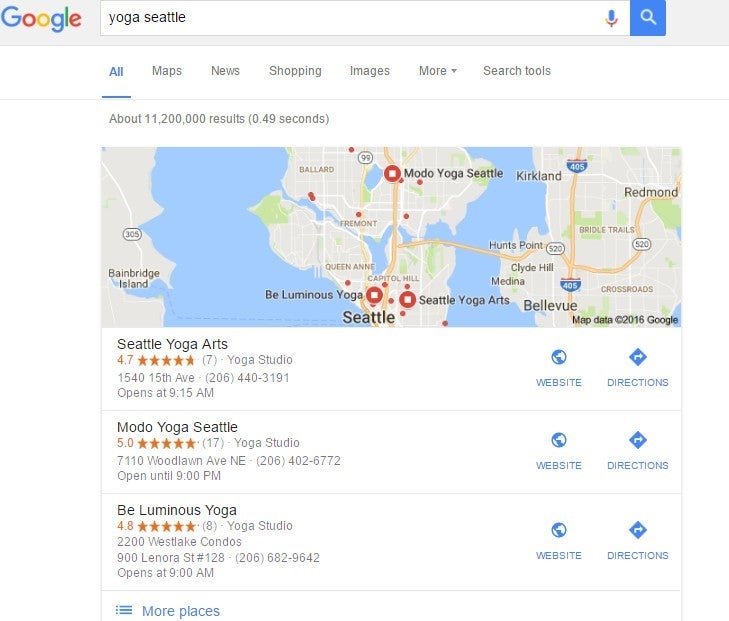 While the 3-pack is one of the most valued forms of marketing real estate for local businesses, it's not the complete picture of Google Maps marketing. There are other ways in which local businesses can leverage Google Maps marketing to increase their search engine visibility.
Ranked Google Maps Results
Not every user has location information enabled on their device, and Google Maps listings are active worldwide with no geographic boundaries (regardless of a user's search vicinity.) This is when ranked Google Maps results are typically displayed.
These search engine results appear on Google Maps for various types of businesses in certain locations. The figure below is an example of the ranked Google Maps results for "yoga" in New York City.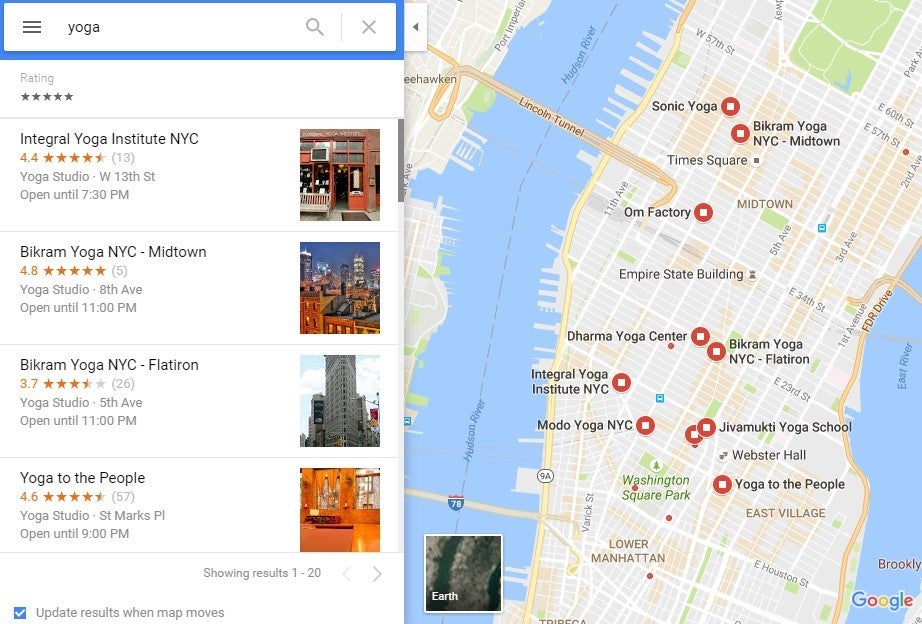 In the The Ultimate Guide to Google Maps Marketing, Dan Shewan of WordStream provides a deep analysis of the ranking factors associated with ranked Google Maps results.
He mentioned two specific variables (location of the business and reviews/ratings) that are NOT ranking factors in the Google Maps results (unlike the Google search 3-pack results which do take into account these factors.)
Rather, "Google My Business listing is, along with some other factors" Shewan notes as primary Google Maps ranking factors.
Read more on Google maps marketing.
Google Maps Ads
Among the latest advertising models from Google are a series of new ad features in Google Maps. There are four specific ad features, including:
Promoted Pins
Customizable business pages
In-store promotions
Local inventory search function
Google Maps ads can appear in the search results on the Google Maps app, the mobile and desktop versions of the Google Maps, and on Google.com's Expanded Map results.
Of the most commonly used features are a single promoted ad at the top of Google Maps search results, as shown in the figure below for "rhinoplasty" in Los Angeles.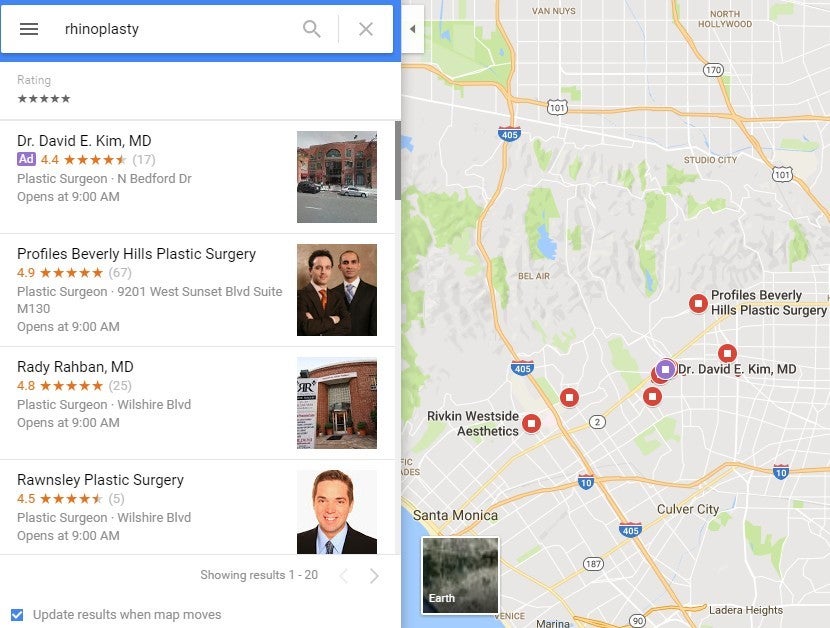 Based on the figure above, Dr. David E. Kim's ad is indicated with a purple "Ad" flag in the listings as well as purple pin on the map. In Google search, "rhinoplasty in Los Angeles" is a highly-competitive keyword phrase, both in organic listings and the Pay Per Click (PPC) ads. However, Google Maps ads provide prime marketing real estate with less plastic surgeons competing for precious advertising space.
Google Maps Marketing Moving Forward
As you can see, there's more to Google Maps marketing than the local 3-pack. To get on Google Maps, you'll first want to establish a Google My Business page. In this article about Google Maps Marketing, I outline some tips and strategies on how to optimize your Google My Business page for the best results in both the local 3-pack and ranked Google Maps results
For more information on how to advertise your business in the ranked Google Maps results, visit this guide from Google on how to get set-up. Leveraging Google Maps marketing from all angles can dramatically help increase your business's local search visibility.