Your business or nonprofit website is your #1 digital real estate. It's the place your prospective and existing customers visit to solve a problem and/or learn more about your products, services, or mission. It's where they read and engage with your content.
According to Clutch, the top three digital marketing channels businesses use are social media marketing (81%), a website (78%), and email marketing (69%).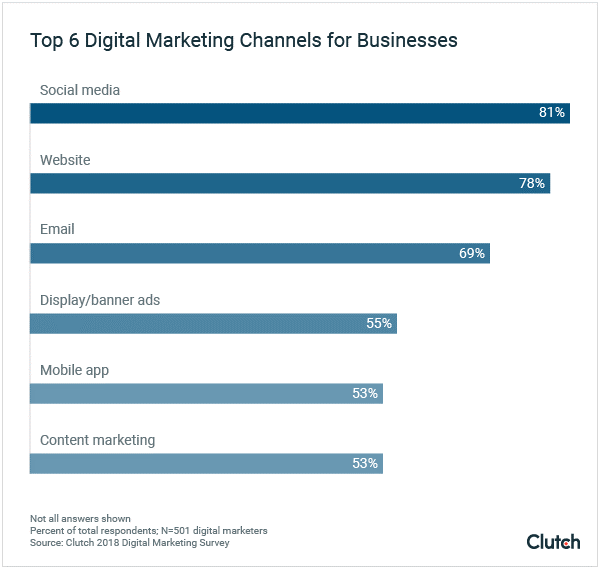 There are many components that go into a successful business website. Design, responsiveness, usability, and performance are just a few. Well written and informative web copy is another.
No pressure?
My marketing pal, Ann Handley of MarketingProfs, sums up writing this way:
 "There is no one way to write – just as there is no one way to parent a child or roast a turkey. But there are terrible ways to do all three."
-Ann Handley
Everybody Writes: Your Go-To Guide to Creating Ridiculously Good Content
She's right on! Writing is both an art and a science. The way you compose content may look good, but if it doesn't perform and meet your marketing objectives, what's the point?
Let's begin with the understanding that writing for your website is wholly dissimilar than writing for printed reading. It's a completely different animal.
Simply copying your printed material to your website is a big no-no. You can use it as a source from which to extrapolate, but as you read this, you'll see why re-using it doesn't work.
First, here's what you need to know about how people read online:

Takeaways:
Your web visitors have a short attention span.
People pay more attention to content 

above the fold

.
97% of people skim web content.
Resource: "Scrolling and Attention," Nielsen Norman Group, 2018
Whether you have an existing website to improve, or one you're preparing to launch, here are my recommendations for writing web copy:
Write for your target audiences.
If you don't know who you're targeting, what their preferences are, and what specific information they're looking for, you'd be at a major disadvantage. Refer to your marketing plan for this essential information.
If you don't have a marketing strategy, your business or nonprofit will benefit immensely from developing one first. It will determine the information you need to communicate with your audiences.
For expediency, ask your team for their input. The longer they've worked with your customers, the more information they'll likely have.
Write copy focused on target customers and the benefits for them. Use words like, "you" and "we" to build credibility and rapport. Sure, you can include features as well, but try to put these in context of what your customers can gain.
Avoid hyperbole such as, "We are the best organization in the city." Get real. What's your value proposition? Why should people contact you?
Write conversationally in "plain English."
No matter who your audiences are, you're better off engaging them with simple, clear, and concise language. That doesn't mean writing down to them in a didactic manner; write as if you're talking with them.
I also advise that you write authentically and transparently. Effective and trustworthy marketing copy should educate and inspire people, not overtly sell to them.
If your audience includes experts in a niche field or profession, and you need to use technical or professional wording, you can still incorporate it in easy-to-read sentences.
According to Yale University, "It is best to write at as low a reading level as is appropriate for your content. Doing so benefits people with cognitive impairments, people who do not speak English as a first language, and people who may be distracted while reading."
Yale advises writing at a high school grade level, where possible and appropriate; limiting paragraphs to less than 80 words; and avoiding jargon and difficult language where possible.
"The Web is an increasingly important resource in many aspects of life: education, employment, government, commerce, health care, recreation, and more. It is essential that the Web be accessible in order to provide equal access and equal opportunity to people with diverse abilities. Access to information and communications technologies, including the Web, is defined as a basic human right in the United Nations Convention on the Rights of Persons with Disabilities (UN CRPD)."
Resources:
Resources for Content Writers, W3C Web Accessibility Initiative (WAI)
Developing a Web Accessibility Business Case for Your Organization, W3C
Write for the medium.
Because most people skim web content, it's important to grab their attention in chunks. Use standout headlines, sub-heads, numbered lists, and bullet points to break up your content. Design can help here, too. You can use design treatment to highlight significant copy or separate content.
Resource: Co-Schedule Headline Analyzer
Keep navigation in mind when writing for the web. Ensure that topics and sub-topics are in alignment with your menu bar. Use short sentences and paragraphs to make comprehension and scanning easier. Less is certainly more.
Include hyperlinks where appropriate, such as when citing sources of information and relevant posts or articles that support your content. Don't overuse links simply to gain a search advantage. "Big Brother" search engine will find out.
Include calls to action wherever appropriate. Tell your visitors what you want them to do such as download a free report, sign up for a newsletter, or schedule a complimentary consultation.
Practice good grammar, spelling, and sentence structure.
Buy a good writing style book and use it as a reference. The Elements of Style is a popular one. Another is the Associated Press Stylebook which journalists use ubiquitously. It will be especially valuable if you write news releases.
Avoid redundant words, clichés, buzzwords, and "insider" acronyms. For strength, use active sentences, not passive ones.
e.g.
Active: She faxed her application for a new job.
Passive: The application for a new job was faxed by her.
(Source: Your Dictionary)
Ask a proofreader or copy editor to review your content before going live. Unprofessional writing and errors can damage your brand reputation and hurt your website's search ranking.
Use a positive brand voice.
If you want visitors to like your site, use positive language using your brand voice.
Resources:
"5 Steps to Find Your Brand Voice," Content Marketing Institute
"7 Reasons You Should Care About Your Brand Voice," Totally Uncorked on Marketing
Ensure you use positive language in your web copy. Going negative may work in election campaigns, but not in persuasive writing!
e.g.
Negative: If you fail to complete the entire contact form, we cannot send the information you have requested.
Positive: Please complete the entire contact form so we can send the information you have requested quickly.
Use polite words such as, "please," "thanks," and "you're welcome." Don't use negative contractions or wording such as, "can't," or "won't."
Be cognizant of politically correct, inclusive, and gender-neutral word usage. For example, instead of using husband or wife, use "significant other" or "spouse." Instead of "humanity" use "humankind."
Be aware of the correct ways to refer to disabilities and diversity.
Resource: "An Incomplete Guide to Inclusive Language for Startups and Tech," Buffer.
Write with keywords in mind.
One of the challenges of writing web copy is satisfying your target audiences in addition to search engines. Including keywords in your copy will attract more web visitors to your calls to action.
As a smaller business or nonprofit organization, you may not have the budget to hire a search engine optimization (SEO) supplier. Instead, review some SEO best practices and implement as many as you can.
Resources:
"SEO Writing in 2018: Top 47 Tips to Master a Combined Art," SearchEngine Journal
"The Art of Writing for SEO: 14 Steps to Use Now," Business 2 Community
Use formatting standards in the backend.
To attract more visitors and rank well with search engines, there are standard backend procedures to learn. An example is using the correct heading format such as H1, H2, etc.
Here are some excellent resources to guide you:
"Writing for the Web: 23 Things to Do Before Hitting Publish (+Checklist)," WriteWorldwide
"How To Get Your Website On Google: 5 Factors That May Be Affecting Your Search Traffic," Oxford College of Marketing
"5 Proven Ways to Boost Your Google Rankings," SearchEngine Journal
"The Top 14 Ways to Improve Your SEO Ranking," QuickSprout
I'm sure there are many other ways to improve your website copy; it would make a good book! In the meantime, please share any recommendations you think I may have missed.