How to Produce a Simple Video Blog Post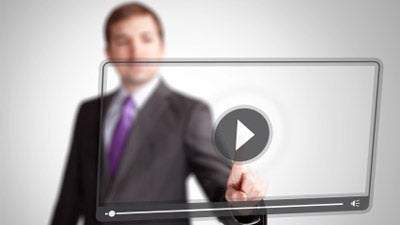 Consistent blog writing is hard. Brainstorming topics, pumping out the paragraphs, and editing for perfection is time consuming. When writer's block hits, you know it's time to shake things up with some creative visuals. It's
time for a video blog
.
I know, I know… You don't really want to be on camera. It takes courage. But to
position yourself as a thought-leader
, you should not be afraid to step up on the limelight and take the lead.
You know your industry better than anyone.
But before you discount the possibility of appearing on camera, you should consider the benefits:
Are your competitors doing it? In most industries the answer is NO!
Can it position me as a leader? If you lead with value, YES!
Will potential customers see it? If you are bringing knowledge that helps them, they will.
Can I do video? YES! (Duh, follow the points below)
Let's get started.
You don't need a Hollywood budget to make a great video. Most of you have the necessary technology in your pocket.
You probably have a smart phone (if not, you can still do this). Your iPhone, or Android device has the video capability to bring your Ron Howard dreams to life.
If you don't have a smart phone, you can still get the benefit of a smart phone with an iPod. Pick up one of these gadgets and you can skip the smart phone revolution and still get the benefits of easy video production.
So you have a camera, but that won't get it done. You need support and lights. Stop sweating; this is easy and cheap. For starters you need a decent tripod and basic lighting.
Your tripod will need to accommodate your height and be versatile enough to live outside of your initial "studio". This
Manfrotto tripod
offers a quality solution on a budget. If you're using a smart phone, you will need to accompany your tripod with a
Glif
to get a secure shot.
If you can, position your shot near a window to get natural daylight. If not, the boys at Wistia have a few great tips to
light your video on a budget
.
You don't need professional video software like Adobe Premiere, or Final Cut Pro to bring your production to life. Keep it simple. You started on a smart device. Let's finish on one.
If you have an iPhone/iPod, use
Splice
. It is a straight forward editing tool that will allow you to get the job done.
If you have an Android, use
AndroMedia Video Editor
. It has the same basic editing tools and will still allow you to piece together your video masterpiece.
It's time to broadcast…
It's time to get your new video on the web. YouTube is a good starting point for any video blogging mission. Youtube's partnership with Google will help you rank for your subject matter so as long as you
optimize your video properly
.
YouTube has an iPhone app called
Capture
that will allow you to upload your video, and AndroMedia will allow to upload directly from the app.
If you're using different equipment, you can always upload it directly to Youtube.
So you've put in the work, now it's time for the big launch. Hopefully you've already aquired a solid blog and social media following. If not, now is the time to start.
Embed your video in your blog then post a link to your social profiles (Facebook, LinkedIn, Twitter, G+, etc.). If you want your audience to get involved, the most important step is to make sure they know your content exists. Distribute it across various social media channels. The further it gets, the more engagement you will reap.
Video is a great way to tell your value-based story to your audience. Remember that content marketing isn't about content alone; it's about your audience. If you think your audience will be able to easily see the value you offer through video (hint: they can), then you should take the leap.
What video setups have worked for you?
Published: December 5, 2013
2236 Views