Things are bad in the world of digital customer experience. In fact, it's so bad that 42% of people would rather clean a toilet than contact customer service! Ouch.
Even though the recent Aspect Consumer Experience Index focused on American consumers, its findings are pertinent to most businesses or organizations. Bottom line… it's always about being customer-oriented.
Let's look at the index's results to see where you can improve on your digital customer/brand experiences.
One of the first things to note is that people do not like calling for customer service on the telephone. When I read that, I thought, why not? Isn't it the easiest way to resolve issues—especially if you don't have to wait on hold forever? But, then I remembered how I prefer to contact customer service when I have a question or problem. And, admittedly, I avoid the phone, too.
Customers want attentiveness, care, appreciation, and SPEED!
Take a look at the findings:
38% of consumers would rather use messaging apps like Facebook Messenger or WhatsApp to engage with customer service versus phone calls
36% would be satisfied if they could use text/SMS to contact customer service
33% said that if privacy and quality were assured, then they would prefer to use messaging apps
A quarter of respondents think that intelligent assistants (like Apple's Siri) are the future of customer service
How to improve your digital customer service:
When you read this list, take your organization's size and human resources into account. Don't add new customer communications channels that you can't manage or you'll tick off your customers – and that will be worse for your brand reputation.
Ask your customers which service channels they prefer and add the ones you can handle. Make sure you regularly advise them which channels are available for questions, concerns, and customer issues.
The study found that the following customer service channels' usage would increase if "brands did digital right:"
Social media
Messaging app
Chat
Texting
Now, check out this infographic to see the stats: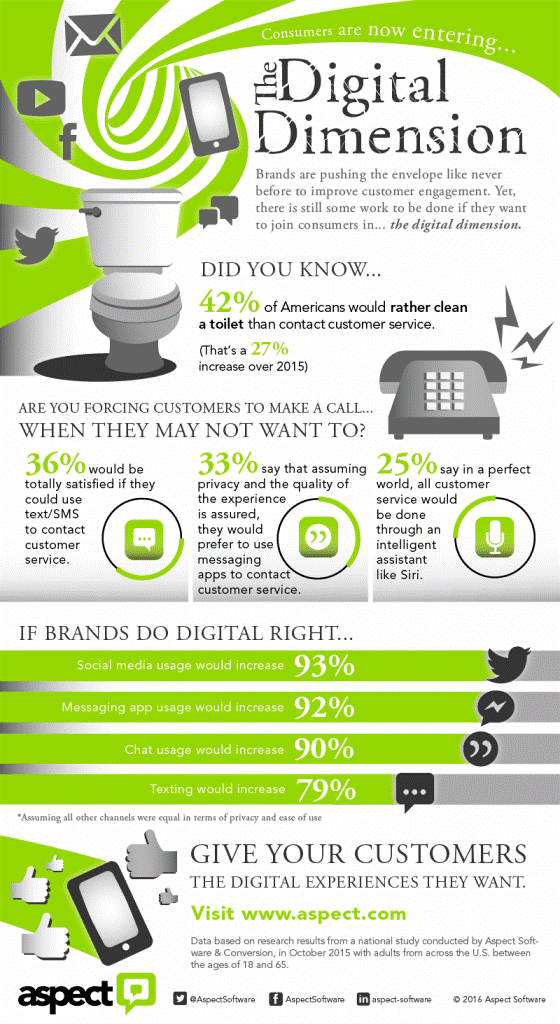 Which digital communications channels does your business or organization offer?