In 2011, it was Google's position that they wanted to get visitors off the search page and onto a website that provided the best answer to a search query as quickly as possible. That is no longer true. While Google still wants to provide the best answer to your question, that doesn't always mean sending you to another website to find it. More and more of Google's updates are designed to keep users on the search engine itself.
If a question can be answered straight away, that's not a bad thing, right? Particularly if it's your business information that is being shown. With the astonishing popularity of mobile search, many local searches are now made on the go, on mobile devices.
Consumers are looking for these types of answers to their questions:
The name of a business that can solve a need or problem.
A contact phone number
Directions to the business
Opening and closing hours
If these questions can be answered in an instant, and it turns into a sale, what does it matter if they visit your website or not?
The problem comes when businesses don't embrace these changes from Google. For some businesses, it's neglect, others a lack of knowledge. For the latter, let's look at some of the ways Google keeps users on its search engine and how you can get their business without them clicking on your website.
Listing in the 3 Pack (Local Businesses)
The 3 pack appears for more than 90% of Google searches with local intent. It appears prominently at the top of the page either desktop or mobile devices.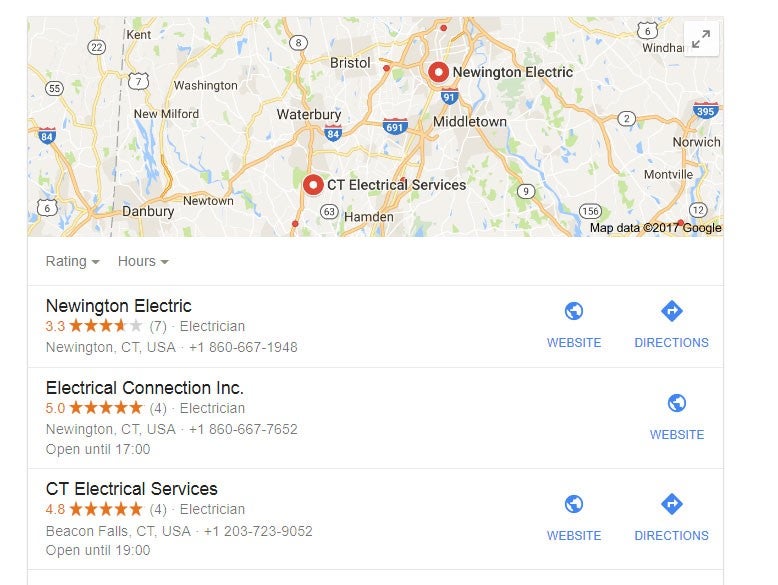 Consumers can either choose to visit your website or call, get directions or look at reviews. For people who just want to call or find out how to get to a store, it reduces the need to visit your website.
The 3 pack shows for most local searches so it is essential to optimize for it if you operate locally.
How to get in the 3-pack
Claim & complete your Google my Business listing
Optimize GMB landing page URL with target keywords
Source backlinks towards GMB landing page URL
Response in the Knowledge Box
If Google can find a specific answer to your question, it may be returned in what is known as the answer box or "knowledge box."
Occasionally answers include a reference URL to the source of the information, however some direct answers do not.
In my example I searched "Fireplace Stores in Hamden CT open now." The answer box gave me the hours and name of a store in Hamden.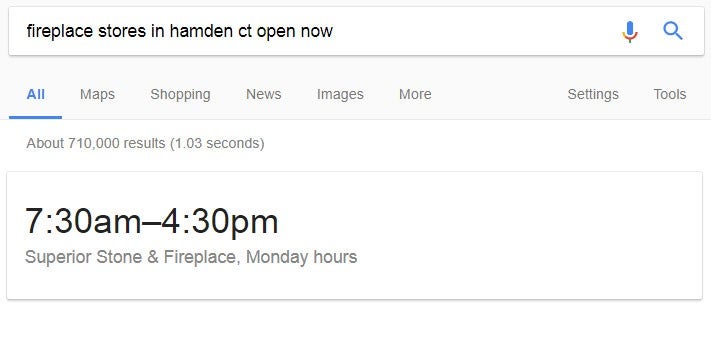 Ok Hamden is a small town so there wouldn't be much else to show, but you get the point. The question can be answered in a matter of seconds, right at the top of the page.
How to get in the answer box
Add schema data to your web pages, this can include: Contact number, Hours, Geographical Location, Reviews & More
Create quality content that answers specific questions
Claim & complete your Google my Business listing
Information in the Knowledge Panel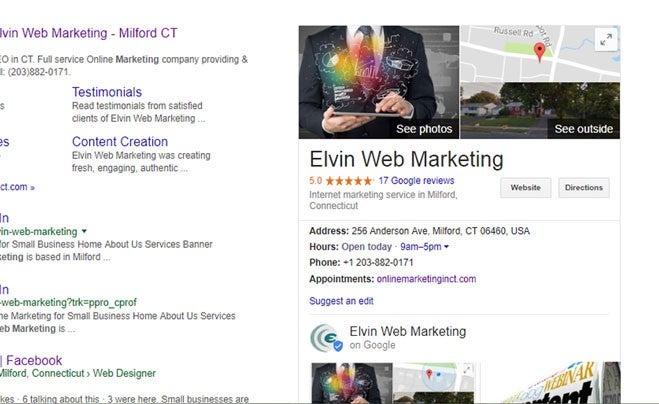 The knowledge panel includes information for a particular business, which has been added to their GMB listing.
Depending on what has been added to the listing, the knowledge panel might show:
Opening times
Cell phone numbers
Images
Reviews
Directions
The knowledge panel will show by searching a business name, and in some cases the services they provide.
How to get in knowledge panel
Claim & complete your Google my Business listing
Choose appropriate category(s) in GMB
Give images names that include your services/products
To get results from online marketing, you need more than a well-designed and optimized website.
Google is taking increasing measures to answer queries direct in the search results. In the case of local businesses this doesn't have to involve a website at all. Google will look for online listings to verify they have the correct information for your business, phone number, address, hours, reviews from other websites etc.
The company website still plays a vital role
As technology such as smartwatches and wearables continue to be introduced, queries will be answered without needing to visit a website. This doesn't mean that you do not need a website however.
A company website is a vital source of information that tells search engines like Google what your business does and what it's about. The more information you have on your website, the better in Google's eyes.
What is important now however, is understanding that your website is not the only source for generating business online. Google wants to see that your business is an established brand and a verifiable source of information. Having active and complete social media profiles and online directories will only increase the likelihood of your business being referenced in the knowledge box, knowledge panel or 3 pack for example.