We are often told that to be successful online we need to embrace content marketing. Content marketing helps aid your site's SEO, gives you an outlet to promote our business and gives people a reason to stay on your website.
Many of us heed this advice, only to find that we get nothing out of it. If you have taken up content marketing only to find little or no return, you're not alone.
A 2014 study from Content Marketing Trends found that just 9% of b2b marketers found their content marketing to be effective, not exactly promising statistics.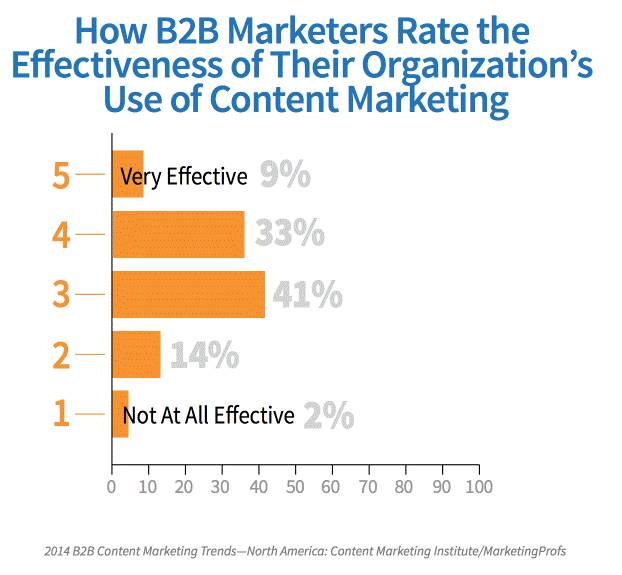 Content marketing is a common frustration for business owners, you create a great piece of content, but no one seems to read it, why?
There are lots of reasons that your content marketing strategy might not be getting the activity you had hoped for.
Why Your Content Marketing Isn't Working
Here are some common reasons your content marketing isn't working and what you can do about it:
1. Your Content Isn't Properly Optimized for SEO
A lot of business owners create content in the hope of getting found on search engines. Without proper optimization it can be difficult to achieve any visibility (let alone traffic) from search engines.
It needs to be perfectly clear what keywords you want to rank for. You might want to rank for 'simple tips to maintaining your car' for example. This phrase and the containing words should be consistent across the article, this includes:
Page title
Description
Content body
Page URL
Heading tags (such as H1, H2, H3 etc.)
If you do this effectively you increase the relevancy of the page and improve your chances of appearing higher in the search results.
Make good use of your SEO title and description to encourage searchers to visit your website. You can use this free tool to help you create a good title and description.
When optimizing your content always put the reader first, never search engines! Avoid stuffing the article with keywords just for the purpose of Google.
Other considerations when optimizing your content for SEO
Try to write at least 300 words of content, the more the better. Longer pieces of content of 1000 or 2000 words have been found to rank higher than those with less words).
Do any other sites link to page? Backlinks are a strong indicator that people trust and put value in your content. Try to obtain links from other sites within your niche such as blogs, news sites and forum. Links from social media sites can also be considered as valuable backlinks.
Does anyone search for what you are talking about? Use Google's Keyword Planner to find keywords that people often search for. A good idea is to write timely or controversial content that people are actively searching for.
How competitive is the keyword/phrase? It could be that others have already written about the same or a similar topic.
2. Your Content Doesn't Solve a Problem
What's the purpose of the content? How does it benefit the reader? Does it teach them something new or provide some sort of value?
Consider whether the contents actually solves a problem, but more importantly whether this is obvious to the reader. Can they get the answer to what they are looking for or do they have to read through masses of text to find it?
Your content should always aim to solve some sort of problem or provide something of value.
3. Your Content Isn't Properly Formatted
It's amazing how often people forget this simple task, but the lack of good formatting makes a big difference to the success of your content marketing!
If people are presented with a big wall of text, they are going to be put off right away. If your content is well formatted however, it becomes much easier to read and easier to get your point across. In fact search engines like Google consider formatting as a factor when ranking web pages.
Always make good use of headings, subheadings, bold, bullet points and images to break the text up, the more formatting the better!
4. Your Site is too Slow to Load
One of the most common reasons your content marketing might not be working is because your site is too slow to load. It doesn't matter how good your content is, if it takes too long to load, people aren't going to stick around long enough to read it. Pagespeed is a small but important factor that makes a big difference to the success of your website. Did you know that 47 percent of web users expect a website to load in under two seconds?
Check your page speed with a free tool such as Google Page Speed Insights, Google also provides advice on how to improve your page speed.
5. Your Content has no Call to Action
One of the biggest causes of bad content marketing is a lack of call to action. People often create content without telling their readers what they want them to do. Do you want people to register to a newsletter, follow you on social media or call your business?
Make it easy for your readers to take action by placing clear, visible call to actions in your content.
This might be in the form of a button or link accompanied by some leading text, or as an e-mail sign up form for example.
Try to include at least one call to action in every piece of content you write.
6. You Are Not Marketing Your Content Enough
It's easy to create a great article and forget about the marketing. It's not enough just to create a blog post and hope for the best. You need to be active in your content marketing, making use of social media sites, email marketing and any other opportunities to get your content seen.
Tips to marketing your content:
Share on LinkedIn
Share on Google+
Share on Facebook
Tweet on Twitter
Pin on Pinterest
Email influencers that you mention in the post
Use Pay Per Click ads
7. You are Posting at the Wrong Time
One of the most popular methods of marketing content is through social media, but did you know that the time you post makes a big difference to your success?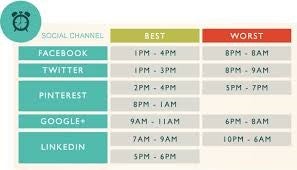 These are just some of the many reasons your content marketing might not be working and a small selection of solutions. What are your best content marketing tips?