5 Benefits of Using Green Screen Backgrounds in Web Video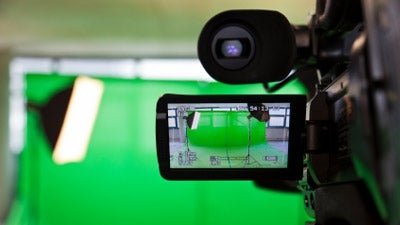 With the amount of affordable and readily available technology on the video market today, companies no longer need to shell out hundreds of dollars for expensive studio fees. A quality
High Definition
camera and lighting are far more affordable and accessible than ever before. While camera and lighting equipment are obviously crucial to video production, video makers may be forgetting about another inexpensive tool that can take their videos to the next level: a green screen.
In the past, green screens have been associated primarily with big name movie studios and high budget products. With user-friendly video software and cheap materials, green screen is now easily available to the general public. There are many unique and interesting ways to utilize a green screen to
take your videos to the next level
.
Lighting? Check. Camera? Check. Professional and simple studio? Not so accessible to everyone. With a green screen background set up, anyone can have a clean, professional-looking background for his or her videos. While many people associate green screens with the superimposing of complex and interesting backgrounds, green screens can be used for so much more. A popular choice for businesses is to use a green screen to create a perfectly crisp white background. This is a relatively simple task to do with the help of a video-editing tool known as
Chroma Key
. This tool allows the editor to replace the green background with anything else, including pure white or even black. This means that a business or company can use a portable green screen to hide any clunky or unprofessional backgrounds, letting the camera focus on the speaker and the message.
Different Locations at Your Fingertips
Though green screen backgrounds can be used for crisp, solid colors, they can also be used to create unique and fun backgrounds. The YouTube content creator may find this especially useful in producing skits or other videos because the background can be changed so quickly and effortlessly. Before, it would have been necessary to schedule trips to different locations, some of which may not be feasible due to budget or distance. By using a green screen, a videographer can transport a character from the Sydney Opera House to the beaches of Mexico with just a few clicks of a mouse. While it may take very careful editing to make a green screen background look realistic, they are fun to use whether or not the audience is aware that the background is false.
Using Green Screens for Branding
Businesses and brands can also take advantage of green screen backgrounds by superimposing their company logo into the background. Not only does this make the video look clean and professional, but also it delivers constant advertising to the viewer. Using this technique will
give more credibility and faith in the product and the brand
, because the consumers will associate the product with a high budget company that is dedicated to quality.
Ease of Setup and Tear Down
Green screens are far easier to set up and take down than they were in the past. With just a simple piece of green screen cloth and tent-pole style frames, a green screen can be set up, moved, and taken down in a few seconds to a few minutes depending on the complexity and stability of the materials. This makes a green screen a quick and simple addition to any
video production
. It's so easy, in fact, that a videographer may wonder how they ever managed to make video without one.
Affordable and DIY Green Screens
A green screen background is much cheaper than people may think. Green screen backgrounds can be found for as little as $20, including the frame. Green screens are also an easy DIY project for the more hands-on or budget-conscious filmmaker. Using a piece of sturdy green muslin, a green screen can be tacked or permanently applied to a plain wall, or else a frame can be assembled using PVC pipes or other materials. For the filmmaker with more permanent plans, a wall can also be painted with a similar color of solid green for even easier (though not so eye-pleasing) green screen background.
Using a green screen is a smart choice for any filmmaker because it brings the quality and production of the video to an entirely new level. In the
competitive world of video marketing
and content creating, it is even more important than ever to make sure that your video stands out among the sea of similar videos.
Published: December 12, 2013
7227 Views