You've likely heard the saying: "Nothing worth having comes easy." For most of us, this resonates with truth.
Now there's a new study that proves that hard work pays off for email marketing list growth. After all, the whole point of email marketing is to expand our reach to the "right" people with the "right" message that can elicit a specific action. To do that well, we need people to sign up. Right?
According to a recent Ascend2 study, more than half of respondents (55%) say that increasing the rate at which visitors opt-in to receive email is an important objective in their email marketing programs. Second to that is improving content relevancy and value (52%).
Yet, achieving these objectives isn't so easy.
Take a look at the chart below. Increasing sign-up conversion rates is the most important goal and the most challenging to achieve.
The same goes for improving content relevancy and performance metrics.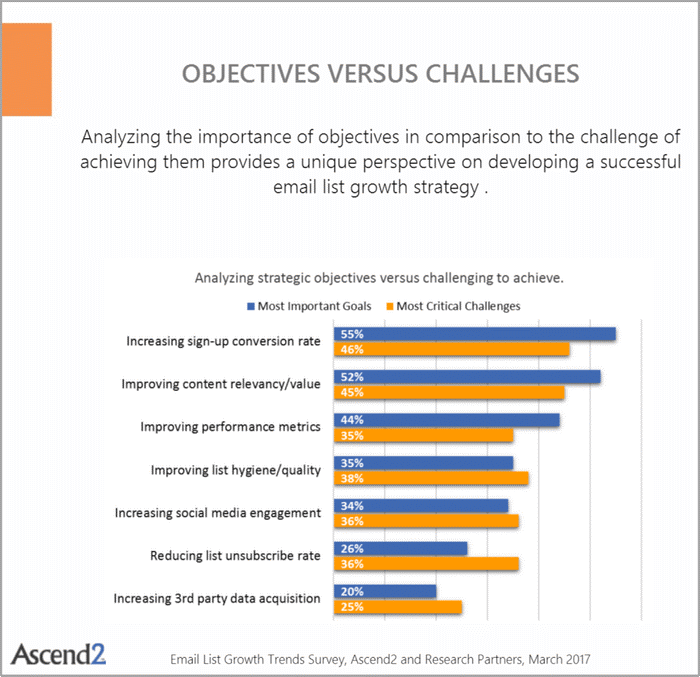 It's worth examining which tactics these marketers are using successfully to capture email sign-ups.
Social media advertising
Content marketing
SEO (search engine optimization)
For the majority of respondents, these three tactics are increasingly effective. But, at what cost?
"The skill, time and expense required to perform tactics is an important consideration when developing a plan to achieve email list growth objectives. Creating and distributing relevant content of value to the target audience is a tactic requiring significant effort for half (50%) of marketers."
The most time and expense consuming tactics are:
Content marketing (50%)
SEO (45%)
Social media advertising ((37%)
So, how do these companies achieve their results? 85% are outsourcing all or part of their email list growth strategy to gain capabilities and skills not available in-house.
Aha! If you have the money, anything is possible!
But what if you have a smaller business or work for a nonprofit organization with limited resources?
The tactics that are more effective than they are difficult to perform, says the study, include social media advertising, social login/sign-up, and contests and giveaways. These are more likely included in a successful email list growth strategy and less likely to require outsourcing to a specialist.
Let's look at one of the easiest to do yourself: social login/sign-up.
Check your email service provider (ESP) for sign-up templates you can create. Whether you place them permanently on your website, have them pop up after visitors' arrivals, or float at the top or bottom of the page, a sign-up/opt-in form is essential to growing your list.
Vertical Response offers some of the best practices for getting people to sign-up:
Make signups less invasive by initially requesting only addresses.
Offer subscription options addressing content and intervals.
Leverage testimonials from satisfied recipients.
Mention subscriber numbers if they're substantial.
Promote exclusivity by offering subscribers something only they can get
Give away something valuable to all subscribers.
Include a signup link in all your personal emails.
Place forward-to-a-friend links in all emails. Promote your email by social media, website, and blog.
Design a separate landing page specifically for signups.
Print opt-in information on your receipts/invoices.
Mail postcards offering incentives for subscribing.
Solicit addresses when your business appears at fundraisers, festivals, artisan markets, etc.
Read Ascend2's Email List Growth Trends Survey Summary Report.
If you have any good list growth suggestions, please share!