Why Are Marketing Efforts Focused on Social, Local, Mobile?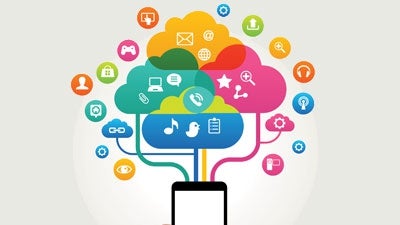 Sharing on
social
and surfing on
mobile
,
smart local deals tied up in a string,
isn't SoLoMo your favorite thing?!
Before we get ahead of ourselves, let's start at the very beginning (It's a very good place to start). The ABCs of marketing are turning to SoLoMo as the world increasingly turns to their mobile devices for more than a quick phone call. In a study by
Altimeter
, U.S. adults spend, on average, just over 3 hours a day on a mobile device. Whether surfing for information on the web, checking the latest status update on social media, or playing a game on an application, our smartphones and tablets are an extension of ourselves—and marketers are taking notice. In order to optimize their ability to access consumers where they are, marketers are getting social, thinking local, and acting mobile. Let's take a look at how three brands are using these components to change the way we see customer engagement.
It's not about the product, it's about the lifestyle. For Herschel Supply, that couldn't be more true. While this Vancouver-based bags and accessories company prides itself in selling fine quality products with attention to detail, Herschel's tagline "Welcome to Herschel. Enjoy your stay" encourages customers to get outside, don't forget your bag, and become #WellTraveled.
Seamlessly conveying its message across all social platforms, Herschel Supply engages its followers through
Facebook
,
Instagram
,
Twitter
,
Pinterest
,
Tumblr
, and
Vimeo
. Integrating brand content like lookbooks with related content like playlists and artful inspiration, the user turns to the company even when not purchasing a new backpack. By creating a personality of wanderlust, Herschel Supply offers a great example of a brand executing the 80/20 rule of social media, where 80% of content is related or relevant, but does not explicitly promote the brand, and 20% is brand promotion.
We consumers enjoy being inspired by brands; we just don't like be bombarded by products, promotions, and pressure to purchase. After a brand has build rapport with its target audience, carefully sprinkled brand promotions are a welcome reminder of the brand behind the lifestyle.
LOCAL: THE SWEET RETREAT FOR COMMUNITY
When starting a business, gaining an initial customer base can be a challenge. However, with advertising solutions like Facebook's Promoted Posts, that challenge is made easier by allowing businesses to access the right people based on a variety of known factors through social media channels. Because social ads allow you to tailor your posts by refining location, interests, social behavior, demographics, and connections, much of the marketing guess work can be solved by clearly defining your target audience.
SweetHaus
is a specialized bakery that offers everything from small-batch, baked treats and nostalgic candies to DIY cupcake decorating parties at its retail locations. When starting a niche bakery in a town of only 75,000, the company turned to Facebook even before opening its doors. By targeting the right people based on
location
, Sweethaus was able to increase page likes by 15% in two weeks and redeem 12% of offers.
While SweetHaus used physical proximity to fine-tune its audience reach, location-based offers can also be utilized for customers that "visit your brand" through online portals. Moreover, whether through loyalty programs or noticeable engagement on social media, recognizing the customers that keep coming back will create brand advocates that will continue to further your brand's reach.
MOBILE: BLACK GOLD ON THE GO
The fact that a user was on a mobile device used to mean that the user was, well, mobile. However, because mobile users are now engaging with brands via cross-screen experiences where they are either using multiple devices (i.e. smartphone and television/computer) or switching between devices (i.e. starting on smartphone then moving to computer), we can no longer assume that if a person is on a mobile device he or she is, in fact, mobile.
Altimeter
reports that mobile users are spending 15 hours a week researching on their devices. For companies, this is time well spent, as 93% of people that research on mobile will eventually purchase. Combining all of these factors, it is vital that companies and organizations optimize their user experience for mobile users—either through responsive website or mobile app development.
For the Seattle company that has become synonymous with coffee, Starbucks continues to engage its customers by offering a loyalty program when you pay with a giftcard. However, the problem with giftcards has always been, "what if I lose it? It's like cash." Have no fear. With Starbuck's mobile app, everything can be captured and stored on your phone. The
mobile app
allows you to search for locations, search drinks and nutrition value, pay with your phone, aggregate and use your rewards, and even tweet a giftcard to someone else! As loyalty programs only encourages "pseudo-loyalty" by offering perks for patronage, Starbucks strives to provide a superior experience in store and through social media.
AUF WIEDERSEHEN: UNTIL WE MEET AGAIN
In this ever-changing world of digital technology, consumer preferences are changing, compelling businesses and marketers to adapt in order to stay relevant. Brands of varying sizes and budgets, from SMBs to enterprise-level organizations, are leveraging SoLoMo to connect and convert. To make the most of your marketing budget and capture the interest of your target audience, it's important to follow SoLoMo best practices and get social, think local, and go mobile.
This article was originally published by SyneCore
Published: January 30, 2015