There are two kinds of people in this great big world:
People you know, and
People you don't know.
The funny thing is that we overwhelmingly trust both of these groups…at least when we're talking about consumers looking for recommendations prior to making a purchase.
According to a Nielsen survey, "consumers trust real friends and virtual strangers the most." Here are the hard numbers: 90 percent of those surveyed say they have some degree of trust in the recommendations from the people they know and 70 percent from opinions posted online.
Who and what consumers trust
Although the survey was published in 2009, I think the general trends and comparative rankings remain much the same today and they can help you focus your marketing efforts. The trust figures for people we know and online consumer opinions that I cited above re-emphasize the importance of:
Building brand loyalty in consumers and employees,
Being active in online review sites, and
Adding reviews to your website whenever appropriate.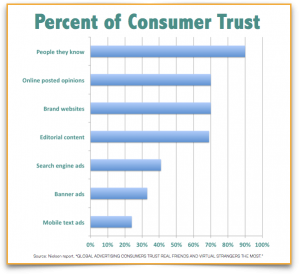 Another startling statistic in the survey is that consumers trust brand websites just as much as they trust online consumer opinions (70 percent)!
You know the old satirical retort, "Well, I read it on the Internet, so it must be true!" Apparently, 70 percent of consumers think like that when it comes to brand websites. This shows us how important it is to have a good website that offers information consumers want and need. It's important to note that the 70 percent figure is global. For U.S. consumers, the number is 62 percent. Still, that's not bad.
Editorial content comes in next with 69 percent of consumers saying they have some degree of trust in it. This tells us that having our products or services mentioned by bloggers or within news articles is very important.
To take advantage of this fact, nurture your relationships with influencers whose output can be considered editorial and redouble your efforts to write and distribute press releases.
It's interesting to note that much of what we consider to be "digital marketing" does not rate highly on trust. Search engine ad results score 41 percent trust, online banner ads come in at a 33 percent trust level, mobile device text ads rank only 24 percent trust.
Don't forget the ability to target
However, I wouldn't completely discount their effectiveness. While their inherent trust levels may be low, your ability to target your most desirable audience is excellent when compared to media that have a higher trust level, such as newspapers, magazines, TV, and radio.
With these statistics in mind, would you reallocate your marketing efforts? It's important to understand which of these you can control directly and which you can only "influence."
For example, you have complete control over your website. If it is lacking the capability for consumers to rate and comment on products or services, you have no one to blame but yourself. There are plugins and services you can get to allow people to give ratings and make comments. I know I really appreciate these when I'm buying clothing online.
However, when it comes to what people say about your product or service, you can be an influencer but you can't be a dictate-er (one who dictates, not one who is a hated despot!).
The first step, of course, is to create quality products and services, and deliver them in the most consumer satisfying manner possible. Equally important is to create a company culture that results in strong bonds between your business and those on your team.
When you are successful at these, you create the foundation for individuals to make positive comments about your product or service. They will say good things about you in their private conversations and in their public posts, including reviews and social media.