If your business or nonprofit markets its products or services (or fundraises) to Americans living in rural areas, you've got to read this for new research findings!
Did you know that almost 60% of rural adults believe that access to high-speed internet is a problem in their areas? Ouch!
And, their socio-economic status doesn't matter.
According to a to a Pew Research Center survey conducted earlier this year, "20% of rural adults whose household income is less than $30,000 a year say access to high-speed internet is a major problem, but so do 23% of rural residents living in households earning $75,000 or more annually. These sentiments are also similar between rural adults who have a bachelor's or advanced degree and those with lower levels of educational attainment."
What does seem to matter is their age, race, and ethnicity.
Rural adults ages 50 to 64 are more likely than those in other groups to see access to high-speed internet as a problem where they live. Nonwhites who live in a rural area are more likely than their white counterparts to say this is a major problem (31% vs. 21%).
Now, you may be thinking that they'll see your marketing on their smartphones. Right?
Wrong! Adults in rural areas also are less likely to own mobile devices. And worse… 22% of adults living in a rural area say they never go online.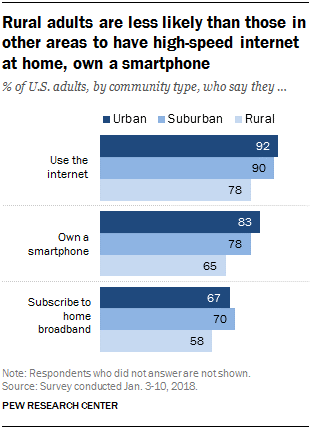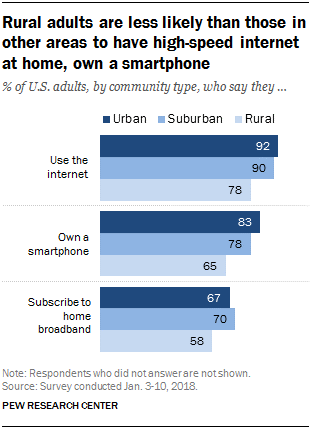 Why is this happening?
Three-year-old data from the Federal Communications Commission gives us the reasons. Rural areas are less likely to be wired for broadband services and tend to have slower internet speeds compared with other areas of the country. There are also fewer broadband providers operating in rural areas, which means consumers tend to have limited options when subscribing to high-speed services.
Why should this matter to you?
If your marketing mix is exclusively or mostly comprised of digital channels, you've got a big problem. You may be wasting a lot of time and effort trying to reach these customers (or prospects).
MY TWO CENTS:
If rural audiences are important to your business/organization, why not give traditional marketing channels a try?
Develop a direct mail marketing campaign in targeted rural areas. Measure the response rate and compare it to previous digital marketing results using IP addresses as location trackers.
Consider local radio spots in these areas. The costs will likely be less than urban radio for the same rotations. And, radio ROI, in general, is excellent. Radio advertising delivered $12 in sales for every $1 spent. (Westwood One and Nielsen Catalina Solutions, March 2018)
Local and community newspapers are ripe for advertising for less. According to the National Newspaper Association, 90% of readers say their community newspaper keeps them informed. In addition, 73% said that their hometown paper provides valuable local shopping and advertising information. (July 2018)
Do you currently market to rural U.S. prospects and customers? Which channels have you been using until now?