LGBTQ consumer annual buying power is estimated at $5 trillion USD globally and $965 billion in the U.S.! Although Pew Research discovered that about 4.1% of the U.S. identifies as LGBT, and over 20% of millennials identifies as LGBTQ (GLADD), many businesses and organizations are missing the mark when it comes to reaching out and engaging this demographic.
Only 40% of respondents in an Into and Brand Innovators survey say that they do not include the LGBTQ community in their media planning, and only about 1 in 8 include LGBTQ in their media planning year-round rather than just for specific events.
Other disappointing statistics from the survey:
32% said they don't include LGBTQ in their media planning and do not plan to do so.
38% said the reason they don't include LGBT-advertising and marketing in media planning is because other demographics are a higher priority.
53% of marketers said they only allocate between 0-4% on LGBTQ consumers annually, 29% between 5-9%, 15% between 10-19%, and 3% said they allocate 20% or more.
Only 16% of LGBTQ consumers felt positive when they see LGBTQ campaigns during Pride Week only.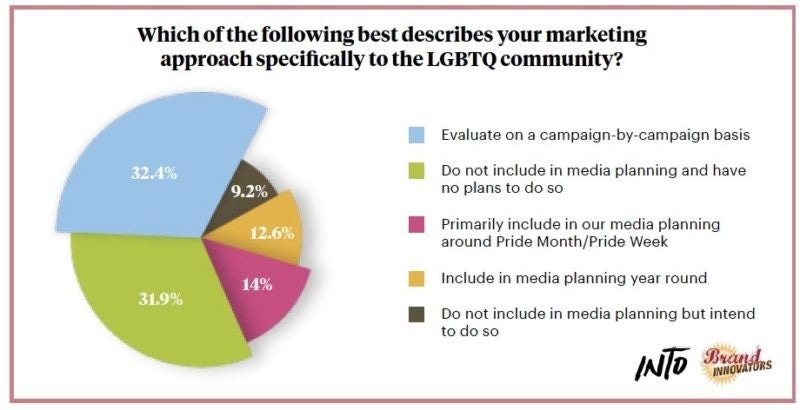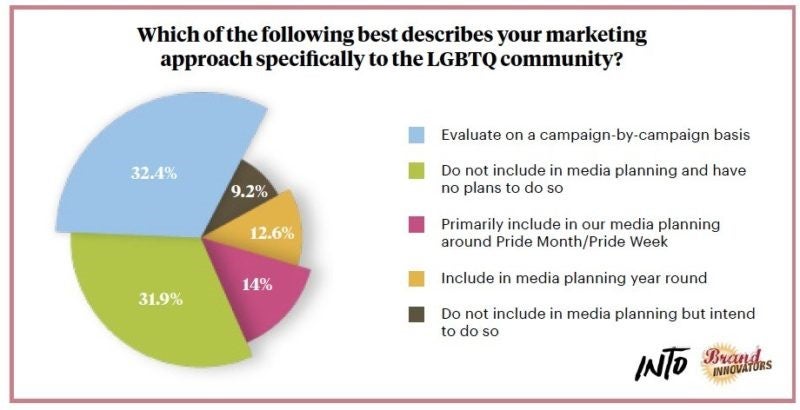 "I find the bare minimum pretty frustrating, when brands just slap a rainbow on their bottle or wave a rainbow flag during pride, and then call it a day, [or feel they] checked that box. Because surprise, surprise, people are gay all year round and continue to need to buy laundry detergent, and diapers, and clothing, and cars."
-Michelle Tobin, vice president of brand partnerships and advertising at Grindr, parent of Into
Yet, the business case for LGBTQ inclusion is solid.
LGBTQ consumers are strongly loyal to brands seen as supportive of their community with 35% saying they are more likely to buy from those with advertising that includes LGBTQ themes and people. (Into/Brand Innovators)
While 70% of respondents say a brand's reputation has directly influenced a purchase they have made, 40% appreciate brands that make an effort beyond Pride Week. (Into/Brand Innovators)
Nearly 50% of respondents have said that they actually made a purchasing decision based on seeing an ad that was inclusive of LGBTQ people. (Into/Brand Innovators)
Over 45% of consumers under 34 years old would repeat business with an LGBTQ-friendly company. (Google)
70% of surveyed consumers said whether or not a brand is perceived as LGBTQ friendly has directly affected a purchasing decision that they've made or not made if they weren't perceived as friendly. (Into/Brand Innovators)
According to AdWeek, "LGBTQ community members notice when brands market to them and often feel like they can contribute fully and more effectively in places that understand them."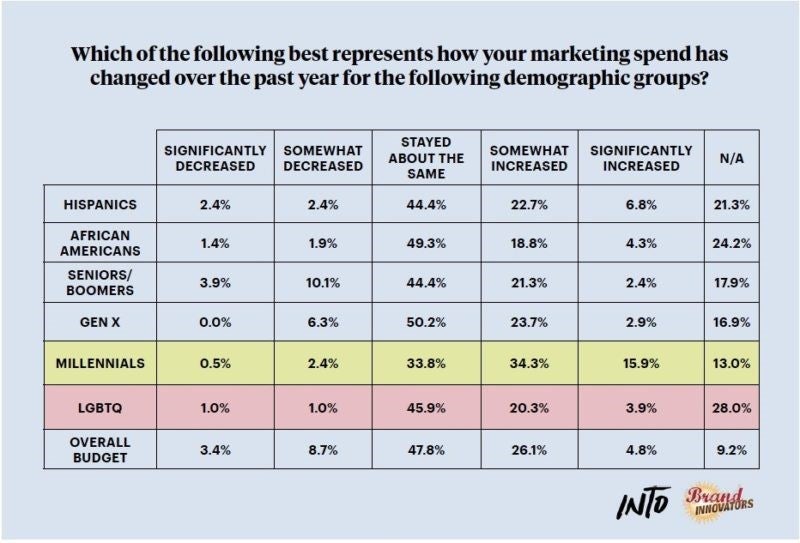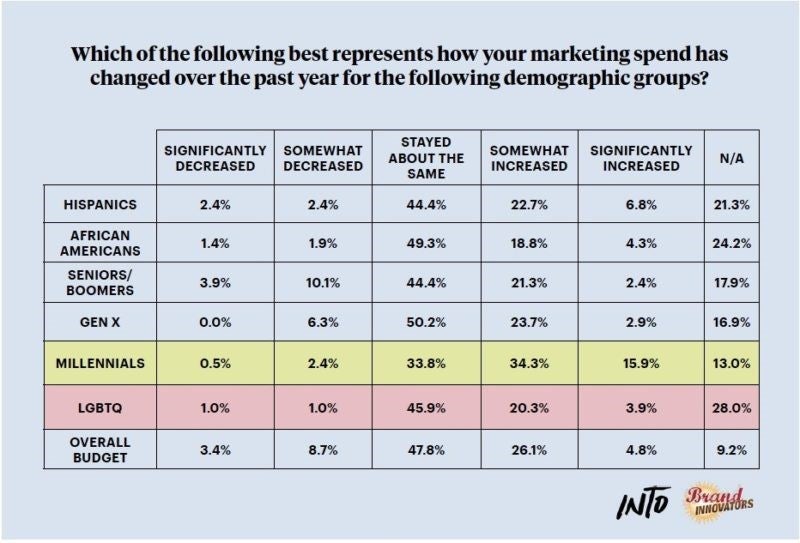 What do LGBTQ consumers want?
"They want to see ads that are more natural and multicultural, not some montage that just includes a pair of gay dads, so marketers can say they've checked all the boxes." (MediaPost)
The Human Rights Campaign website offers its "LGBTQ Marketing and Advertising: Best Practices":
Be inclusive and diverse
Whenever people are shown, include LGBTQ individuals, family members, friends and couples that reflect varied ages, races and genders, etc. Language references to family or relationships should not only include heterosexuals.
Be sensitive to lesbian, gay, bisexual and transgender stereotypes and avoid positioning LGBTQ people as a perceived threat for humor
Advertising often stereotypes but beware of over-simplifying. An unbalanced depiction of extremely effeminate gay men or extremely masculine women are old ideas that alienate many.
Do good market research
When conducting market research or forming new mainstream campaigns, LGBTQ perspectives should be considered and included. Don't limit yourself to male-targeted research and messages.
Go national
Consumers outside of major coastal cities are often improperly considered lacking the sophistication to handle LGBTQ themes.
Be consistent and confident
Modifying or withdrawing ads after negative criticism from conservative groups suggests waffling and alienates LGBTQ consumers. Respond to any criticism with business rationales, such as diversity and the bottom line. Avoid time-restricted airings of commercials unless they legitimately deal with sexual situations that are inappropriate for youth.
"Brands need to know that the audience is already there, and even acknowledging their existence is important. It may take finally waking up and giving them a wink or something. They're already buying, 10% of your consumers are gay, they're already there, and you show them in the ad now, you may have even more."
-Zach Stafford, editor in chief of Into