I collect marketing boo-boos like some people collect stamps or rare coins. Yes, I save marketing emails and other marketing communications from vendors that are either frustrating, demonstrate poor customer experience, or make no sense.
I thought I'd share some recent examples, so you can see what to avoid!
Example #1
As a Starwood Preferred and Vistana Experience member, I often receive travel marketing messages. I received this one recently: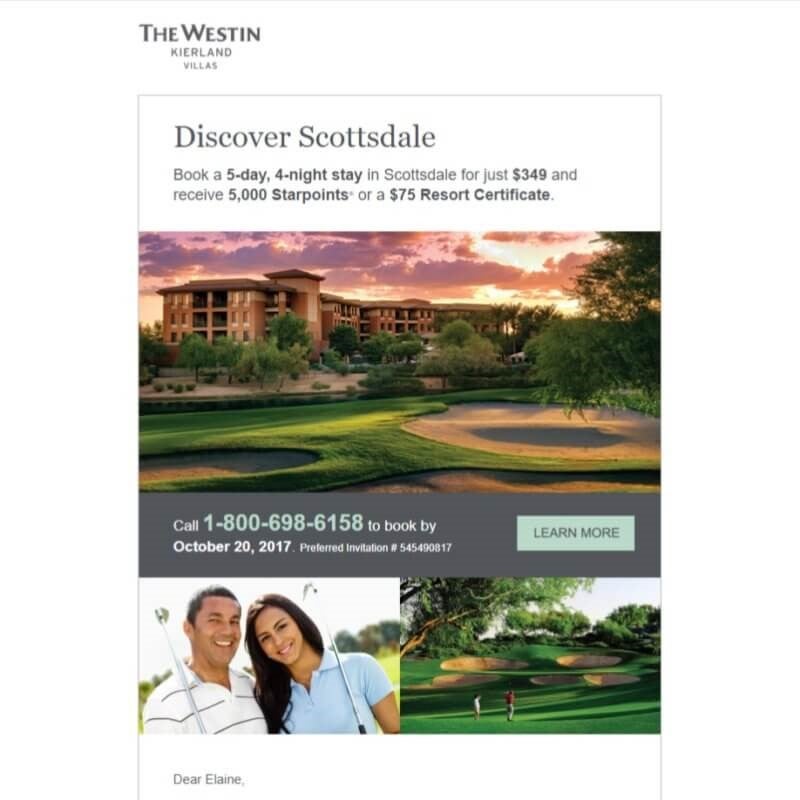 OK, are you wondering what's wrong with it? I LIVE five minutes from this resort!
So, I replied to Starwood with this:
From a marketing perspective…
I live 5 minutes from this resort! This offer is irrelevant.
Elaine Fogel
Now, read the answer I received:
Dear Ms. Fogel,
Thank you for contacting Starwood Preferred Guest about your marketing inquiry from Vistana Signature Experience. I welcome the opportunity to help you.
I hope you are having a great day today. I understand that you live right near this property and I agree this wouldn't be the best stay for you. Please contact Vistana Signature Experience to update your Marketing Preferences and they will be glad to help you. Please do not hesitate to contact us back if you have any further inquiries.
Ms. Fogel, we appreciate your loyalty as a member to SPG and the Starwood family and also look forward to hosting you at any of our worldwide properties for business or personal travel in the near future.
Best Regards,
Hugh J.
Associate, Starwood Preferred Guest 
Starwood Hotels & Resorts Worldwide, LLC
My reply:
Hugh, this creates another step for the customer to do, creating a barrier. As someone who speaks on the customer experience, I recommend that someone internally takes care of this.
Elaine Fogel
No further reply from Starwood. You'd think they'd filter their database to eliminate those who live in the same locations as their resorts. Duh.
Lessons:
Only send personally relevant emails and communication!
Don't create barriers for customers or expect them to jump through hoops. Make it easy!
Example #2
Email marketing is an art and a science. If you want to retain list recipients, it's a best practice to give them preferences that indicate their personal interests.
BUT… how many preferences?
I recently changed my email preferences for a nonprofit advocacy group I support. The minute I clicked through to the preferences landing page, my jaw dropped.
This organization offers waaaaay too many choices! They may use this list for internal purposes, but urgently need to merge them into groups. Yikes! Check it out.

Lesson:
Offer manageable communication preferences that make sense for your email recipients.
Example #3
I have no idea how I got on this email list, but I surely didn't subscribe to it. How does an active shooter training course apply to marketing and branding??? I am not an HR expert or professional. Gee.
Active Shooter in the Workplace
Veteran FBI Anti-Terror Agent Shows What You Can Do
Wednesday, October 25 at 12:30 pm ET
(11:30 am CT, 10:30 am MT, 9:30 am PT)
Live Online Training: 90 minutes
Another week, another workplace shooting. On the morning of October 18, a Maryland granite fabricator opened fire on five co-workers, killing three, then fleeing to shoot a sixth victim.
While we will never forget the horrible mass shooting in Las Vegas on October 1, the Maryland attack is more typical of crimes that keep happening: Workplace-based gun attacks by shooters known to their victims.
Veteran FBI anti-terrorism agent and security expert [name withheld] knows the vulnerabilities, triggers and warning signs related to these violent crimes. In a special live webinar training, he will you teach you the basics of how to prepare for and maybe prevent an attack at your plant or office. He explains how to work with local law enforcement and implement and rehearse an OSHA-compliant emergency plan.
Register for Active Shooter Preparedness
Lesson:
Ensure your email list is accurate.
Don't manually add contacts or purchase unreliable lists. In many countries, it's against the law to send email without opt-in permission!
Again, ensure that what you send is personally relevant to recipients. Survey them occasionally and review the reasons why they unsubscribe.
Here are some statistics about personally relevant content, which includes emails:
B2C
Nearly half (45%) of consumers won't spend time with branded content if it's not relevant to their interests.
Eighty-eight percent (88%) of consumers say that personally relevant content improves how they feel about a brand.
Seventy-eight percent (78%) say that personally relevant content increases their purchase intent for a brand's products and services.
Fifty percent (50%) say that they would pay more for products and services from brands who do a good job of providing personally relevant content.
Source: The Personalization Imperative for Content Marketing, OneSpot, Marketing Insider Group
B2B
The ability to segment email lists and individualize email campaign messaging are the most effective personalization tactics for 51% and 50% of marketing influencers respectively. (Ascend2, 2016)
Number one of the top three things that make content effective: audience relevance (58%) (LinkedIn Technology Marketing Community)
Are you sending personally relevant communication to your customers and prospects?