Are you an artist who is looking to earn money by pursuing your passion? If so, then the first step is to reach the right audience and potential buyers. As an artist looking to make a living, just producing good work is not enough. If you are looking to profit, you need to promote and market your art as well. Marketing is a necessary process, and anyone can be a marketer with the right tools.
People only buy from artists they know and admire. This is where marketing comes into play. Being an artist, you may initially believe that marketing is not something you can grasp on your own. The truth is, however, ordinary people market themselves every day, even if they don't realize it. For example, when you talk about your artwork with a friend or stranger, this is marketing!
Susan Mumford, founder, Be Smart About Art shared her take here:
"There are a few things to consider: one, research comparable artists (in terms of experience exhibiting and selling, and medium/style); two, test the market; three, establish prices; and finally, be consistent – that is, sell at the same price across the board at galleries, open studio events and art fairs."
Online marketing can play a crucial role in your art success. All you need to do is take action and make an honest effort.
Maria Qamar, who is an artist, shared her experience here:
"You could know everything about business and you could know everything about art, but ultimately it's the combination of both that really makes a successful store, makes a successful brand."
After considering the words of Mumford and Qamar, you are probably wondering, 'How can I do this myself?' Luckily for you, this article contains simple, but proven, tips to promote and market your artwork. This advice will help increase your exposure as an artist and sell more!
1. Start a blog
As a working artist, creating art is not enough. Marketing your art and influencing people to buy is equally important. To promote and market your art, you need to start a blog. Your blog should highlight your personal brand and sell your art.
If done correctly, your blog will be the best place for keeping your customers informed about your art. Your blog should contain everything, including pictures, videos, and content. You can better customize it as per your wish and can keep visitors informed about your art and its USPs. Also, make sure your blog reflects your art and not you!
Here's the example of Janice Tanton's blog, who is an award-winning artist and entrepreneur. Her blog focuses on her blog. Be sure to check it out for inspiration.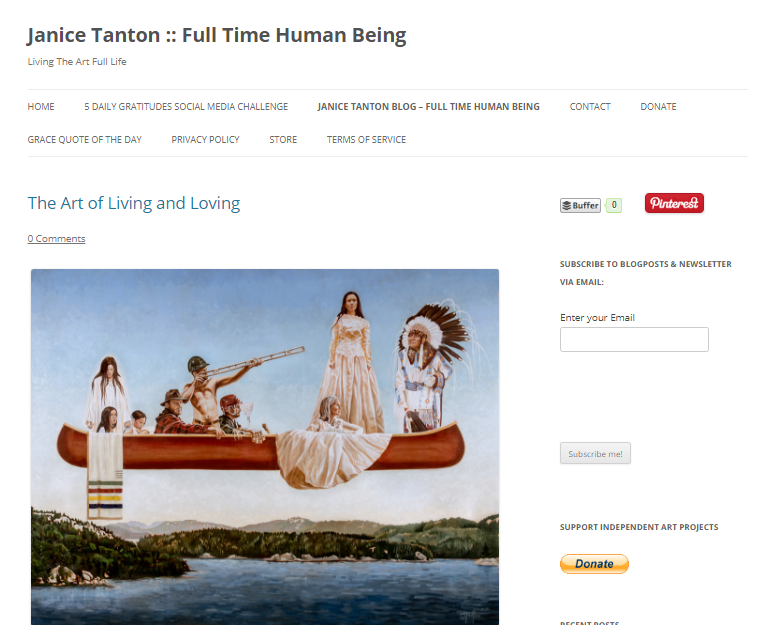 2. Create a Facebook Page
Social media continues to be a large part of many people's lives. There are several social media platforms available that you should use to your advantage. They can serve the purpose of communicating your credibility to your audience. A study has found that almost a quarter (22.7%) of art buyers discover art via social media channels, with 39% of millennials use these platforms for art discovery.
Creating a page on Facebook, for example, is a perfect opportunity. A Facebook page will allow you to better connect with your audience, while telling them about your art. Facebook will give you the platform to post your artwork, communicate with potential buyers, and receive instant feedback. Keep in mind that visual content is 40 times more likely to get shared on social media than other types of content.
As an example of this, check out the Facebook page of Fintan Magee, who is an Australian street artist.
3. Join artist's community or forums
On the internet, there are many art-related communities and forums you should join. Online discussions will allow you to share thoughts and ideas with others without having to physically go to an event. Connecting with followers online is also a great option for those artists who choose to stay out of the limelight.
Talking and hanging out with other artists can serve a practical purpose as well. Having friendly discussions can provide the inspiration you need to boost your portfolio. They can also help motivate you to work harder. Become an active member of the artist's community and connect with your audience.
4. Join DeviantArt
DeviantArt is the world's largest online community for artists and all followers of art. It allows artists and fans to connect with each other on an easy-to-navigate website.
The site was launched in 2000, and since 2006, it has been tirelessly serving the art world. A perfect place for promotion, Deviantart combines art display and social networking. People post original art, stories, poetry, and even animations!
Make sure to register and submit some of your works on Deviantart. Art lovers everywhere are sure to appreciate your creations. You won't regret becoming a part of this inspiring website.
5. Promoting Your Art on Instagram
No artist is complete without their fans, so expanding your fan base is of the upmost importance. By promoting your art on Instagram, you are displaying your creativity on one of the world's most powerful social media platforms. This offers you a chance to expand your brand value and expand your fan base.
Always remember that a successful artist must not only concentrate on creating art, but must also find a way to display it to the world. Posting your art on Instagram is a great way to generate notoriety. Instagram allows unlimited opportunities to connect with fans and fellow artists all over the globe!
To get you started, here's Laurie Simmons (a photographer, writer, and artist) Instagram profile.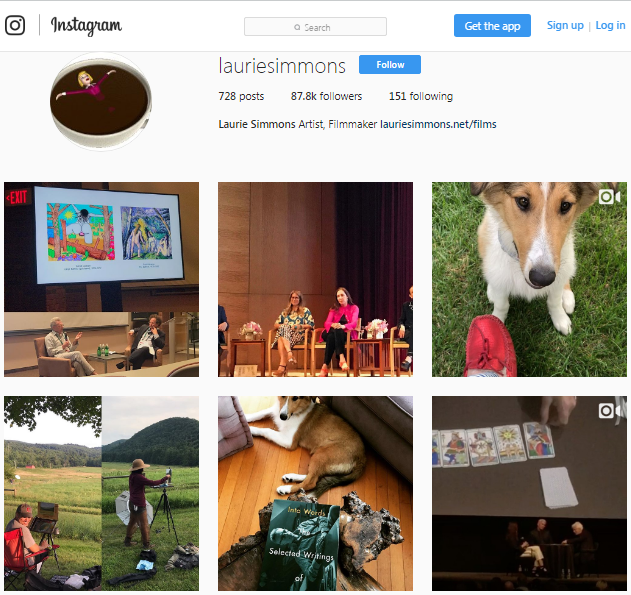 Do you want to share any of your favorite tips here? Do you have any questions? I'd love to hear from you!
Author: Kunjal Panchal is a Digital Strategist and a social media geek. She is passionate about content marketing and strongly believes in the power of storytelling for marketing. A perfect day for her consists of reading her favorite author with a hot cuppa coffee. Find her on Twitter and LinkedIn.