There are a million things that an entrepreneur should be concerned about when it comes to running a business. And while having a solid business plan is a great start, ensuring that the business enjoys steady growth is a major consideration that entrepreneurs should continuously work on. More than making profits, the business should evolve as innovations and changes in market behavior take place.
To ensure successful business growth this 2019, here are some of the practices you should adopt today:
1. Make sure that you're working towards a higher goal
Many people start a business in hopes of making profit and improving their social standing. While these are legitimate reasons to start a business, it can also be limiting to your success. To ensure actual growth in your business, consider incorporating causes you care about as part of your business's higher purpose.
The deeper and more meaningful your purpose and desire is to improve society, the more valuable and worthwhile your success will be. This also creates a ripple effect as it can encourage support from consumers who feel the same way.
2. Prioritize your customer's needs
Your customers' experiences and feedback play an important role in establishing your business's reputation. As your business continues to grow, it is important that you continue to prioritize your customer's needs ahead of your own to ensure stable growth.
This means continually engaging with their feedback, good or bad. While it might be difficult to convince a customer to stay after an unpleasant experience, taking note of their feedback will allow you to resolve issues, ultimately resulting in your company's personal growth.
Whether it's product improvements, or bettering your customer service, there's always something to be gleaned from all customer feedback.
3. Automate your work
As the world increasingly pivots into the digital realm, more and more tools have been developed to automate different business processes. To make sure you're focused on the more important aspects of your business, automate your work whenever you can.
Automating your emails, for example, allows you to regularly keep in touch with your customers and nurture relationships. Whether it's providing handy tips and guidelines on how to best use your products, or sending relevant content to the right audience, automation can help you send emails that help improve your customers' overall experience.
Automated emails don't just make your writing simple, they can even improve ecommerce conversion rates. Personalized and highly targeted emails can create a lasting impression on your customers' minds while also enabling them to engage more with your company.
Check out GoDaddy's simple email campaign below and how it highlights the benefits of their products.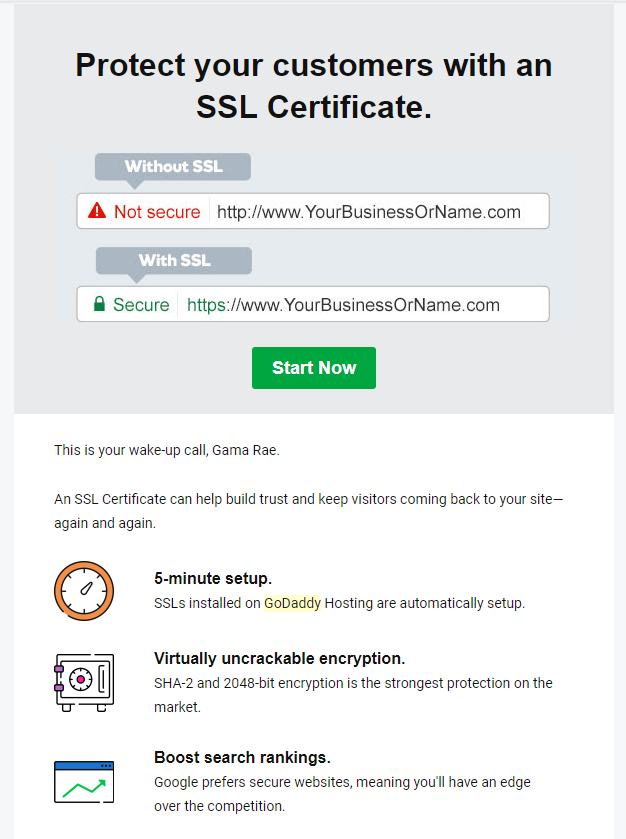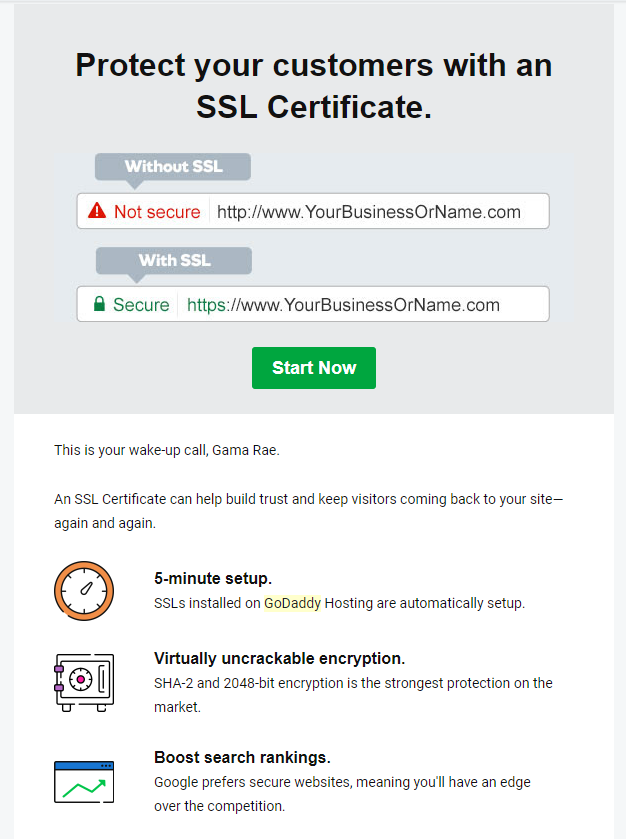 Screenshot from GoDaddy email campaign
Hubstaff Talent, a subsidiary of Hubstaff time tracker, sends emails to job seekers about potential jobs that they could apply for.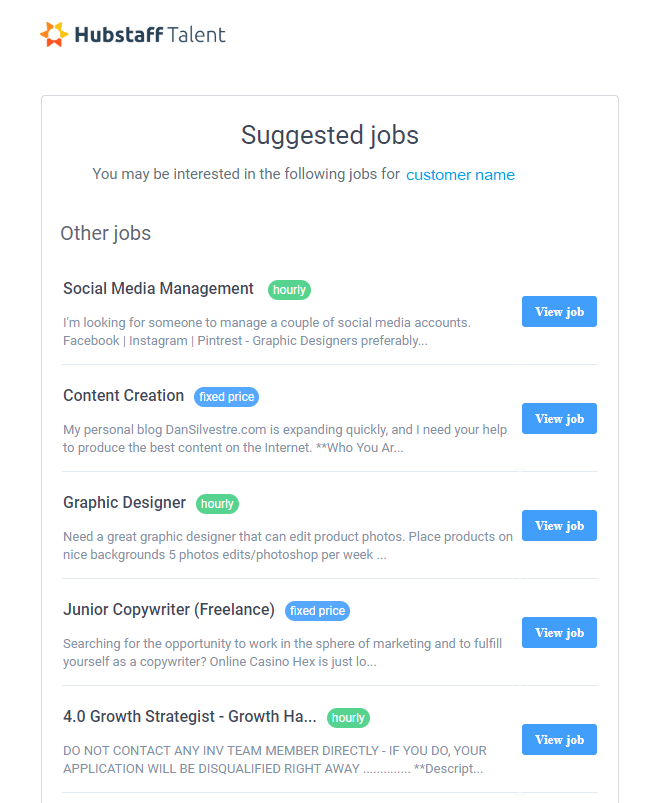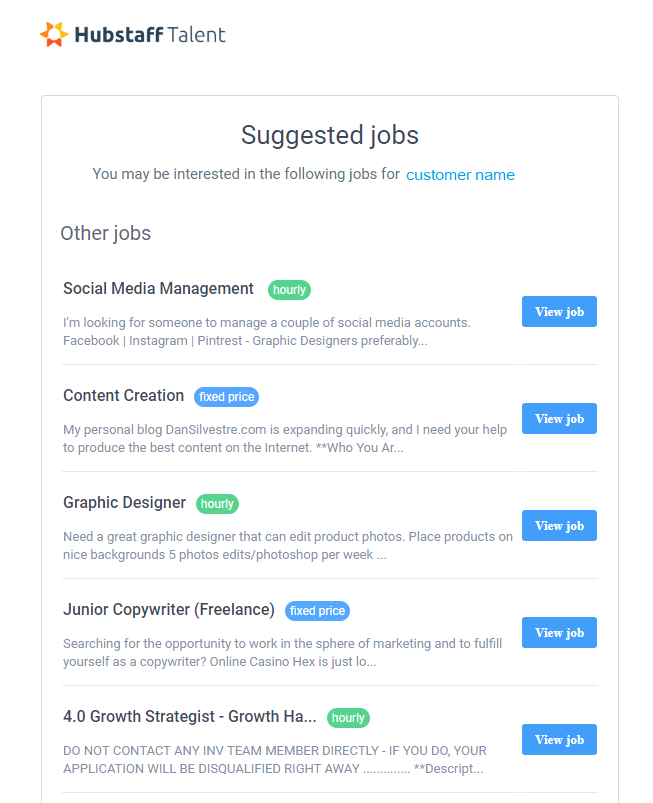 Screenshot from Hubstaff Talent email
Affiliate marketing company GetYourGuide sends monthly statistics, so affiliates can track their progress.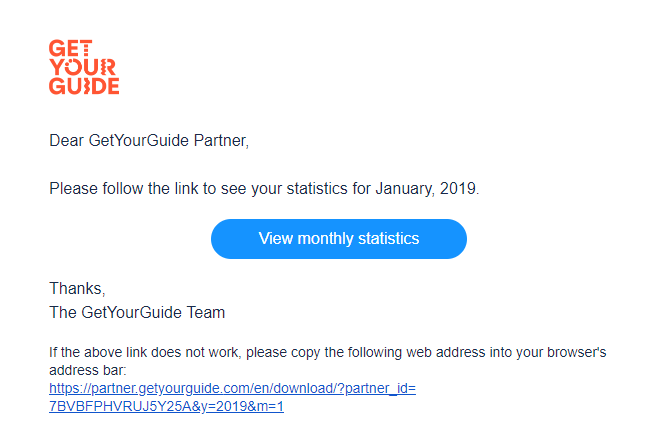 Screenshot from Get Your Guide monthly statistics
Emails are just one aspect, albeit an important one, where automation can help produce significant results. Understand which processes you can benefit the most from automating, and find tools that fit your business. Speaking of tools…
4. Invest in the right tools
This can range from different productivity tools to marketing platforms that can help optimize your operations. But just because there are available tools that fit the mold, it doesn't mean it's always right for your business. Practice due diligence when deciding which tools and resources to invest in. Conduct ample research and find out what your competitors are using.
Whether it's productivity apps like Slack (for communication), Trello (for task management), or FreshBooks (financial management), identifying the right tools for your business gives your business the best opportunity to grow over time.
5. Reach out to influencers
Influencers remain an integral part of business's marketing strategies in 2019. Carefully choosing the right influencer that fits your brand gives you access to a targeted audience. So if, say, you're a sports apparel and accessories brand, even having a fitness influencer simply use your products puts you in front of eyeballs that you know are interested in what it is you have to sell.
Or take the case of Pedigree, when they partnered with known dog owner Kristyn Cole. In the post below, she encouraged her followers to purchase a bag of Pedigree, while supporting dogs in need. The campaign generated 43 million impressions and 62,800+ content views.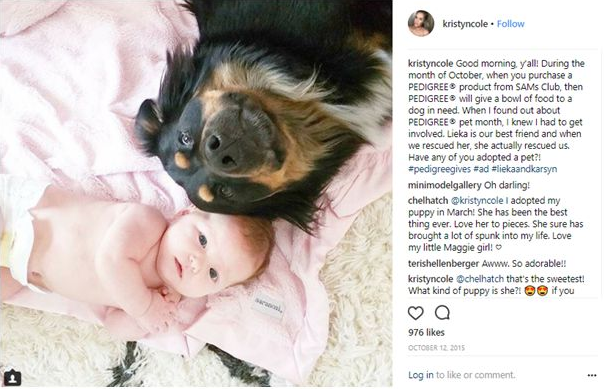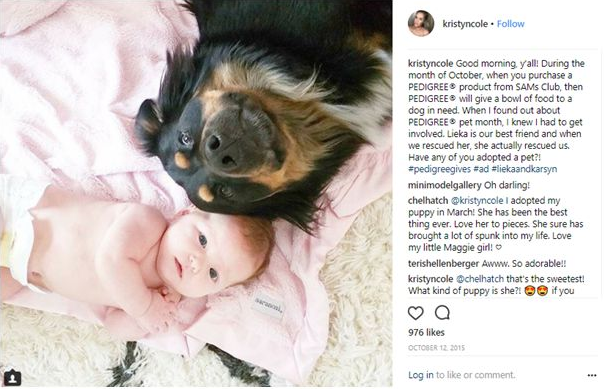 When you know who you want your audience to be, reaching out to the right influencers can send your message to whom it resonates with the most.
6. Make sure your company culture is aligned with your branding
Your company's work culture is a reflection of how your business adapts its values and beliefs to its everyday setting. It can also be a way to enforce your brand's image to people who share the same ideals and passions as you do.
If a company has a group of employees who are not afraid to aim for the top, then it's worth investing in and nurturing their talents, and even some of their interests. That way, your employees will thank you and will continue to be inspired as they carry out everyday tasks.
7. Create an engaging environment for your customers
Another important factor in ensuring your company's growth is to provide multiple, open channels of communication between you and your customers. Now, more than ever, cultivating lasting relationships with your customers is key to success. Social channels are a great way to keep your customers engaged. Find out which platforms your customers are spending most of their time in and craft a social media strategy focused on those specific channels.
If you're targeting a younger demographic, then Instagram might be the best place to distribute your content. If you're a B2B company, then LinkedIn may be the ideal platform for you. Whichever channel you decide to focus on, make sure that you make it as engaging for your customers as possible by providing relevant, valuable content.
8. Build your audience
While building lasting relationships is key, if you're looking to grow, you'll inevitably have to work on continually building your audience. One way to do this is by designing beautiful landing pages. As you can see with Canva's landing page below, the messaging is simple and clear enough that even those who haven't heard of Canva be enticed to learn more about them.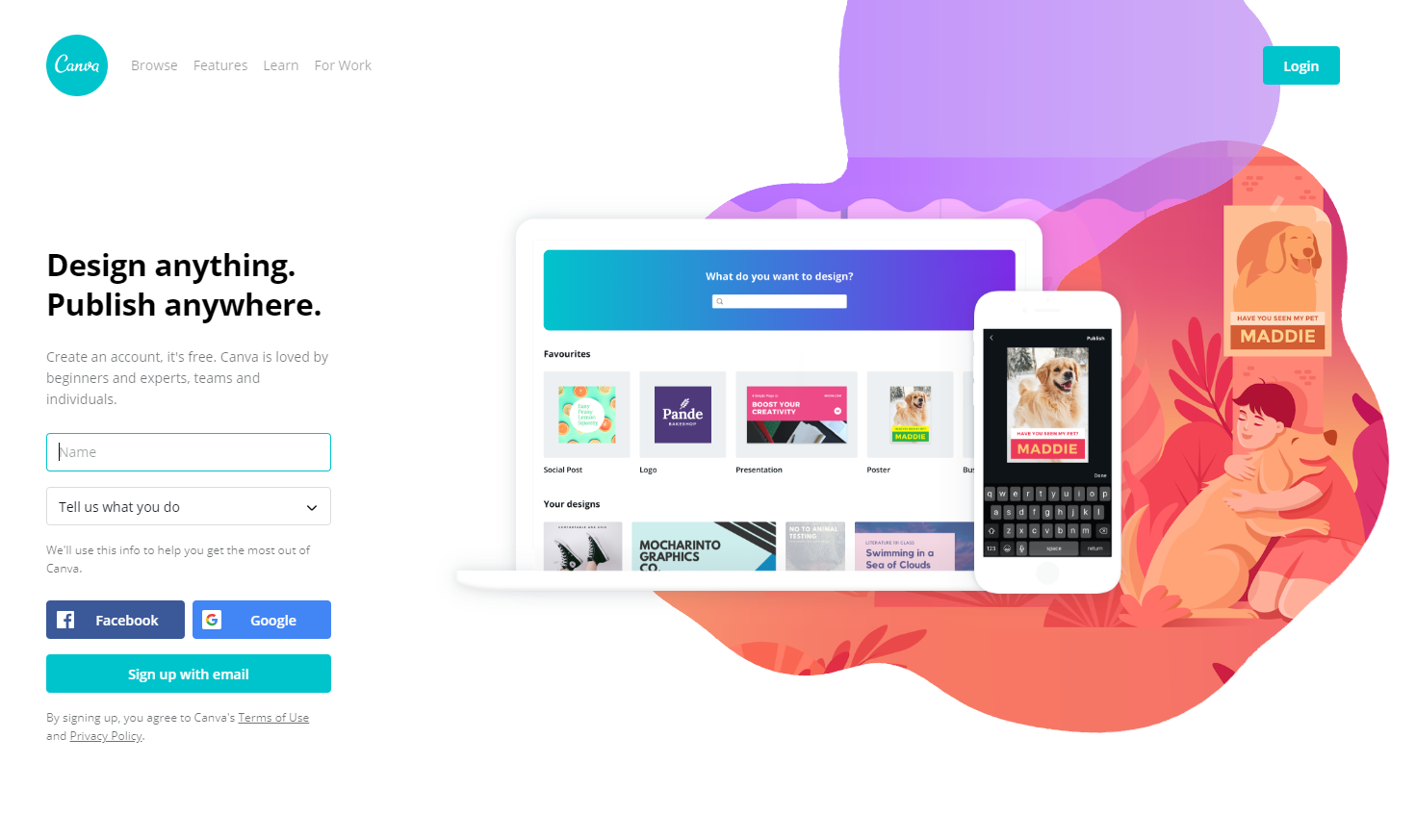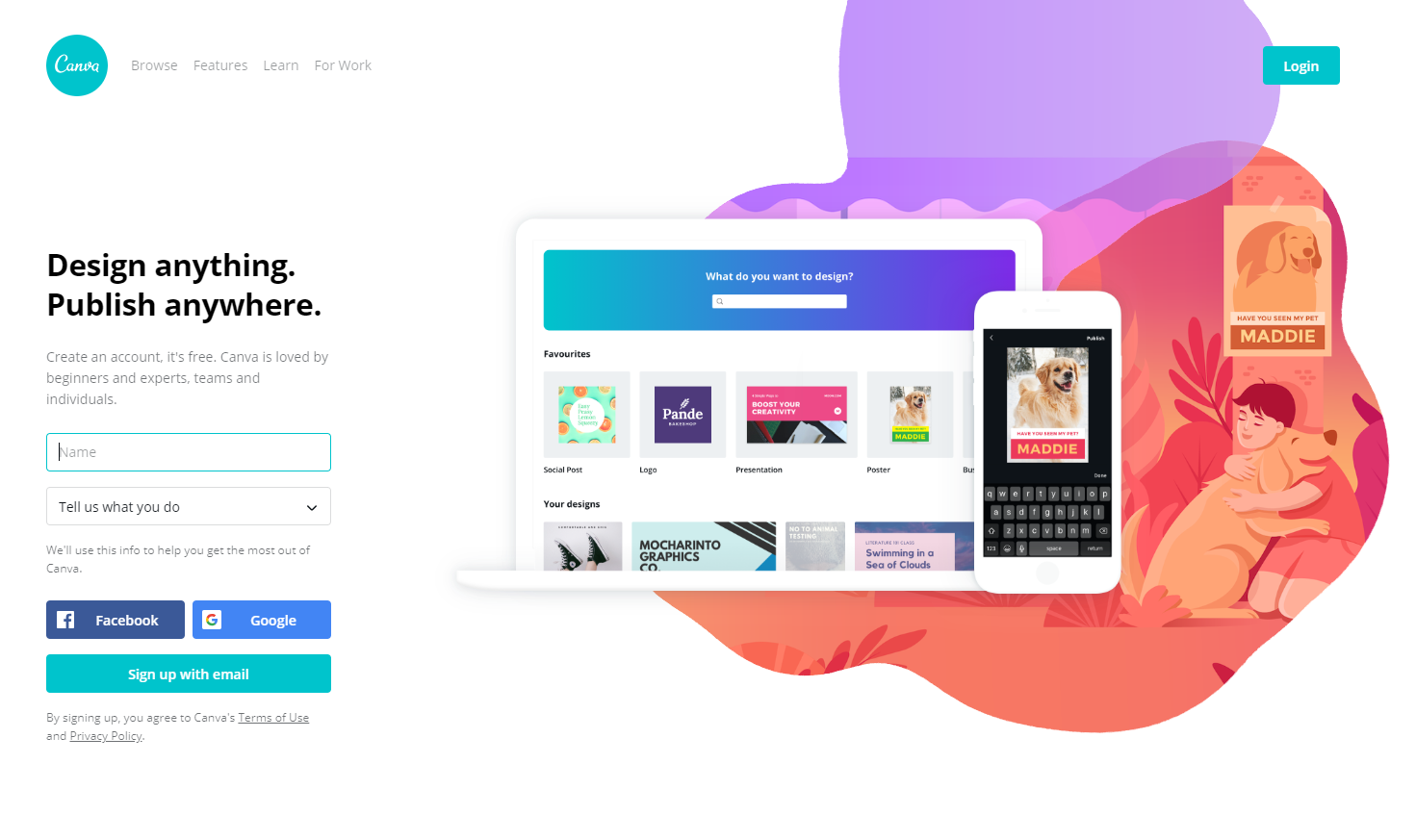 Screenshot from Canva
Offering incentives right off the bat is also a great way to build your audience. Below, Bonobos offers 20% just for joining for subscribing to their emails.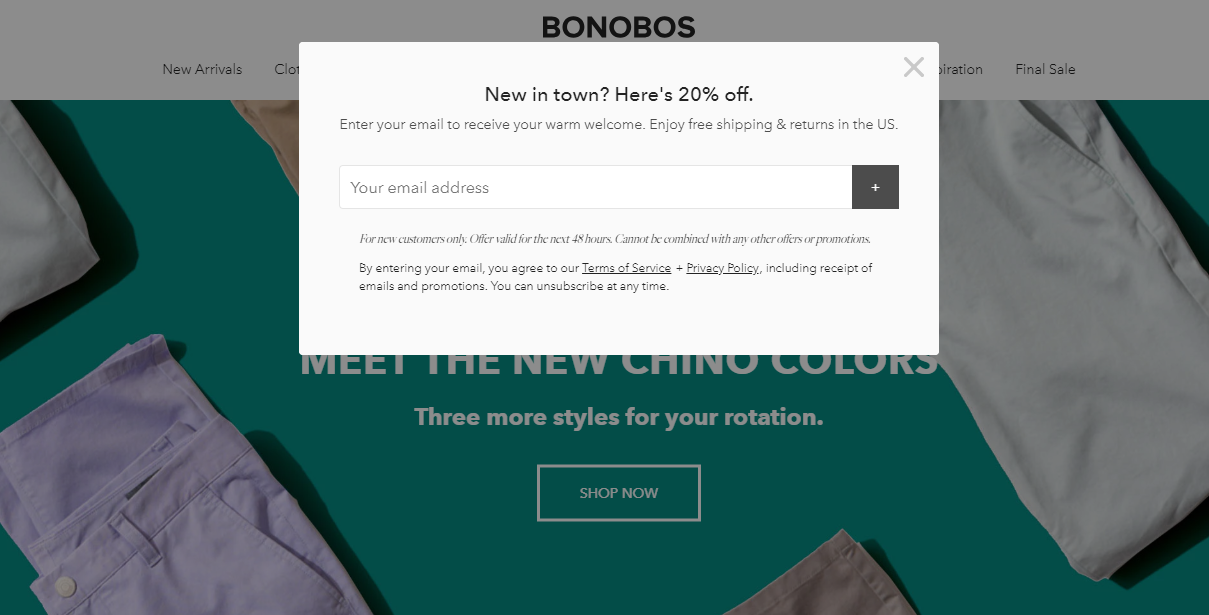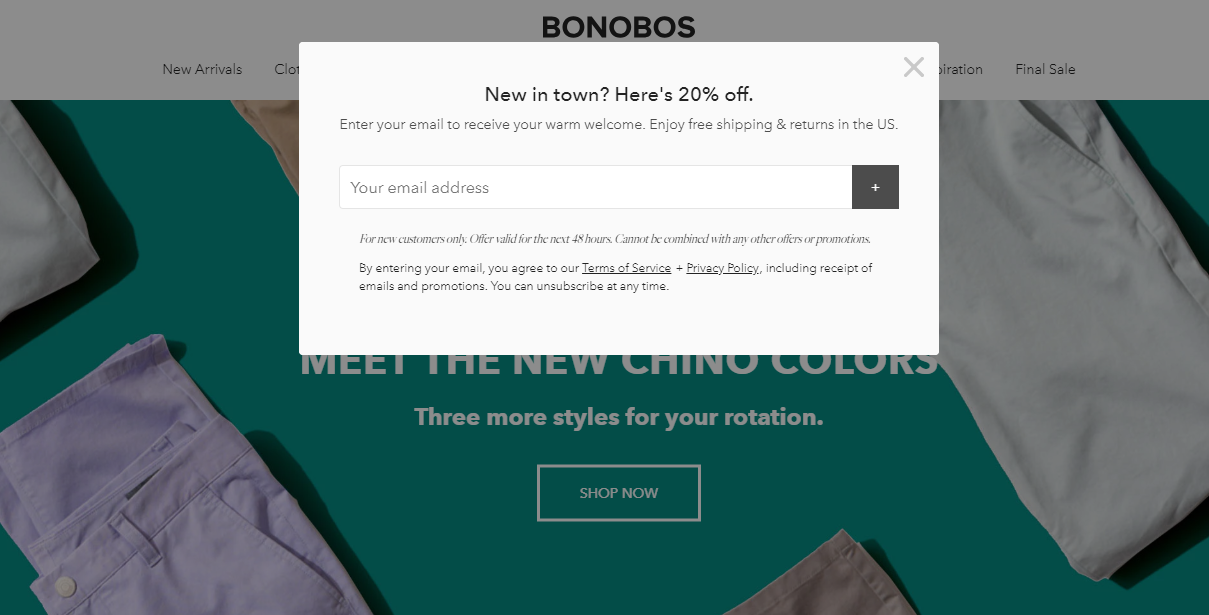 Screenshot from Bonobos
You can even combine the above with Facebook ads, driving traffic to your landing page, where they can receive incentives for opting in. And to put the finishing touches, you can also create an automated email series that welcomes new subscribers, and guides them on how to proceed.
With the number of people online continuing to increase, there are countless opportunities for you to build your audience. Get creative with your approaches to cut through the noise and see your business grow along with your audience.
9. Continue learning about your customers for better segmentation
Building an audience is one thing, learning more about them to provide more targeted and personalized content is another thing entirely. You can begin by segmenting your list using the most basic info like location, gender, age, before eventually adding factors like interests and job industry into consideration.
As you get more information about your list, and additional data from email automation platforms like Mailchimp, you'll be able to create personalized content based on things like how they engage with your brand, spending habits, and what types of content they enjoy.
Sending out targeted and personalized content not only prevents unsubscribes, it keeps your list healthy.
10. Explore your existing selling channels
This involves staying up-to-date with the developments in the various selling channels that you are currently using to offer your share of products and services to the market. Since gradual changes can occur in terms of technology, available platforms, and market behavior, keeping your finger on the pulse of these developments can make you agile and give you a leg up on your competitors.
Make a habit out of brushing up on industry news and developments, and make it a part of your company culture to do so. This way, everyone on the team can come up with suggestions on how to optimize your channels in tune with changes. This also empowers them by making them feel like valued team members, which can ultimately boost your pursuit of growth.
11. Optimize your marketing strategies
Similarly, changes in the digital marketing sphere can occur, which, if you're not attuned to, can lead to you being left behind. This is why you should regularly A/B test your campaigns to see which works for your audience. For example, before the massive rise of ephemeral content, users were more responsive to longer videos (and the newsfeed in general). But with stories becoming such a popular format, brands have been racing to come up with ephemeral content that can stand out.
And once you come up with a formula that works, milk it until you find something better. Whether it's an email sequence that converts, or a type of blog content that performs, save a winning formula to continue replicating success until you can.
12. Take risks and learn from your mistakes
The pursuit of growth can include taking risks that could either expand your business or incur some unexpected losses. While certain risks are definitely worth the potential losses, be aware of the missteps you take and make sure you learn from them along the way. Do not let these losses discourage you from becoming successful and use them as an opportunity to grow so you can come back with better and brighter ideas.
Final Thoughts
When it comes to running a business, entrepreneurs must invest time, effort, and energy in making sure that every aspect of their work is aligned towards a common goal.
With so many factors that could affect growth, business owners must learn to not only adapt to the inevitable changes their business needs to face in order to grow, but also take the necessary risks that could either result in groundbreaking success, or serve as a learning opportunity.