In the past when planning for a career, many people wanted to avoid being stuck in a cubicle for 8+ hours a day, 5 days a week. The lack of activity, dread of boredom and conforming to hierarchies was something workers were terrified to have in their lives. It definitely wasn't the way they wanted to spend their professional lives, despite the fact that those jobs, in most cases, provided basic security and financial stability.
Fast forward a few decades to now… when the tech industry is booming. Start-up companies are popping up left, right and center, which means more and more people are diving into the tech roles and office positions that were at one point deemed undesirable.
Relaxed Atmospheres
Here's the catch though… these are now some of the most desirable jobs and it's because there has been a drastic shift in how the modern office is structured, especially when it comes to a company's corporate identity. From having pool tables in the office, snack stations, team building activities and beers at the end of the week… the shift is happening in most aspects of how the corporate world was structures 20+ years ago.
You'd think some of these are being held as distractions, or even giving the business a less professional appeal, but it's doing the opposite and breeding a fantastic kind of culture among employees.
One big way we're seeing this in institutions is through the ability to bring your furry companion to the office with you.
Take StreetText, as an example.
Changing Office Sterotypes
Modern StreetText is a Canadian start-up company located in Kelowna, British Columbia. The company was built to aid realtors during their process of generating online leads for their personal database. They create opportunities for agents to meet prospective clients that don't include park benches, or giant billboards… but focus on advancing lead capture technology, building expert advertising and best of all doing this through the world's largest advertising platform, Facebook.
Since its conception in 2010, they have built a more modern way of working in the corporate world, not only with their platform to help realtors generate online lead, but by creating a dog-friendly office, which makes at least one of their employees happier…and more productive.
Meet Nash.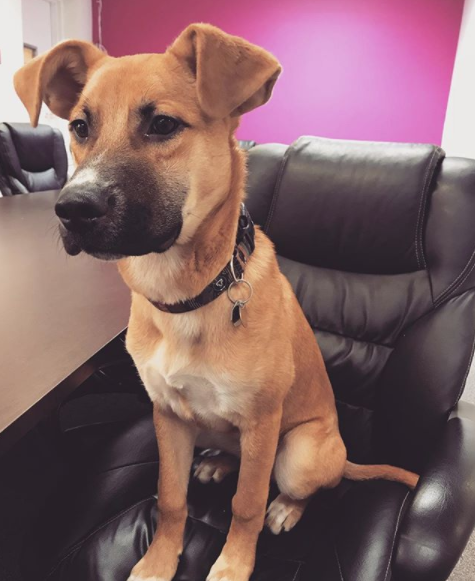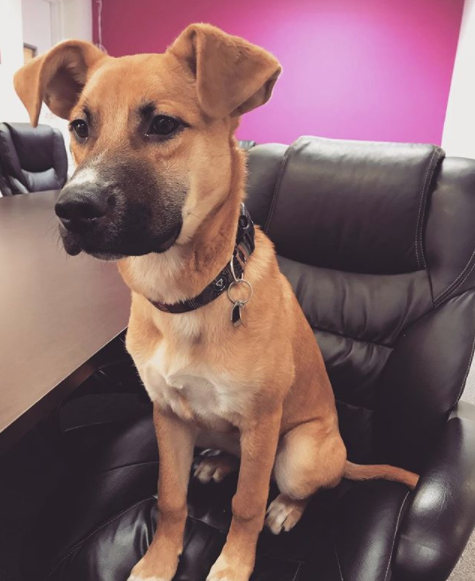 Nash is a one-year-old German Shepherd-Husky cross who spends his days chewing bones, chasing his tail and snoozing in the StreetText office. Nash has been coming to the office for bit over a year, and made his office introduction at the tiny age of 8 weeks of age.
Now at a year old, Nash has grown up in this office setting, and adds value to his environment.
With an estimated 5.9 million dog owners in Canada, it would make sense that some of the smaller companies are allowing dog-friendly offices. We all gawk at puppy pictures on Buzzfeed, or coo at the subreddit r/aww pretty frequently, which means having a dog in your workplace should only breed happiness. There has been a cultural shift in how people want to work, and permitting pets in the workplace.
Dogs are Proven Stress Reducers
In addition, there has been plenty of research in recent years highlighting how the presence of an animal can minimize or even diminish stress in the workplace, assist with childhood development and provide companionship for the elderly. Dogs have recently been used in airports to help with nervous passengers, and even help children who are seeking therapy for emotional development or traumatic event rehabilitation.
Scientific American recently wrote an article explaining that "Pets in the workplace allow owners to express a bit more of their personality." Scientific American also conducted a poll with 100 different individuals, and asked them what they felt the benefits of office pets were. This survey uncovered that most people felt having an animal in the office relieves stress, allowed their place of work to be more friendly, and finally provided employees with a positive diversion on a daily basis.
Not only did this poll only contain positive data, it concluded that having a furry companion in the office can also promote a more cooperative environment, which is essential for building strong team dynamics, and healthy business growth. Especially in smaller companies that are growing quickly, like StreetText.
At a recent meeting with Jordan Scheer, our account managing ad guru, Nash slept at my feet, only perking his ears up when someone walked by the room or rolling over to readjust his sleeping position.
"I get to bring my best friend to the office with me every day," I said. "He's [Nash] such a good dog, and it makes me happy that he helps people around us smile on a day to day basis." Since Nash grew up in the office, he conducts himself as if he's also going to work, which makes him the perfect office companion, and the best door man out there.
Jordan and I laughed at his casual demeanor when I mentioned, "I've been thinking about getting him a collar with a bow tie so it looks like he's going to work on a daily basis. It would make him look comically professional, especially since we have a business casual dress code in our office."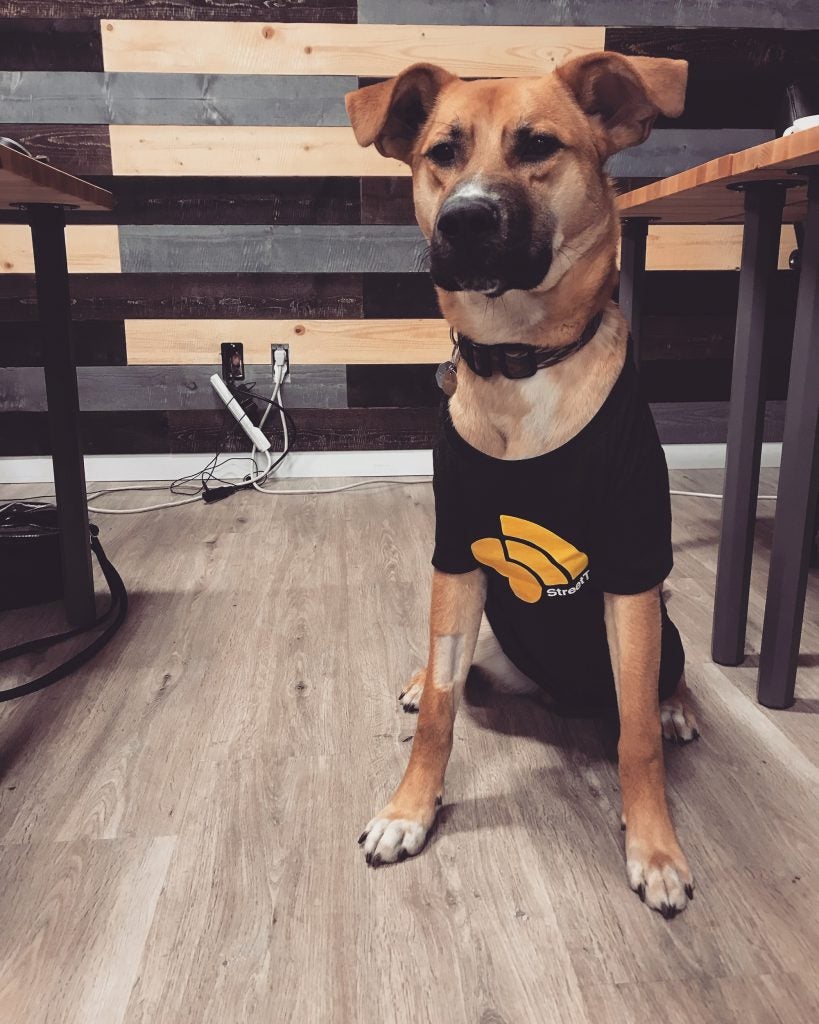 (I'm not wrong— it would definitely be comical to see a business casual dog collar, which people make on Etsy, by the way.)
Jordan agreed, "Having Nash here brings a different vibe to the office. It's much more relaxed and genuinely feels like he reduces stress without really doing much. Why wouldn't you want to spend the day with a dog?"
We're also breaking barriers with having several remote developers all over the world, crafter beer meetings every Friday, and having a more modern office which includes a wood panel feature wall that provides the space with a comfortable and warm vibe. It's refreshing that so many companies are adopting this type of culture. Instead of having a job you dread going to each and every day, you're met by a team of hardworking people striving to achieve a common goal.
So why not have a little extra fun while you do it?