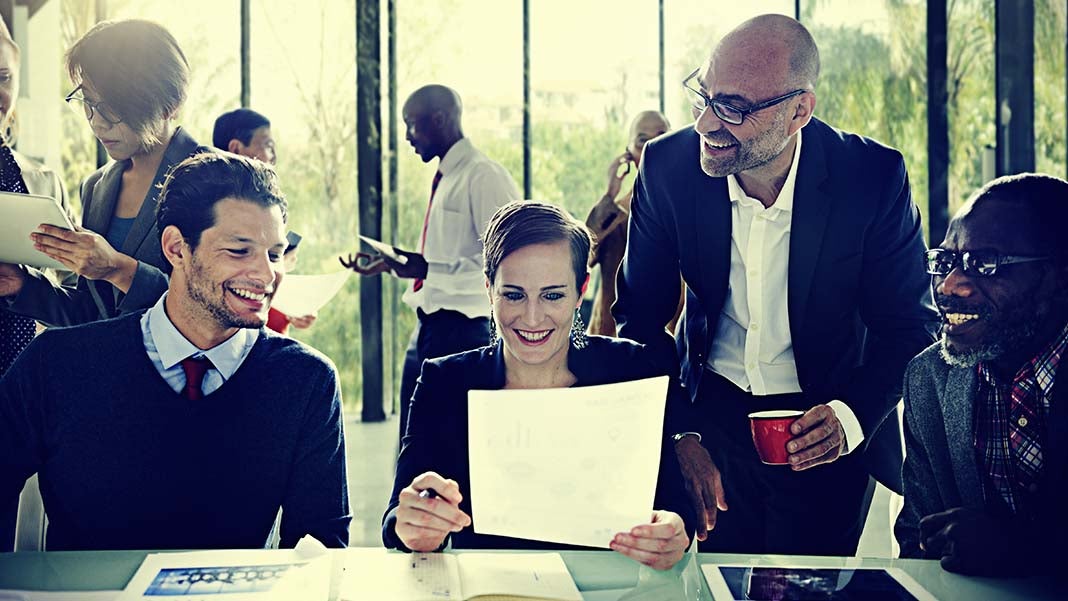 The average person spends 90,000 hours at work (about one-third of our lifetimes). Most of us look for some sort of trade-off for the hours we give to our companies, like a paycheck or personal fulfillment. But what is the main benefit workers look for from their employers — and how can we use that benefit to retain key talent and help our companies thrive?
Even in this age of employee "perks" like nap pods and office ping pong tables, the answer is quite simple: employees want a strong corporate culture.
In 2019, a Glassdoor survey of 5,000 workers revealed that 56% of today's professionals consider corporate culture to be even more important than salary. To these workers, the company they work for is more than just a paycheck, but a social environment where they will be devoting much time and energy. Therefore, why wouldn't they look for a company that aligns with their personal ethics and ideals?
If you want to run a successful business in the 21st century, you need to invest in a strong corporate culture. Moreover, you need to make sure that your corporation fosters a culture of compliance — in other words, that ethical operation is at the top priority list.
Why is a Culture of Compliance Important?
Corporate compliance is a key ingredient to keep your business operating year after year. Everyone knows that if your business behaves unethically, eventually there will be serious consequences. But compliance isn't just about following industry regulations; it's about creating an environment where talented people want to work.
Becoming a professional corporate trainer can help build a culture of compliance by providing tips and advice on developing a corporate training program that complies with all applicable laws and regulations. A well-designed corporate training program with tips to become a professional corporate trainer can help ensure that employees are up-to-date on all legal requirements and understand the importance of complying with company policy.
In addition, a corporate trainer can provide tips on creating an effective compliance culture within an organization. By developing a culture of compliance, organizations can reduce the risk of facing significant fines or penalties for non-compliance.
Why should you make compliance a focus for your organization? Here are a few reasons:
Avoid Regulatory and Legal Penalties
We've all heard the stories of companies brought down by white-collar criminals who thought they could get away with unethical activity. The consequences are dire, from massive penalties or painful audits to businesses shutting down and workers carted off to prison! Any business owner or HR professional would want to avoid these kinds of repercussions — and when your business promotes a culture of compliance, that is much easier to do.
Obviously, you can't always control what your employees do, and there are always risks with every new hire you take on. However, when your business is known for ethics and compliance — and when you back up that reputation with your corporate culture — you'll find that your business attracts more ethical applicants.
Prevent Damage to Reputation
We've briefly touched on the way your corporate culture impacts your reputation. Both the people who apply to work for you and the organizations you do business with are bound to hear information about the way your business operates long before your first meeting. In fact, in the case of new hires, it's practically a guarantee, as 77% of job seekers today say they consider a company's culture before applying.
If you don't encourage ethics and compliance within your company, it won't be long until everyone in your industry knows about it. And once you have a reputation for noncompliance or misconduct, you won't be likely to attract quality applicants or lucrative business contacts.
Attract and Retain Top Talent
By now, you should know that a positive work environment is critical for employee retention. The Society for Human Resource Management reports that one in five Americans left their jobs due to a toxic workplace culture between 2014 and 2019. Anyone who works in HR knows the value of a quality employee, and the top candidates are looking for ethical and compliant companies.
When you show employees and applicants that your organization values ethics, plays by the book, and treats your workers well, you are showing them that your company is one they can trust with their time and effort. A culture of compliance inevitably attracts higher-quality candidates and reduces turnover rates, ensuring that you have the best workers in your industry on your team.
Creating a Culture of Compliance
As you can see, compliance is critical for your business to grow. Whether you're hiring impressive new employees or simply avoiding an audit, a culture of compliance is always to your benefit!
But how do you build a culture of compliance with your company? The process involves every level of your company, but it's actually much simpler than you might think.
Here is how you can create a culture of compliance in your business.
Get Commitment from Leadership
The U.S. Department of Justice says it best: "The effectiveness of a compliance program requires a high-level commitment by company leadership to implement a culture of compliance from the middle and the top." Your company will never become a compliance-focused environment if your managers and C-suite think it doesn't apply to them.
Everyone at your company, from the very top-down, needs to show a clear and focused commitment to compliance. There are many ways to do this (PR announcements, an updated mission statement, etc.), but the best way is simply leading by example. Make sure your leadership team practices compliance and ethics in their daily interactions, and don't hesitate to take disciplinary action if they commit some wrongdoing (more on that later).
Create a Formal Written Code of Conduct
No company can expect its workers to follow standards they didn't set. This is why it's so important to make your commitment to compliance official — and the best way to do that is by writing it down.
A written code of conduct is your best tool for building a culture of compliance within your business. Initially, you can use the code of conduct as a sounding board for leadership, helping the organization define its corporate culture in a way that everyone supports. Then, you can use the code of conduct to set expectations for new hires and to reference in the event of any future misconduct.
Build a Training and Communication Plan
So, your company has decided to make compliance a priority and drafted a code of conduct. Are you all done? No! In fact, you're really just beginning. Corporate culture starts at the top, but changing the culture company-wide is a long process that needs to trickle down to every last employee. Of course, there is one way to make the trickling process a little bit faster: training.
Once you finalize your new code of conduct, it's wise to invest in new company training. Discuss the company's new commitment to compliance, and clearly explain what this means for workers across each department. This will allow current employees to get to know the new employee standards, while also establishing a new training curriculum for any incoming new hires.
It's also important to establish lines of communication for your employees. After all, you can't be everywhere at once — which means you won't be able to watch every worker for incidents of noncompliance. Your employees are ultimately your eyes and ears, holding one another accountable and weeding out non-compliant individuals from your workplace. But if your employees don't know who to talk to when they witness noncompliance, that behavior will go unchecked! Make sure everyone knows to whom they can report any misconduct they see.
Incentivize Ethical Behavior
We've already discussed the fact that a majority of workers consider a strong corporate culture even more important than their salary. But what about the rest of your workers? The fact is that some workers will need extra incentives to fully embrace your new compliance policies. One way to encourage ethics and compliance is to tie it to compensation and annual performance reviews.
Investigate Mistakes When They Happen
This is probably the most important element of creating a culture of compliance. While developing new policies and training your team matters, the true test of your compliant culture is the way you respond to an incident of misconduct.
Firstly, it is vital that you listen to any report you receive and take it seriously. Work with your HR department to conduct an investigation and make sure you are as thorough as possible. Remember, these high-stakes moments show your employees, your vendors, and the industry at large whether your commitment to compliance is genuine or simply lip service!
Once you complete your investigation, it is also important that you follow up appropriately. Mete out the appropriate consequences — no matter how high-ranking the perpetrator may be within your organization. This will send a clear message throughout your company that you are taking compliance seriously.
Use Effective Technology
Fostering a culture of compliance is neither quick nor easy — but luckily, there are many tools you can use to simplify the process. You can work with compliance companies to design training programs, invest in an anonymous reporting hotline, or use a variety of other technologies to help you spread the word of compliance throughout your workplace. Take advantage of these technologies as much as possible and you'll be surprised at how quickly compliance becomes the law of the land in your office.
Author: Giovanni Gallo is the Co-CEO of ComplianceLine, where his team strives to make the world a better workplace with compliance hotline services, sanction, and license monitoring, and workforce eLearning software and services. Growing up as the son of a Cuban refugee in an entrepreneurial family taught Gio how servanthood and deep care for employees can make a thriving business a platform for positive change in the world. He built on that through experience with startups and multinational organizations so ComplianceLine's solutions can empower caring leaders to build strong cultures for the betterment of every employee and their community. When he's not working, Gio's wrangling his four young kids, riding his motorcycle, and supporting education, families, and the homeless in the Charlotte community.
Published: February 23, 2022
3023 Views