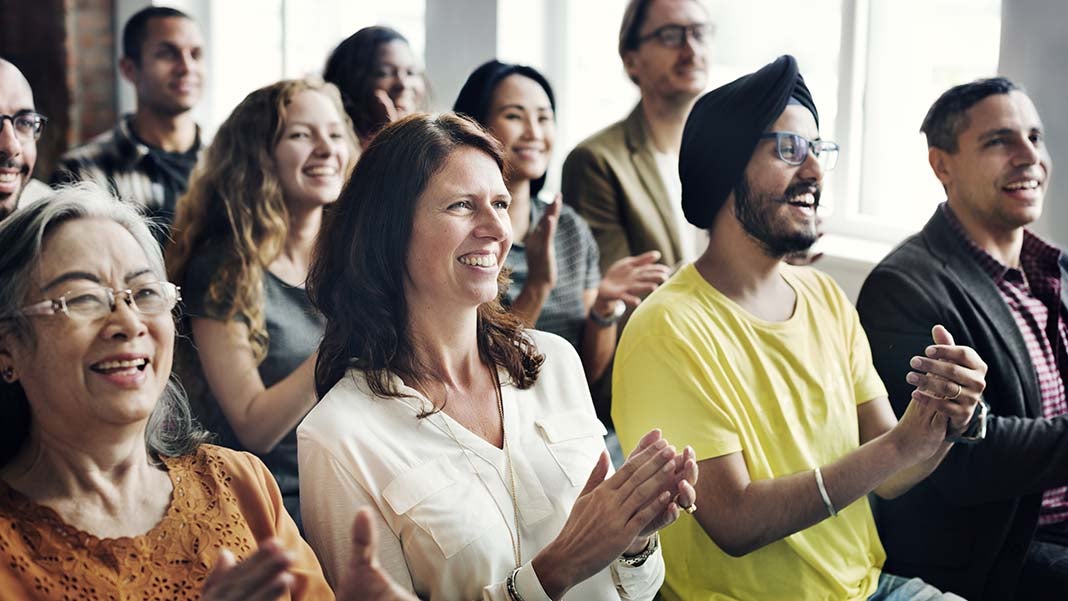 Businesses that embrace diversity have come to realize the benefits of the practice. With so many different viewpoints and past experiences, they can truly thrive by employing best practices. So far, so obvious.
However, the other side of the coin is that too many different experiences suddenly joined together can implode to create a toxic atmosphere, not to mention to hinder progress.
Obviously, communicating company vision and mission and aligning the workforce with company goals is the starting point. However, there is much to learn, young Jedi, so make education your primary goal.
Inclusion: A Checklist
To successfully bring about inclusion, it is necessary to mind all of its many facets. Here's a checklist to help you understand the scope of the undertaking, which is massive. Inclusion should include the following steps:
      Ensuring that everyone's voice is heard

      Ensuring that every opinion has the same attention

      Valuing differences

      Identifying underrepresented groups and provide them with necessary support

      Ensuring healthy and regular interactions

      Ensuring efficient idea exchange

      Understanding employee experiences and implementing best inclusivity practices that encompass them all
Let's take a look at how to establish an inclusive work culture that will benefit everyone and make the work enjoyable.
1. Educate Top Brass
It's only logical to expect that execs should lead the effort by example. Leaders are those who should represent their teams, after all, so it is crucial that they be versed in company culture.
Interpersonal skills come first, ethnic diversity close second. Teaching the importance of inclusion should be in the focus and finding the best ways to perform that should be left to leaders' approaches.
Don't make the mistake of taking for granted that leaders know what inclusion means, practically. Sadly, we live in a deeply divided world and some prejudices against other nationalities, preferences, religions and even gender can happen anywhere.
That's why proper education for leaders should clearly explain what "inclusion" means and what can be done to address possible biases.
For example, listening actively to other speakers is an act of inclusive behavior and so is encouraging widespread communication. Even if these actions seem logical, sometimes they are difficult to implement.
That is to say that practical ideas should be taught as well.
For large businesses, forming an inclusion group comprising the leaders most dedicated to the task may be a good idea. It should include the people good at communicating, as even the finest of ideas are difficult to be implemented when they aren't being presented and demonstrated properly.
The groups should ideally set goals and observe the milestones in reaching the final goal – overall inclusion.
2. Address All Concerns in a Timely Manner
It is important to address employee concerns before they escalate into something more serious. And make no mistake about that – when left unattended, they inevitably will.
The inclusion group can deal with such issues or other representative bodies can be formed.
Establish a feedback system – ideally, anonymous feedback – that will prevent any escalations. The group should meet regularly to address the issues – many companies follow the quarterly review routine, but best practices may vary from business to business. Do your assessments and act accordingly.
3. Practice What You Preach
Optimally, the groups dealing with inclusion should embrace diversity. Don't just include people of one ethnicity or sex in the group. Optimally, it should include not only different nationalities and genders but also different geographies and business roles.
However, be clever in your choices. For example, choosing people of minority groups may prove a poor strategy as these people rarely have the influence to inspire changes.
If this scenario is impossible due to the company structure, employ the HR team to educate and animate people.
4. Embrace the Differences
It is often maintained that embracing differences is key to inclusivity but in reality, this is easier said than done. Some prejudices are deep-rooted and a clever approach is necessary to address them properly.
Generally speaking, inspiring change is a better approach than sanctioning people, but really the whole process needs to be well planned and implemented one step at a time. People are curious creatures even without their multifaceted personalities.
One good way to go about embracing differences is to host a gathering where different nationalities will present some aspects of their culture. For example, you can bring a piñata to the celebration and also host a Jewish New Year celebration.
5. Establish Clear Communication Goals
Everyone knows that communication is key to business success (and every other success, for that matter). You should establish clear communication routines from day one and also ensure that the employees know how to use communication tools.
For online meet-ups, you can use Zoom and it's competitors as per your requirements. You need to provide proper training so that employees can relax and enjoy communicating instead of worrying whether they'll click the wrong button.
For in-person communication, ensure there will be no surprises. Distribute materials in advance.
Finally, think about team-building activities. Listening to employee feedback has proven to be the best approach in this matter. After all, why should a boss choose the activities everyone should participate in? Show some inclusivity right there. Arne Stamer, CEO at eCommerce company My Package Tracking adds:
If your employees are having a hard time coming up with team-building activities that are suitable for the whole team, make sure to encourage them in the right way. The best way to encourage your employees to come up with team-building activity ideas is by providing them with a few guidelines or parameters within which they can work. For example, you could ask them to come up with an activity that encourages communication, teamwork, and creativity. Or you could ask them to come up with an outdoor activity that gets everyone out of the office and working together.
Whatever you do, be sure to give your employees some time to brainstorm and collaborate on their ideas. This will not only help build team spirit, but it will also show your employees that you're interested in their suggestions and that you're willing to invest in their development as team players.
Keep in Mind
It is important to remember that establishing an inclusive culture takes time. The efforts should be coordinated, continual, and consistent, and the development isn't linear.
Moreover, there are always people who work different shifts or aren't too thrilled by social gatherings, so you'll need to think of the best approaches to include them in the mix without driving them away.
Cultivating a complex inclusive culture is hard work, but it is worth every second. The joy such a culture generates is beyond any reward.
Know Your Goals and Stick to Them
Somewhat less romantic is the prospect of drilling new routines into everyone, yourself included. It is necessary to set goals and stick to them, no matter how many times the approach needs to be adjusted. Listen to feedback at all times as it will provide you with an invaluable insight into people's hearts and minds and help you bring them closer together and make your company the best place to be. That is, after all, the ultimate goal of every business.
Published: February 22, 2022
1465 Views