What Kind of Info Should Your Invoices Include?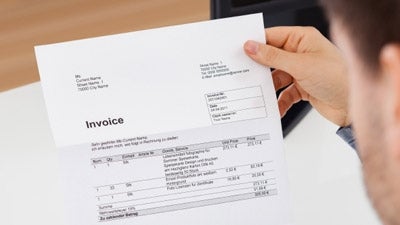 If you own or manage a small business, invoices are essential to keeping your business running smoothly. By providing your customers an uncomplicated, concise invoice that spells out the products provided or services rendered, you will reduce confusion and head off any potential conflicts about your business transactions.
In order to keep your clients happy, it's important to deliver not only the level of service they expect, but also communicate in a clear way so they will return to you as repeat buyers.
Here are some tips for developing professional invoices and generating them as easily as possible.
What Information to Include on Your Invoices
It's important to provide the necessary information on your business invoices, yet not confuse your customers in the process. For a basic invoice, you should include your business name, the business address, telephone number, and website address.
Also include the date, a unique invoice serial number, the customer's name and address, the reference or Purchase Order number (if applicable), and a brief (yet thorough) description of the products or services provided to your client. Of course, if you use invoicing software, these basic elements are included in the invoice template.
Finally, payment terms should always be clear on your invoices since this is the main element that drives invoicing in the first place. Not only should you state what services or products were provided and how much is due for them, but you should also specify when the product or service was delivered, including date and time (if necessary).
Include the amount due, the date required for payment—due immediately or net 30 days, for example—and, if possible, offer a small discount for early payment to encourage faster collection of monies. In addition, state the terms of payment, such as if you accept cash only, checks, credit cards, PayPal, or other methods of payment. Remember that the more types of payment you accept, the easier it is for your customers to pay, so give serious thought to which methods you can comfortably offer to them.
How to Easily Create Invoices
The easiest way to create invoices is to use invoice software. While there are many choices of invoicing software out there, there are ways to painlessly create invoices regardless of which application you are using.
Your best bet is to use an invoice template provided by the software program you use. While you can design your own template, it's much easier to use what's already available. That way, you can be sure you're not forgetting important segments that should be included on your type of invoice. Just as there are different industries, there are also different types of invoices—trade, service, and professional.
When you select the invoice template, be sure to choose one that lists either your no-tax status or tax status. This is important when it comes to filing your taxes the following year. If you're dealing with overseas businesses, keep in mind the different tax structure over there as well, such as the Value-Added Tax (VAT).
If your business involves giving quotes to your clients, select an invoicing program that will generate an automatic invoice based on those quotes. It's important to strive for as much seamless business integration as possible when it comes to finding an invoice-generation method for day-to-day transactions.
Regardless of the type of
invoice software
you use, be sure the process is simple and flexible so it doesn't cost you and your business time or money. If you find your first choice of invoice software isn't working out the way you expected, try another until you hit on a program that fits your work style.
When it comes to managing payment transactions with your customers, the last thing you should have to worry about is your invoicing system.