When it comes to competing with big businesses, small businesses often don't have the resources or budget to warrant working at such a high capacity. However, modern technology can help small businesses rank in the big world.
More specifically, the internet of things can help small businesses function on a macro-level.
The internet of things is an industry devoted to high-speed analysis, data collection, and connectivity. It's what runs "smart-grid" cities, and what powers corporations like Google, Amazon, GE, and others. It's also what allows smart homes and remote monitoring for consumers.
The IOT industry is booming—expecting to expand to nearly 34 billion connected devices by 2020—and small businesses can take advantage of this powerful industry. Here are some tips on how to navigate through the IOT industry so you can compete on a larger scale.
Think Big and Think Small
Small businesses can find a multitude of advantages to IOT, and the possibilities are endless. While it's true that analytics and cloud computing can help small businesses tremendously, there are many other IOT applications that should be considered to make every part of the business a more fluid and user-friendly experience.
It's important to think big, and think small when considering the IOT applications that could work for your business. For example, if your business is in the retail industry purchasing a device such as Amazon Alexa could help you control your store's music, reorder cleaning supplies, and set reminders for meetings or events.
Similarly, if you're in the delivery industry, devices that give access to real-time traffic data and weather conditions can help drivers navigate the best and safest routes for travel. Even for insurance purposes, attaching IOT devices to trucks or businesses can help companies keep track of their assets, monitor safety risks, and provide real-time reporting when an incident occurs.
Don't Be Afraid to Take Educated Risks
Yet IOT is not without its fair share of risks, and those risks may be even more substantial for a small business than it would be for a larger corporation.
Cyber security is an ever growing concern in our virtually expanding world, and small businesses have to be vigilant with their resources and the companies they choose to partner with for IOT services. Researching and reading reviews of IOT companies can help mitigate some of this risk, but small businesses don't always have the luxury of choosing the best (and most expensive) option. However, taking a financial leap of faith may be worth the effort; depending on how your business chooses to operate.
The risks can occur within the business as well; outside of the cyber realm. The University of Southern California discusses the psychological risks and rewards of IOT at work: "IoT provides immense capacity to track individual movements throughout the workday, data that – while potentially useful – can reduce autonomy and create a sense of constant observation. In exchange, this data provides new ways for enterprises to exercise granular control over the resources invested in their physical space." The risks, however, can be more manageable than a cyber-attack, and mitigated through strong leadership and communication with your team.
Join the Future
When it comes to choosing the right IOT company for your small business, be sure to consider the tradeoffs that come with the transition. Think of how the investment in IOT will benefit your company and your community, and don't forget to think small when considering your options.
IOT can be the key to competing with corporation in your industry, and jumping into future technology can be an exciting endeavor. Research, dive in, and enjoy the rewards of joining modern technology!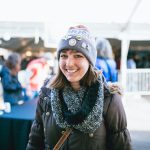 Author: Katie McBeth is a freelance writer out of Boise, ID, with experience in marketing for small businesses and management. She spends her free time being the mother of three cats and a dog named Toby. You can follow her animal and writing adventures on Instagram or Twitter: @ktmcbeth.