This year, Gmail celebrates its fifteenth birthday and 1.5 billion people around the world are currently using the tool. Over 4 million businesses now use G Suite.
Every business needs a way to delegate emails within teams, so team members can keep track of who is doing what. But there is no easy way for companies using G Suite to stay on top of emails coming in to shared email accounts, like support@.
This can lead to emails from customers being missed. And this impacts the bottom line. Customer satisfaction is crucial to small businesses. Retaining customers can increase profitability. On the other hand, a loss of customers will lead to a loss in revenue.
Hiver is a well-known email collaboration platform that helps companies using G Suite to manage shared mailboxes, right from Gmail. Hiver recently launched an enhanced version of its platform, so let's take a look at the features of this product, and the problems it solves.
Issues with Email Collaboration in Gmail
Think about how most companies interact with customers or prospects over email. Companies set up shared inboxes like @support and @sales, yet have no way to assign emails, like an email from a specific customer to a specific team member. Instead, there is a lot of cc-ing and forwarding of emails leading to a lot of email clutter, eating away time that could be used productively. Even worse, this lack of transparency can lead to a customer email slipping through the cracks.
Businesses need collaboration over email to be more efficient. Each email needs to be assigned as a task, given an owner, and a status so that's it's crystal clear who is working on what. This is what Hiver's Enhanced Email Platform provides.
So how does it work?
Using Hiver's Enhanced Email Platform
Step 1: Visit hiverhq.com and click on the 'Start Free Trial' button, or directly visit hiverhq.com/signup and follow the steps.
Step 2: Allow Hiver to access your Gmail account.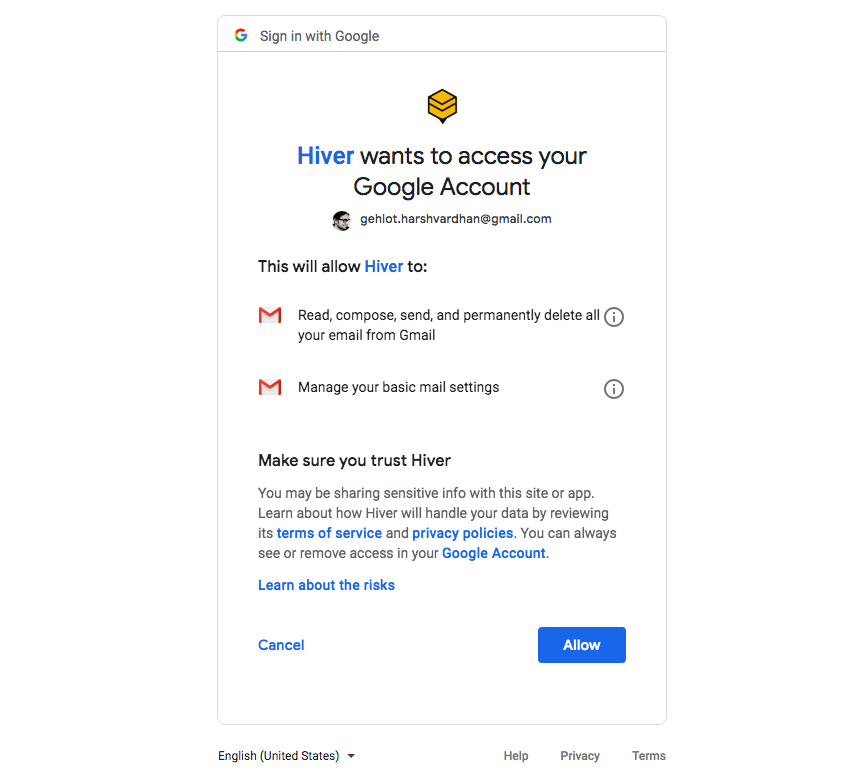 Step 3: Download the Hiver extension from the Chrome Store.
Step 4: Set up an email address as a Hiver Shared Mailbox.
Click on the green gear Hiver icon in Gmail and select 'Admin panel' to view the Hiver Admin Dashboard
Click on the 'Shared Mailbox' tab to view the list of all Shared Mailboxes on the Hiver account
Click on the green button 'Create Shared Mailbox' to view the page for creating a Shared Mailbox.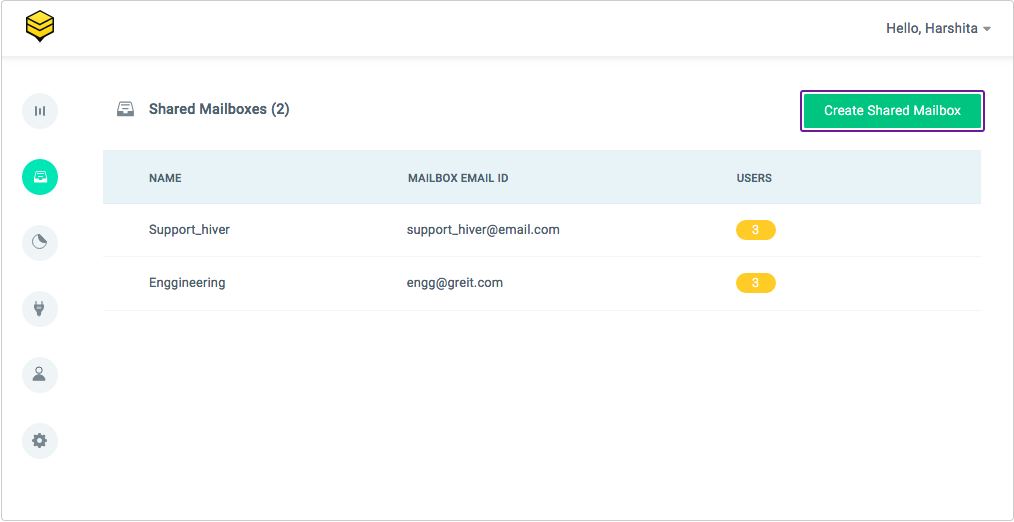 Step 5: Delegate emails, so when a new email reaches the Shared Mailbox, it appears in the 'Unassigned' section of the Shared Mailbox for all the users of the Shared Mailbox. Then, you can assign an email to yourself or anyone else in your team.
Click on the dropdown 'Unassigned' in the Hiver widget on the right pane of your Gmail to find a list of all the users in the Shared Mailbox to whom the email can be assigned.
Select the preferred user to assign the email to someone.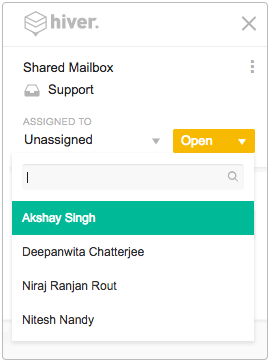 Step 6: Track delegated emails, by making sure every email has a status: Open, Pending or Closed. These statuses will be visible to everyone on the team, and helps people stay on the same page.
Click the dropdown on the Hiver widget on the right pane of Gmail to choose any option (Open, Closed or Pending).
You can also automate repetitive tasks, such as assigning emails from a specific customer to a particular agent.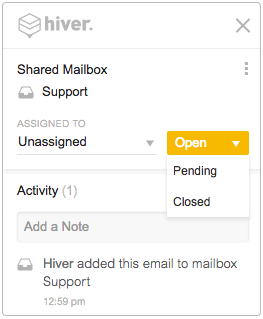 Step 7: Create Views for information needed frequently. This can include unresolved issues from priority customers, or interested prospects in a region—these can be clustered together.
Click on the 'All Views' tab under the Shared Mailbox where you want to create your filter
Click on the green button 'Create View' to open the filter panel
You can filter emails by assignee, status, or tags
Step 8: Check out deep insights into how teams use email and how responsive they are to customers.
Access Reports/ Analytics for each of your Shared Mailboxes from the left pane of your Gmail.
Click on the link 'Analytics' under the tab 'Shared Mailbox', in the left panel of your Gmail. Type in the name of the Shared Mailbox for which you want the report, and the duration.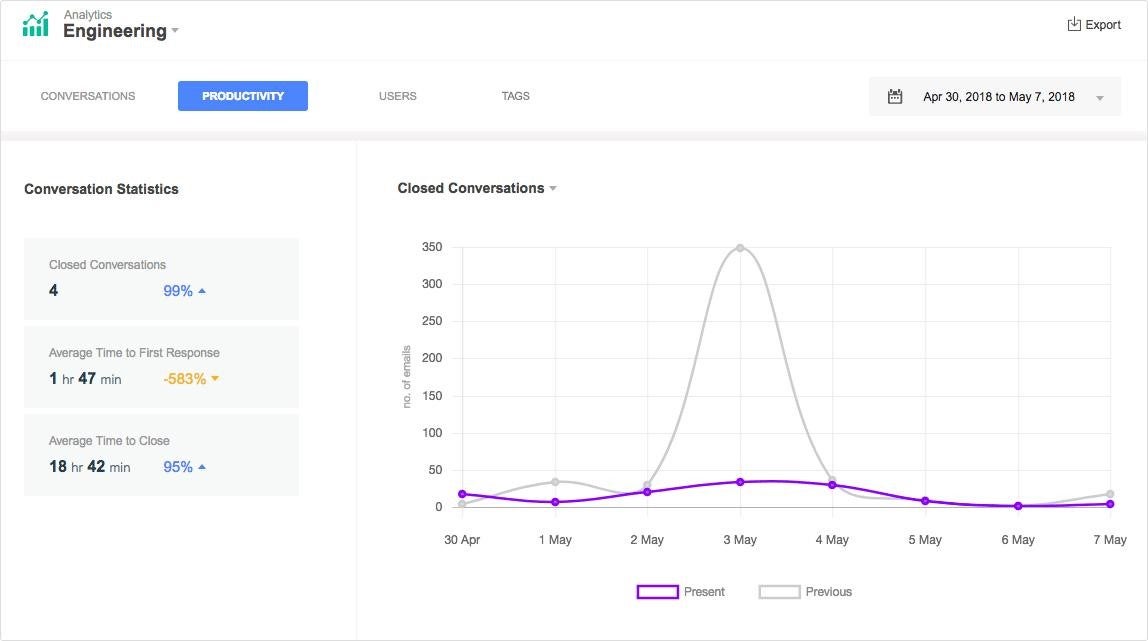 By using Hiver, companies can transform Gmail into a collaboration platform, allowing teams to easily manage shared email accounts. Given how useful Hiver is, it's no wonder that the company has over 1,400 customers across 30 countries, including Hubspot, Harvard University, Vacasa and Shutterstock.