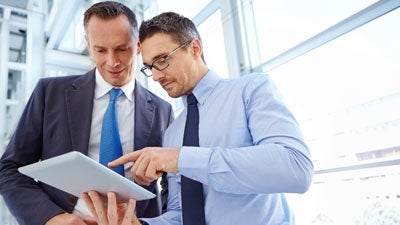 Whether you own a business or are looking to start one, nobody has to tell you how much your sales team matters. In order to grow and expand, you need your company to have high orders—and that's what your sales team specializes in.
So how can you empower your salespeople to be as effective as possible? What goes into more efficient sales? The key place to start is technology. Below, take a look at some key technology advancements that are available in today's market. To keep up with the competition and continue moving forward, every sales team needs to consider these options in 2015:
Emerging Tablet Applications: Most of your on-the-go salespeople are probably already using smartphones and/or tablets to manage deals remotely, but new applications can improve their ability to do so even more. There are apps like Handshake Sales Order Manager to write sales orders, Apple's Keynote Manager to manage presentations, Square or BluePay to process payments and apps such as Xpenser to track all expenses. It's possible to do everything from explaining products to getting signatures on new deals. With these easy and convenient apps, managing sales on the road is easier and more efficient than ever before. Get your sales team testing out these time-saving, efficiency-boosting resources to see how they may improve your sales methods.
Better CRM: New technology is making customer relationship management (CRM) software smarter and more customizable than ever, so sales people have less clerical work and more efficiency on calls. Whatever your current CRM is, you can expect updates to make it more and more invisible in the sales process.
Sales Acceleration Technology: In terms of importance and value, what CRM software was to sales teams in recent years, sales acceleration technology is today. In other words, your company needs it. Why is sales acceleration technology so useful? Simply put, it's made to speed up the call-to-close process by giving sales reps the right data in the right way when they're on calls. Where CRM software helps organize data in the sales process, sales acceleration technology moves that process along faster. As a result, companies can experience more and faster growth for greater profits.
Email Tools: As more and more sales either originate or take place online, the power of email communication is only growing. With Rapportive, reps can keep details about their contacts and prospects right in their inbox. With Boomerang, they can set up reminders that come straight to their Gmail accounts. There's Bananatag to track client emails and know when messages are received, and there's Streak for doing everything from tracking sales to handling deal flow and organizing. Look into the available email tools on the market now and see how they might boost your sales power.
GPS Tracking: When you have many sales representatives in the field, working at different locations throughout the area, you need a way to keep track of them. Enter GPS tracking. With GPS tracking on sales vehicles, you know where your reps are at all times. You know how long they're taking on calls, how soon they'll arrive at a certain destination and where to find them when a client needs assistance. This not only improves your overall insight into operations, but it also improves employee accountability and customer service.
When you want to improve operations and streamline your sales process, look to the technologies and tools above. By making the most of the resources available to you now, you'll be able to see greater results from your sales team.
Author: Robert Hall, the President of Track Your Truck, has over 13 years of experience in the vehicle tracking industry, which has helped his company become a leader in providing vehicle tracking software to small businesses and entrepreneurs across a variety of industries.
Published: February 6, 2015