In pre-pandemic times, working from home (WFH) – also known as remote working – was one of the perks available only in some companies. In the last couple of years, the number of opportunities to work remotely has grown exponentially and this trend appears to be here to stay. This doesn't come as a surprise, as the world of telecommuting offers a range of advantages for both employers and employees.
Advantages all around
Although some of the benefits of working from home affect the employee directly, they can also bring positive results to the employer as a knock-on effect. Here are some examples:
Not commuting. The most obvious reason why many employees prefer to work from home is to save time and money on commuting. Traffic jams at peak times, overcrowded trains, costly fares, lack of parking areas – these are all things that commuters could happily do without. But less commuting is not just beneficial for the individual. People have been aware of the causes of environmental issues for years now, and many are taking measures to reduce their carbon footprint. Working from home can make a positive impact on the environment.
Flexibility. When working from home, you can decide when to work. Are you a night owl or an early bird? Choosing to work when you are most productive will no doubt result in increased productivity. It allows you to fit your work around your family commitments, therefore reducing your stress levels. It gives a sense of independence and autonomy, establishing accountability and promoting work satisfaction. As a result, the company you work for will benefit from low staff turnover and high-quality work.
Creativity. Many workers claim to be more creative when they work remotely. This might be because they do not feel the pressure of the traditional work environment and their brain is free to come up with more ideas. Or it might be because they can have a few minutes' breaks whenever they need to, giving their mind a bit of 'breathing space.
Focus. Having a home office would probably reduce distractions. It would allow you to spend more time 'getting the work done and less time chatting with your colleagues. Once again, the benefit would be increased productivity which, in return, might help you reduce your daily work hours, giving you time to cook that mid-week roast dinner that you have been craving, or for that mid-afternoon yoga session that you have always fancied.
Availability. Although remote working has been blamed for removing the separation between work and home life, it allows you to be available wherever you are. Of course, establishing boundaries between work and personal time is necessary to recharge your batteries, but the flip side of the coin is that you could physically be anywhere in the world and still do your job. Can 'work-from-home' become 'work from hotel?'
Online teaching
With such advantages as those mentioned above, the number of people determined to improve their lives with a WFH setting has increased dramatically. Unfortunately for some, remote working is not always accessible. Many of those whose jobs don't allow for WFH have bravely (re) taken control of their own life and quit their traditional employment to reinvent themselves.
Currently, technology is at most people's fingertips, allowing communication and interaction all over the globe. The job opportunities that an online scenario offers are endless. Because of the demand for international connectivity, one of the go-to life-changing careers is teaching English as a foreign language (TEFL) online – and since distance learning has recently become the norm, this industry has boomed.
How can I start teaching English online?
Before you jump straight into it, you need to decide what kind of entrepreneurial path you want to choose. How much support would you need with marketing and self-promotion? Would you enjoy working behind the 'teaching' scenes? How soon do you want to start teaching? These are all important questions that will help you define your next career path. Another aspect you might want to consider is your hourly rate. This can vary, usually between $12 and $25 per hour, depending on how you decide to approach your freelance teaching career.
Independent teaching. If you want to embrace the experience of being a solopreneur, becoming an independent online teacher might be the right option for you. Going solo will require you to dedicate time and effort in planning, designing, and creating not only your lessons and materials for your students/clients but also your website, agreement and cancellation policies, social media posts, among other tasks. It is a very demanding route, but also extremely rewarding. It gives you the freedom to choose your clients (e.g., adults or young learners? General or Business English?) and to set your own hourly rate.
Platform-supported teacher. Marketing, promo, and policies aren't everyone's cup of tea. You love teaching and creating engaging lessons and effective materials, but you have no time to spend on the business side of things. No problem.
There are many platforms that offer a lot of freedom, just like being an entrepreneur, but give you all the support you need if you are not into running a business. Every platform is different, so the requirements may vary.
Who can teach on an online English platform?
Typically, the requirements to work as a TEFL teacher on a platform are:
to be a native or near-native English speaker. Some platforms can be very specific about the nationality of their teachers.
to hold a TEFL qualification – this is a must.
to have a bachelor's degree is not necessary, but some platforms are strict about this.
to commit to a minimum number of teaching hours.  This varies, but it is usually between 5 to 10 hours per week.
What are the advantages of teaching English on an online platform?
As previously mentioned, this teaching option is hassle-free, because the company that runs the platform looks after the business side of things, while you can still be a freelancer doing what you love! In addition, and depending on the platform, other advantages may include:
students are available and picked for you
small group or 1-to-1 classes
option to choose which age group to teach
a flexible 24/7 schedule
ready-made materials for your lessons
teacher support/professional development opportunities
Bottom line
There are plenty of reasons why more and more people choose to work from home, and it looks like the numbers will continue to increase.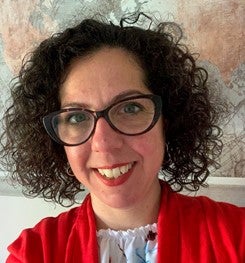 Author: Monica Ruda-Peachey is an ELT writer and teacher trainer who creates teaching and learning materials and exam items for numerous clients. Monica has been teaching English for over a decade in the Czech Republic, Italy, the UK, and online. To find out more about Monica and her work, visit www.rudapeachey.com.