It is safe to assume that as a business owner, whether small or big, you are on LinkedIn. According to Fortune, LinkedIn now has more than 500 million users, including corporate executives, buyers and decision makers. So it's also safe to presume that you know that the economic decisions and deals course through the social network on a daily basis.
You probably also have an idea that LinkedIn can be used to promote your products and services through useful articles on LinkedIn Pulse that take advantage of Search Engine Optimization best practices and updates that are useful to your connections. Even though many users know all this, there is one tool that is still not being used to its full potential: the LinkedIn Sales Navigator.
This brief social media marketing article, focused on LinkedIn, looks at ways on how you can use LinkedIn Sales Navigator for Social Selling.
What Is the LinkedIn Sales Navigator?
The LinkedIn Sales Navigator is a social selling tool that is designed to assist marketers in identifying relevant prospects for their products or services. To help you achieve this, the tool offers in-depth details through the use of advanced search options. It also offers filtering options so that you can specify the type of people you are exactly looking for.
Get the Initial Recommendation
In order for you to start speaking to prospective clients, you will need to get the initial recommendation. The Sales Navigator looks at search histories, sales preferences, and interactions between profiles to help you identify new prospects. This makes it possible for you to start a conversation with a prospective buyer before you even start asking them to buy anything from your business.
Understand the Prospect before Calling
The main advantage of turning to the Sales Navigator is that it enhances your planning ahead of making a call. Writing for the Entrepreneur, Jane Porter indicates that before making a call, you should have the relevant information about the person you are going to call. Using the Lead Builder tool, you can search companies and users using more than 22 advanced features: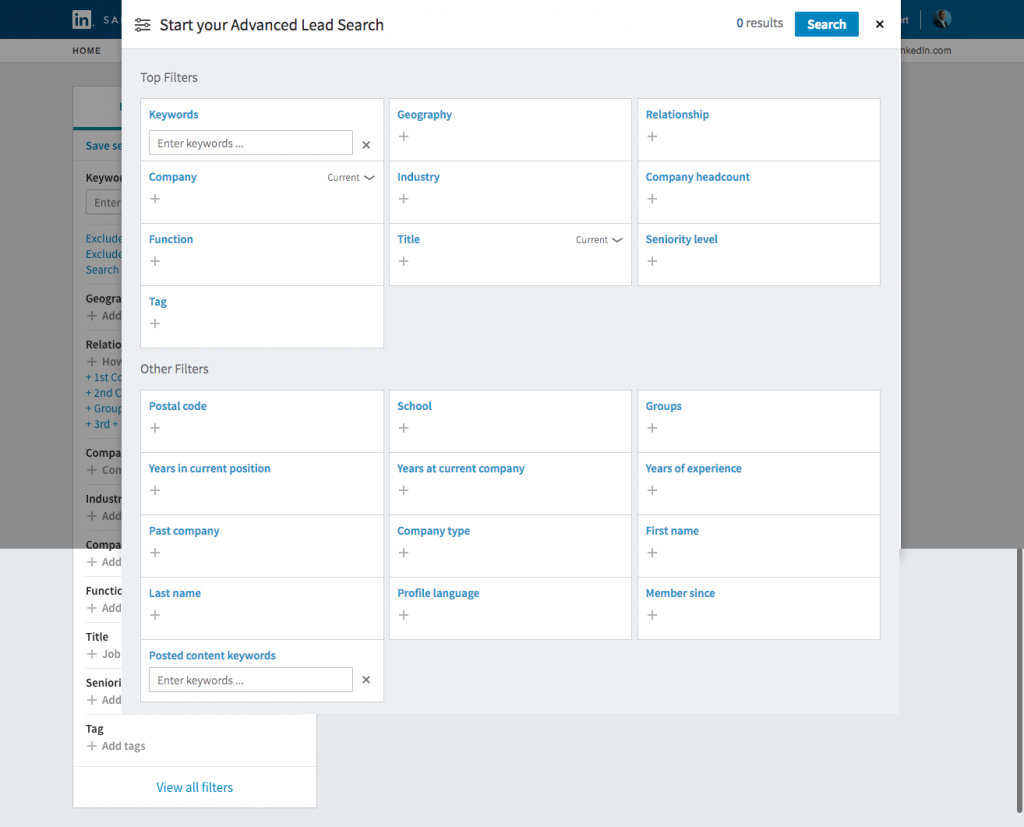 You can use the Sales Navigator to filter your search by specifying the location, industry, or company using the custom settings. This allows you to target your leads even more so that when you are calling, you are not wasting time speaking to people outside your target market; or worse, people who do not have the authority to make decisions.
Once you have identified the right prospects for your business, it becomes possible to identify the things they are saying. When you know what they are saying, you know their pains and can, therefore, offer them solutions. Your cold calls are no longer that cold.
Take the Conversation to InMail
Once you have used the filter to narrow down your leads, it becomes easier to craft your message in such a way that you are addressing the challenges of the people you are sending messages to. This allows you to find common ground where you can build the relationship that will impact your bottom line. The LinkedIn Sales Navigator highlights the common areas that you can use as a basis for nurturing your relationships with both prospective and existing clients.
Where it is used effectively, the Sales Navigator can grow your sales and positively impact your bottom line.