Last week we received an email from LinkedIn touting their new "Sponsored Updates" feature—a feature that they claim offers a new way to put your "relevant content" directly in front of your target audience on both their web and mobile platforms. While the concept of paying for social media face time definitely isn't a new one, sponsored posts certainly help make LinkedIn a more viable
content marketing
platform. And, depending on your niche,
LinkedIn could work wonders
for you.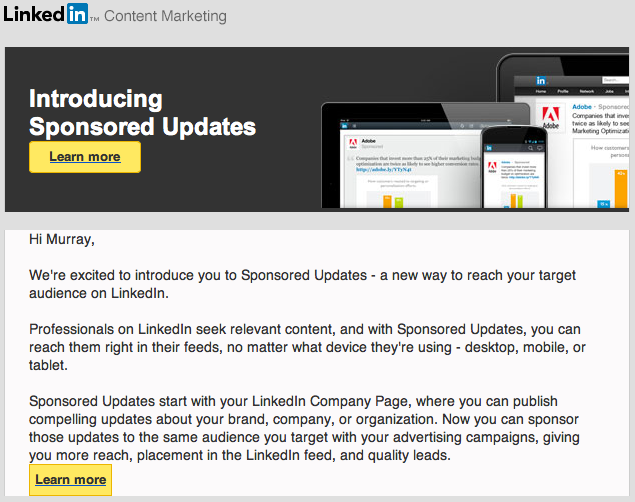 So with the popularity of content marketing on the rise, and the introduction of
sponsored updates on LinkedIn
, we're here to offer up some tips on how to integrate the professional network into your marketing strategy and make LinkedIn a more effective weapon in your online advertising arsenal.
Use Sponsored Updates. Prior to LinkedIn's implementation of sponsored updates, content marketers found it very hard to put their content in front of their target audience on the network. Now, similar to Facebook, you can more effectively target the users you want to see your content, and ensure that your posts hold more weight within the newsfeed. So if you are looking to get more eyes on your LinkedIn content, using sponsored updates is something you should look into.
Curate Your Following Strategically. Ideally, the people who follow you on LinkedIn are people who are in your industry and are interested in what you do. You should aim to create content that is tailored for those types of people, and encourage them to engage with you and your content. By doing this you will build a following that is relevant to your business, and ready and willing to engage with your content.
Have Conversations. Yes, creating and sharing your own content is an essential part of the content marketing strategy; however, to truly capitalize on the networking capabilities of LinkedIn, you should engage with other peoples' content as well. Participate in group conversations, ask questions, and answer any questions that your followers ask you. By routinely interacting with your target audience, you will create more engagement with your content, better brand loyalty, and ultimately more sales.
Get Involved With LinkedIn Groups. We get emails all the time from members of LinkedIn groups that we're in, asking anything from if they can contribute to the site to our advice on certain marketing strategies. By joining a group, you can create more personal relationships with LinkedIn users in your industry, which can help you spread your content and your brand.
Encourage Employees To Share. Depending on the size of your company, your individual employees might actually have a larger LinkedIn network than your company page. So encourage them to share your content to their own network. This will help you expand your audience and reach a network of people that you would have previously been able to reach. With a broader audience, you create a better opportunity to increase brand awareness, produce engagement, drive traffic, and boost conversions.
These have been our five tips for driving traffic through content marketing on LinkedIn. There's no doubt that LinkedIn is a great way to facilitate professional relationships, but with the recent implementation of sponsored updates, the professional networks has opened itself up to being an even more important part of the
digital marketing puzzle
.
If you have any tips of your own, feel free to leave them in the comments below—we'd love to hear your ideas.
This article was originally published by The Mail