Digital businesses are obsessed with sales.
On Instagram, most small businesses apply spammy Instagram marketing techniques: Subscribing for fake ads, posting tons of random content, or buying thousands of Instagram followers.
Jasmine Star, the internationally recognized photographer who leveraged Instagram to build a six-figure business in her first year, suggests that business owners should forget such bogus campaigns. "The answer is to double down on your current audience and serve them well to convert your current followers into customers," she advices. "You need to go deep, not wide."
In other words, to get the results you need to grow, embrace the right Instagram marketing hacks. Those practical and ethical techniques that will help you feed your prospects with value—useful and memorable content that appeals to their emotions.
To do that, I have a short story that I want to share with you. It's all about three Instagram marketing hacks that will help you power your sales.
Let's jump right in.
Your audience
It surprises me when I see many businesses worry more about Instagram posts and follower counts… And worry less about their audience.
"The audience," they often say, "that's a no-brainer. We know who they are. We know what they want. They admire visual content, especially if the content is of high quality and awesome."
But that's a wrong approach not only on Instagram but on any social networking site. And here's why:
Your definition of content as "high quality and awesome" is different from your prospects'. One prospect may operationally measure awesome content as "educational," while others will view it in terms of its "practicability."
The right way, therefore, to build a strong marketing foundation on Instagram is to begin by studying your audience.
Understand who they are,
Know their demography,
Study what makes them tick, and
Research their pain points and desires.
Only then you'll be able to create and post content that aligns with their definition, not yours. That way, you're sure they'll like what you post on Instagram. Thus your followers will engage with your content, buy your products, and expose your brand.
And since we're talking about your brand…
Your brand
The next big thing to do, after understanding your audience, is to work on your brand, not spend money on ads.
Remember: You don't have a business to market if you don't have a brand. So, to begin working on your brand, start by reviewing your profile photo—your logo that is, of course. Is it super quality, visible, and clear?
As you probably know, Instagram profile photos display at 110, cropped to a circle with a 110-pixel diameter, and stored at 320 by 320 pixels. Meanwhile, you should upload your company logo that large to make the image looks good on the photo-sharing site.
Next, review your entire profile. Check all the major sections:
Your name: Ensure that it's well spelled; it's crisp and clear. Why? Because it will appear in your search.
Your username: Your username, AKA your handle, is just like your nickname. Script it on your profile as meticulous as you can, in 30 characters or less.
Your website: Is your website written on your Instagram profile page? Make sure it's there and it's clickable—so your prospects and customers can land on your online storefront and order your products.
Category: So, why are you on Instagram? What do you do? What do you sell? Your category section will let you inform your audience and prospects about you, about what you do and what you offer without using up bio characters.
Contact info: Tell people where to find you.
Call-to-action buttons: Give Instagrammers easy tools to interact with you directly from your profile page.
To illustrate this, let's take a look at G Adventures' profile. The company does a good job in all its profile sections: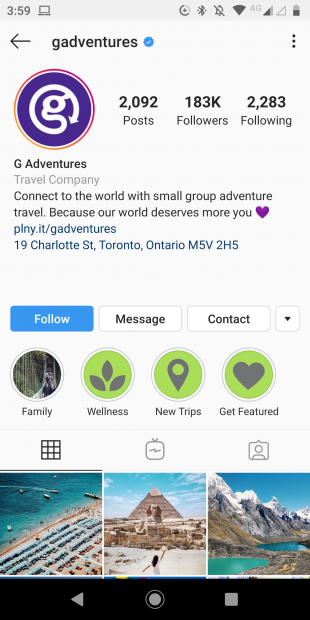 The idea is to make your profile—and brand—simple, clear, and easy to navigate and engage with. Your brand also adds credibility to your content.
Your content
Understanding your audience is important.
Polishing your brand is essential for your marketing campaign.
However, what's even more important when it comes to Instagram marketing is this: Creating content.
But not every content, mind you. Not the so-called "product photos" or those bland GIFs that a lot of amateur startups post these days. Professional Instagrammers post specific types of content that engages their fans, increases their follower counts, and double their sales.
I call these types of content creative content. And they're as follows:
Behind the scenes posts. Rise the curtains of your business door a little bit, and show your followers the inside action in visuals.
Text-based images: Post beautiful texts that pack beautiful stories with great images in the background.
Quotes: Post quotes from top authorities and leaders in your industry to inspire your readers to buy.
Instructional posts: Come up with a series of how-to posts that teach your audience how to do something they'd love to learn.
In posting either of this content, creativity matters. Quality matters. Understanding what your audience loves…also matters.
And, above all, the content must add value to your followers.