Let me start by asking you a question: How much time do you spend each week on social media? Does it amount to what you would describe as either "too much," or "more than you'd like to"?
Unless you outsource your social media, I'm guessing you answered yes.
Breathe a sigh of relief, there's a better way.
Ever since businesses started noticing that social media marketing delivers big results,  gurus, experts, hackers and strategists have been hunkering down to put together some pretty awesome tools and tricks to help business owners like yourself save precious time and energy.
Take a look at the following tips even a complete idiot could follow (and we know you're not an idiot, so just imagine how easy these will be for you!).
1. Social Media Calendars
This is the first tool you're going to want to get your hands on. Gone are the days of pulling out your phone every time you want to publish a tweet from your business account.
Nowadays you can use a variety of tools to schedule out your posts in advance.
Implementing this will be a boon for your:
Productivity
Focus
Consistency
Engagement
You'll also often want your social media marketing to align with the release of your blog posts, and the best way to do this is with a calendar.
When it comes down to which social calendars are best, Buffer and Hootsuite are widely regarded as being at the top of the pack.
As to which one you ultimately decide upon, that'll be a matter of personal preference. But they both have robust feature sets that go far beyond simply scheduling posts and both have built in systems for link-shortening (Google Analytics will thank you).
Here's a comparison to help you pick which will be right for you.
2. Use Images!
You might have noticed that images are currently a pretty big deal. It's no surprise given the degree to which we are a visually stimulated species. But take a look around and you'll start to see that pictures and photography are a more important part of engaging your audience than ever before.
In fact, if there were only one hack I could teach you to growth hack social media, this would be a top contender.
In the age of Instagram, SnapChat and Pinterest, images are king. People have shorter attention spans, so it's only natural that we need to work harder to grab it right away. There are few better ways to do this than with a perfect image. After all, a picture is worth a thousand words right?
The data backing up the important of images is figuratively staggering. Tweets are far more likely to be retweeted if they contain images. One study even found that on Facebook, 87% of shared posts contained images! EIGHTY-SEVEN PERCENT! That's just outrageous.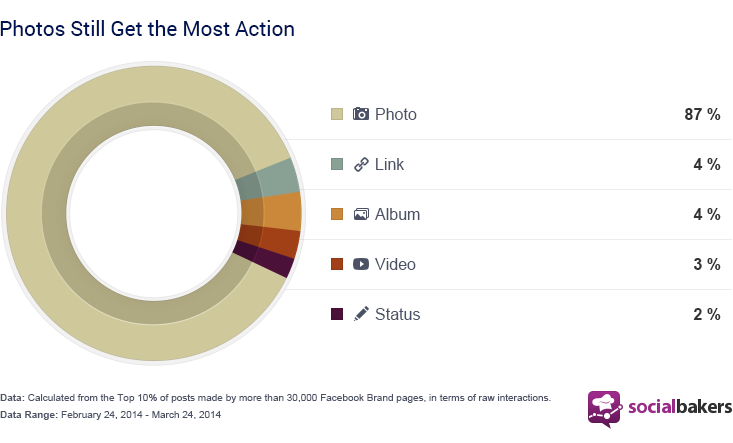 There's no doubt that including images in your social campaigns is one of the easiest ways to increase engagement and grow your following. If you need help with image creation you can always to go fiverr.com or 99designs.com for more complicated work.
Related Article: How Images Can Drive Traffic for Your Social Media
No excuses! If you want to do the work yourself (or have no money to spend), learn to use Canva. It's an incredibly powerful tool and there are tons of tutorials that can help teach you how to get the most out of it.
3. Cross-Promote
Cross promoting content is one of those things that many will advise against, but that's only because many people utilizing this method will fail to follow #15 (optimizing posts for each platform).
Using the right tools it's more than possible to cross-post and keep content appropriate and styled properly for multiple outlets.
Using tools like Buffer, If This Then That (IFTTT) and others, you can make your life a whole lot easier, and increase the volume of your social posting without making yourself crazy.
IFTTT in particular, is extremely versatile. It's a simple and user-friendly platform on which to build "recipes" around the age-old "if this, then that" system. Trust me, it can automate plenty of otherwise annoying and time-consuming social media activities.
Ever tried to get Instagram photos to automatically post to twitter in native image format? I have. It's why I'm the proud owner of a shiny new keyboard.
One that distinctly lacks the fist-shaped-crater-look my old keyboard was sporting.
Here are some pretty cool IFTTT recipes to look over.
4. Don't Overlook Google+
Hi there. Are you a software developer? If not, let me guess: you don't use Google+ much. Well, believe it or not, Google+ is actually still alive and well and you should consider using it for your business.
It's a testament to the failed initial marketing of Google+ that using it can be at all considered a hack, but honestly it just didn't take off like the big G would have hoped.
Despite all of this, it's a veritable goldmine for marketers. Time and time again, reports show that audiences on Google+ are among the most engaged social media users anywhere on the web.
Doubt you need me to mention that more engaged followers should be a top contender for any business's social marketing North Star metric.
5. Pay Attention to Keywords
Here's one you might not have considered, and it can make your social ads a whole lot more effective.
When you're targeting keywords on social media, pay attention to the fact that people write differently than they do when making a google search query. It's usually more conversational and in their own personal voice.
To illuminate, let's look at an example: Say you have a trip planned but don't have anyone lined up to care for Mr. Bigglesworth. Before you go to Google to look for a pet-sitter to hire, you might throw a line out to your friends on Facebook or Twitter. "Hey guys, can any of you help watch my cat when I go away soon?! He's super sweet just like me… promise!"
If you're running a pet sitting company, you could target the keyword "watch my cat" on twitter and run an ad that has a catch line "Going away soon? Leaving an animal at home? Leave it to the professionals (that's us!)." Or something like that, you get the idea.
On the flipside, if you were to target standard search queries, you might aim for keywords like "pet sitter" or "cat sitter."
It's one of those common sense things that you might not think about beforehand, but when you do, you might face-palm realizing how silly it was to have ever overlooked.
Coming Up
Next week, we'll dig into 5 more exceptional ways to grow your following and increase social engagement. Remarketing, paid advertising and giveaways are first and foremost, but you'll just have to come back to see what else made the cut!