How to Land Big-Name Contracts (Regardless of Your Company Size)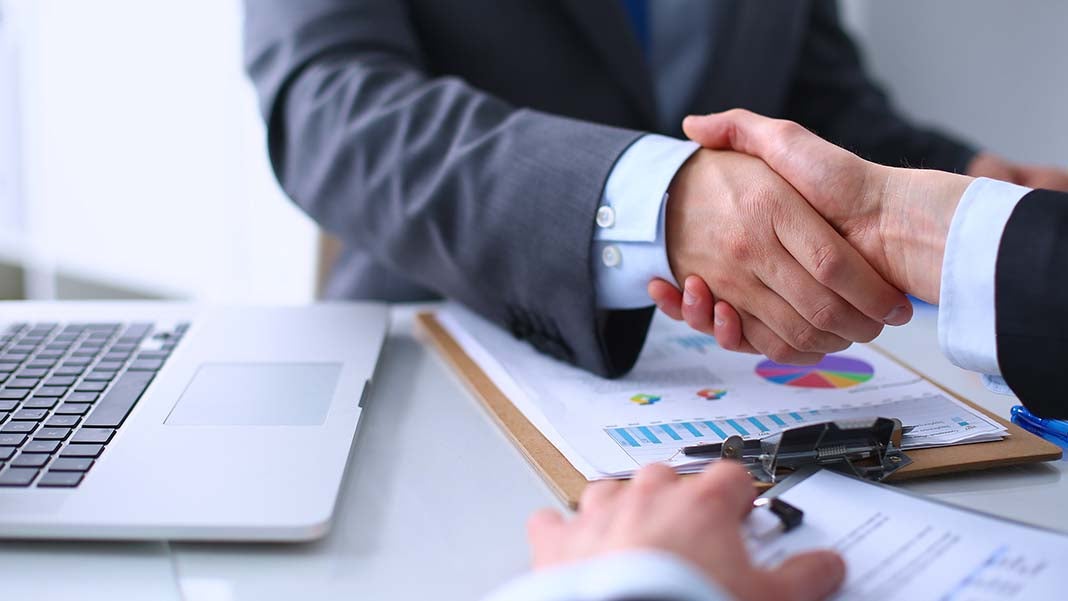 The secret to landing big contracts isn't deeper pockets or more manpower—it's getting prospects to trust you. Understanding this fact has not only helped our startup marketing company land on the Inc. 5000 list, but it has helped the roughly 2,000 small businesses we've coached to compete with the world's largest financial institutions. Based on our experience, here are six ways you can jump-start your credibility.
Pay Attention to Branding
Branding lends an air of credibility and professionalism to any company. Small businesses can implement a successful branding strategy from the outset by ensuring that all visual assets, such as company colors and logos, are complementary and present across all marketing communications. I suggest working with an experienced web or graphic designer who can help you achieve a consistent look. Social media profiles, in particular, should be custom tailored to match your professional website. To date, our design department has rebranded over 230 separate companies, and in every case, there has been a measurable increase in their lead volume as a result.
Apart from consistency in design, large companies understand the importance of using a specific tone in all marketing copy. With a bit of research, small businesses can adopt this practice just as effectively. Whether your company's tone is hip, informative, corporate, or otherwise will be dictated by your target demographic and the language they speak.
Partner With Established Businesses
One of the greatest advantages large companies have over small businesses is longevity. Fortunately, late bloomers don't have to be left in the dust—they can borrow some of this credibility by teaming up with businesses that have already earned the trust of customers.
It's not necessary to enter into partnerships that are long-term or legally complicated. Instead, focus on targeting established companies that complement your product line and offer to promote their products or services in exchange for an endorsement.
Besides cross-promotion, other partnership opportunities exist, particularly online. For instance, it's common for influencers to team up and publish an opinion post or a special report on a trending issue. These posts have a tendency to go viral, and everyone involved benefits from the publicity.
Alternately, you can form partnerships with trusted nonprofits by volunteering services or helping to raise funds for community initiatives.
Pitch Prospective Clients Like an Expert
Larger companies are often jacks of all trades, masters of none. Small businesses can exploit this by specializing in underrepresented segments of the industry and using that as an angle when pitching clients.
Another pitching strategy is offering extras. The key to making the right offer is to do your research beforehand. In particular, look for areas where your prospect is weaker than their competition, and approach them with tactful suggestions for improvement. Then, follow through by offering an easy solution, such as a free consultation. One of the ways we've done this is by giving prospects a copy of our free "website report card" that shows where their online presence is both strong and weak. The sum of these parts is tallied into a grade of A, B, C or D, and presented to the prospect in a way that shows how we can help them.
If all else fails, it's relatively inexpensive to produce and offer an industry report that can be used as leverage when pitching clients.
Focus on Getting Quality Testimonials
If you're a small business or are starting a new venture, landing your first significant contract can seem like a catch-22. To persuade clients to work with you, they want proof that you can deliver. The most valuable kind of proof comes in the form of video or written testimonials from trusted businesses. The video testimonial section of our website is one of our most visited pages.
New businesses can bypass the slow grind and quickly build up a slew of testimonials by offering prospects a bargain so good they'd be foolish to turn it down. For instance, you might offer a fully featured trial version of your product or service in exchange for a favorable review. And don't forget to offer a rewards program for clients who refer your services.
Use Trust Signals
Your company website is often your first point of contact with potential clients. To earn their trust, transparency—much more so than slick web design—is crucial.
Here are a few simple ways you can put visitors to your website at ease:
Obtain SSL encryption for pages that require users to fill out a form.
Optimize your site for speed and easy navigation.
Hire a professional copyeditor to polish all site content.
Include a complete privacy policy.
The more detailed and up to date your contact information, the better. Besides a web contact form, include a toll-free number and information about office hours and estimated response times. If you run a location-independent operation such as an e-commerce store, get a virtual office address. Use departmentalized email addresses for maximum professionalism.
On the About Us page, include clear headshots of each team member along with a brief bio detailing any relevant credentials or experience. In our case, the investment we made in professional photography has paid rich dividends. We now feature our staff photos on our homepage, in email signatures and in the place of overused stock photos. This has allowed us to humanize our online company, and our members have expressed that they feel connected to us even though we haven't met in person.
Finally, consider adding a short video clip or animation to your homepage that describes how your product or service works. Professionally edited videos can be outsourced for relatively cheap, and this is a great way to add a large-company vibe to your website. As soon as we added a video like this, our conversion rate increased 34 percent.
Maintain a Great Digital Reputation
Whether most of your business transactions happen online or offline, one of the top indicators of your company's credibility is its presence on the web, and particularly its position in search. Commit to reinforcing your company's image on the web with the following game plan:
Make SEO a priority. Keep Googlebot coming back to your site by adding a newsfeed that keeps the public abreast of recent developments in your company, such as contracts you've landed.
Maintain a daily presence on major social media channels.
Become a regular contributor to online and trade publications. Regularly pitch editors with valuable content that demonstrates your expertise to your target market.
Remember, without the budget or staff that large businesses possess, credibility becomes your most valuable asset, so don't neglect to flaunt it at every opportunity.
Author: Robert Sofia is a best-selling author, award-winning public speaker, and financial industry marketing entrepreneur. His tactics and strategies are used by thousands of financial institutions nationwide including INC 5,000 and Fortune 500® companies. Robert's work has been featured in dozens of national publications and financial industry journals, and he has keynoted conferences for world-renowned companies including Ford Motor, Adobe, TD Ameritrade, Prudential and many more.