The media often highlight companies that spend hundreds of thousands of dollars on big data solutions that reveal patterns and trends in customer behavior and interactions. "Big data" is a buzzword, but only large businesses actually have enough data on which to do scientific analysis and apply it to their marketing automation.
Meanwhile, small and medium-sized businesses should not sit and wait for the day when their businesses grow big enough for "big data" solutions.  There is a lot of BASIC data behind any business that may be easily used for email marketing automation and sending data-driven messages to customers.
What is "basic data"?
"Basic data" is primary data that does not require any additional calculations and is understandable to everyone. It can include a lot of metrics and information and can be utilized for your email marketing automation.
For example:
Data about new and returning website visitors, and those who have abandoned your store without purchasing;
Data about your subscribers such as gender and location, and those have received your email campaign but ignored or not noticed it;
Data about returning customers and what they buy, and those who have not purchased from you for a while, etc.
According to the SalesForce 2015 State of Marketing Report, only 24% of companies use abandoned cart data and about one third (34%) of companies use inactive customer data to re-engage with inactive customers and win them back. However, 9 out of 10 marketers who use this data admit that sending automated reactivation and cart abandonment emails are effective in achieving their email marketing objectives. So utilizing your basic business data can help grow your business and allow you to get an advantage over your competitors.
3 Simple Ways to Utilise Your Basic Business Data
1.   Resend Your Email Campaign to Non-Openers
Resending content to those who have ignored your initial email campaign and have not purchased in a certain time increases revenue by up to 30% on average.
Customers receive dozens of emails every day. On average, more than 81% of all promotional emails are never opened. The reasons for this are simple:
Customers fail to notice it;
The subject line is not catchy enough;
Customers stop being interested in your brand.
For the first two reasons, your email campaign is worth a second chance.
According to Omnisend experience, the absolute majority of emails are opened in the first 48 hours. So, two days from the initial campaign, you should change the subject line and resend your newsletter to subscribers who did not notice your email the first time.
At Omnisend, we call it a Campaign Booster and it is one of our most popular features. Though customer engagement with the second attempt is lower than with the original newsletter, overall engagement with a campaign increases.
Resending the same email campaign for those customers who did not notice it the first time, our clients improve their click rate, on average, by 42.3%, and their conversion rate by 35%.
This means that the same email campaign sent again for every 10,000 subscribers would bring, on average, 161 additional visits to your store and about 6 additional purchases. See the chart below.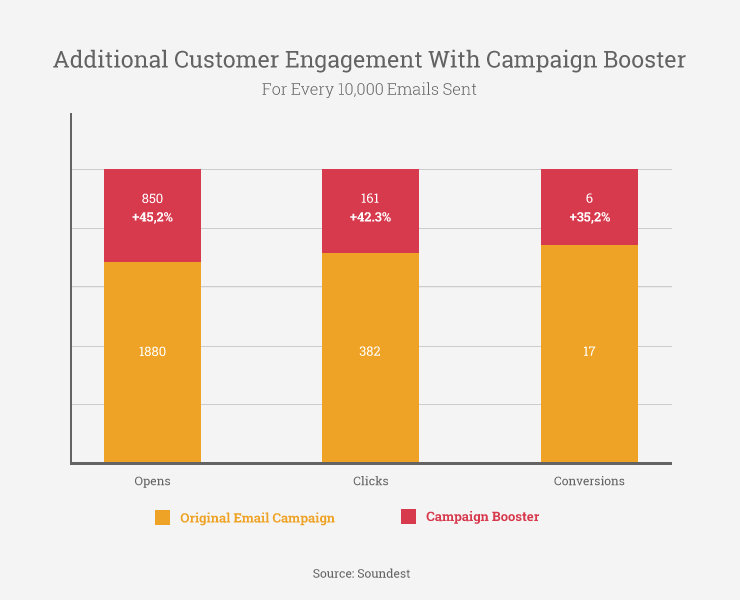 So, these are the main benefits of intelligently using the basic data of subscribers who did not open your email campaign:
You significantly improve your email campaign performance;
Resending an email campaign to non-openers does not require any additional time;
You do not do any harm to your subscribers or to your sender's reputation.
2. Send a Series of Abandoned Cart Reminders
Cart abandonment is a huge issue for ecommerce companies: only 3 out of 10 carts  end up at the checkout. Thanks to browser cookies, ecommerce tools can track and identify such abandoners and send them cart recovery emails. These reminders are relevant and one of the most effective automated emails that companies can send.
Omnisend client research has revealed some stunning single email reminder results in comparison to promotional newsletters. Email reminder generates more than two times better customer engagement and conversion rate. The chart below reveals how significant the difference in performance is of these emails.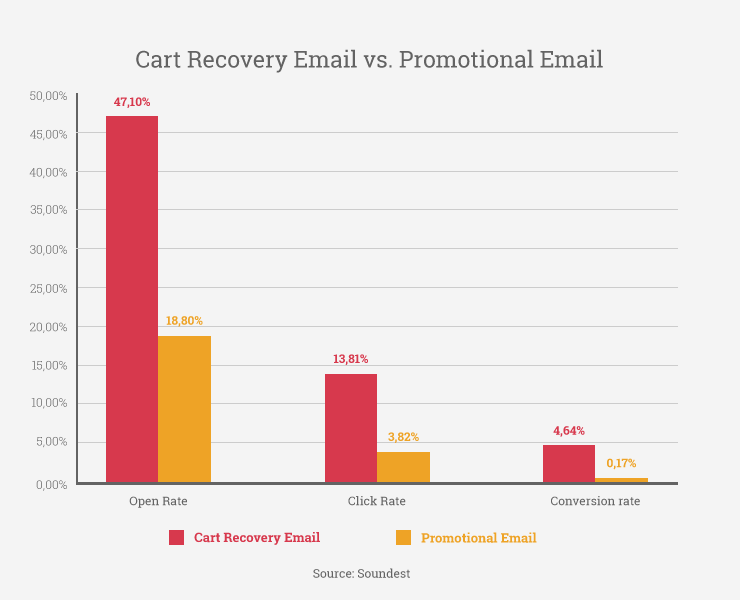 In the United Kingdom, revenue per abandoned cart email can be as high as £1.37 ($2.02) per email sent. Meanwhile, one promotional email results in £0.08 ($0.12) on average.
These results are twice as good if you send a series of three email reminders instead of a single email. Mostlymusic.com has proven this. This online store is the biggest and most popular Jewish music retailer in the world. This team sells music records, music accessories, Jewish books, etc. to more than 50,000 subscribers.
Mostlymusic.com performed an experiment in which they sent a single cart recovery email and a cart recovery series. The number of recovered carts differs significantly.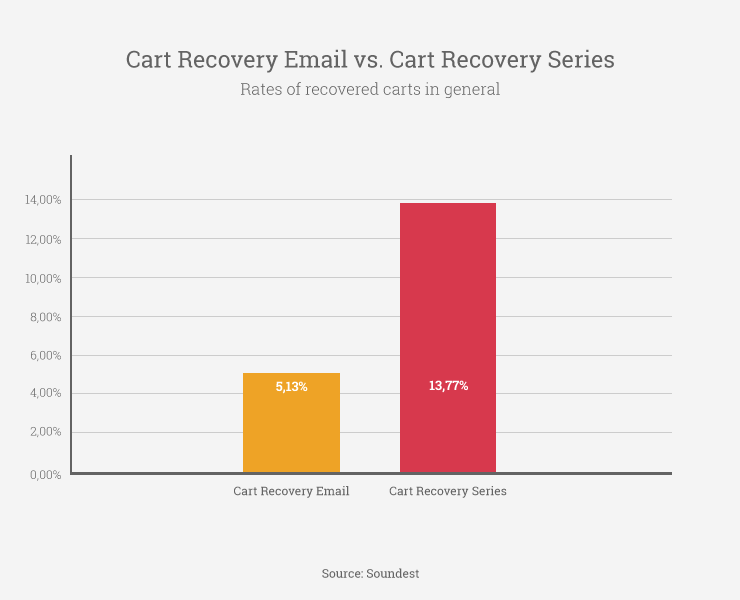 The rate of recovered carts in general is more than two times bigger (13.77% vs. 5.13%) when they sent a cart recovery series. Therefore, there are no doubts about the greater effectiveness of the series of three emails.
In addition, if we look at each email reminder of the Cart Recovery Series separately, we can see that the 3rd email performed best – 6.66%. We do not encourage you to cannibalize your business by offering endless discounts. However, you should offer some small ones, especially in the last email. In that particular email, MostlyMusic.com used a 5% discount as an incentive for customers to complete a purchase and it ended up with the highest conversion rate.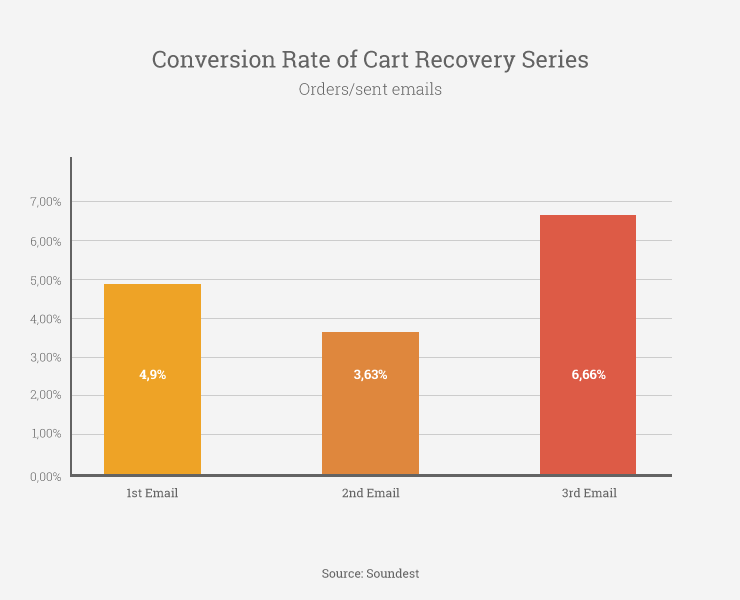 This simple automated email solution can increase your sales significantly. So it's about time you find an email service provider that can send abandoned cart emails and increase your profit.
3. Re-engage with your customers with reactivation emails
One more automated workflow worth sending to customers is a series of reactivation emails. This kind of email is sent to customers who have not purchased from your store for a while and are not engaging with you anymore. So even a few retained customers is a winner in this case. 9 out of 10 companies that send reactivation emails claim them to be effective.
In automated re-activation emails, companies usually use all their trumps – discount coupons, free shipping, special gifts, etc. This is probably the last chance to win a customer back.
An example is the Wizarding Wares shop which sells gifts. This online store sends a series of re-activation emails to their customers. According to their buying cycle, the first email is sent after 30 days without purchasing, the latter two are sent after 40 and 45 days, respectively. Wizwares.com uses default Omnisend re-activation emails. Here is the third and the last email of the series: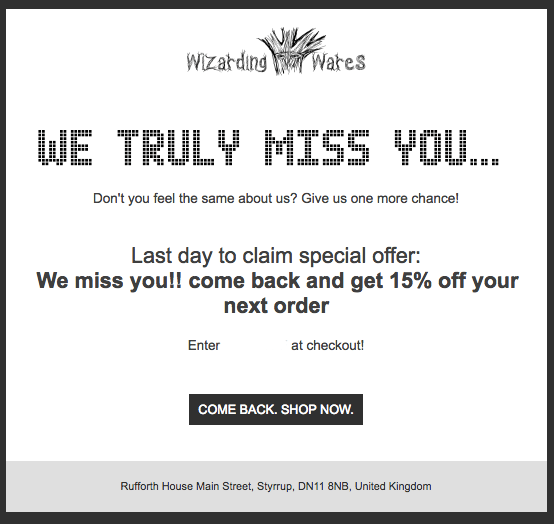 The series of three emails has already won almost 10% of customers back to the store. 5% of them finished with a purchase.
To summarize these automated workflows, tracking your customer behavior allows you to take the right action at the right time. A relevant message to your customer will help you re-engage with them and once again increase your profit.
Takeaways:
There is a lot of basic data behind every business that may be beneficial to email marketing automation.
Automated, data-driven messages achieve much bigger customer engagement and rarely are treated as spam.
Resending email campaigns to non-openers and cart recovery and customer re-activation series are three easy to implement basic data utilization ideas. Every company can send them easily.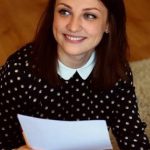 Author: Karolina Jasvinaite is a content marketing manager and email enthusiast at Omnisend| Email marketing for ecommerce. After completing her studies at communication and ecommerce management field, she started her career as a copywriter and online communicator in IT companies. She is interested in SMEs development, digital marketing, as well as emotional intellect, mountain biking, and travels. Follow her on Twitter @KJasvinaite and Facebook